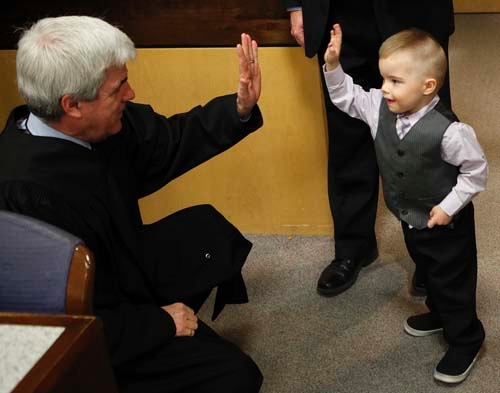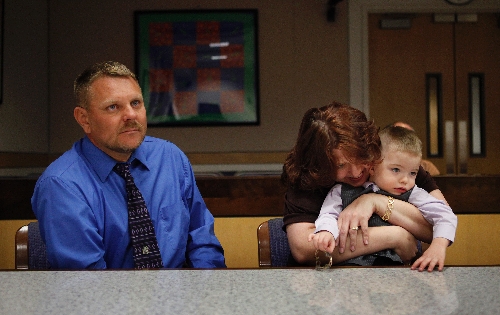 Three-year-old Daemion clutches a blue balloon as he waits in the hallway of Family Court.
"Happy Daemion Day," the little blonde-haired boy whispers with a grin.
Jeff and Carrie Olsen, also known as "Mommy and Daddy," are adopting Daemion after caring for him for almost two years. His biological parents gave up their rights to him.
The family enters the courtroom and Daemion high-fives Judge Frank Sullivan before the ceremony begins.
Everyone raises their right hands and swears an oath to let Daemion thrive in the Olsen household. It's official. Daemion is an Olsen. But his new parents didn't need a judge to tell them that.
"I felt that all the time," Jeff Olsen says.
Daemion's adoption on Tuesday is one of hundreds the Clark County Department of Family Services arranges each year. In 2011, the department finalized a record number of adoptions that placed 719 children in permanent homes, surpassing a goal of 600.
That's a significant increase from 446 adoptions in 2010, although adoptions throughout the county have steadily increased since 2007. The goal this year is 825.
Lisa Ruiz-Lee, interim director, attributes the success to a change in business practices, priorities and a combination of resources at the agency that oversees abused or neglected children who may require foster care.
More than 3,000 children are in the system at any given time.
The child welfare department isn't fast-tracking all adoptions, Ruiz-Lee said. Instead, it has eliminated barriers to finalize certain adoptions otherwise tied up by red tape.
"My hope for us is that we'll hit that number this year, and after that you'll see the number of adoptions decrease," Ruiz-Lee said. "We don't want to adopt out every child who enters the system. Our first and primary goal in child welfare is to reunify children with their families."
ELIMINATING BARRIERS
Some barriers included finalizing divorce decrees, revising how foster and adoptive parents are licensed, waiving home studies by case workers for children who had been living in foster homes or with relatives for an extended period of time, opening up court calendars to conduct adoption days and paying some associated court costs.
Legislation also was passed last year that allowed certain out-of-state adoptions to be finalized by phone.
"As a judge, I remove the kids from the beginning," Sullivan said. "But to see the system actually working, it really gives you the focus that you're doing a good job. … You've got 700 children out of the system. Now you can put your resources on the children who need it. We can help keep families together, reallocate resources and reinforce permanency for children."
The department partnered with the adoptive families, courts, Court Appointed Special Advocates, the Legal Aid of Southern Nevada's Children's Attorney Project and other stakeholders. Together, the groups developed concrete plans for expediting cases by holding two adoption days last year instead of one and analyzing data.
"My goal is that as we move forward toward the end of this year that we're moving children through this system very quickly, as quickly as we possibly can," Ruiz-Lee said. "I don't want to maintain involvement in the lives of families that don't need our involvement. As we do that, my hope is that we'll be able to reduce caseloads."
Foster care caseloads average 32 children per caseworker, or 17 families per caseworker, according to department data.
For Child Protective Services, case­loads averaged nine new cases per worker in 2011. The number of caseloads per worker has been a point of contention over the years, with county officials attempting to reduce them.
ALL YOU NEED IS LOVE
Donna Coleman, a child advocate and longtime critic of Family Services, said the uptick in adoptions is "one thing DFS is starting to do right."
"I never thought I'd say that. … There are so many kids who stay in the system for so long, and once they get to a certain age it's hard to get them adopted. I'm very happy to hear about it, and I hope it continues if they're good placements."
Mark and Valerie Goldstrom adopted two teenage boys, Randy in 2009 and Trace in 2011. Trace's adoption, which took two years to finalize, was part of the county's record-breaking 719 adoptions.
The Goldstroms, who have been foster parents since 2007, were dealing with three different agencies in Pahrump, Clark County and Carson City to "make sure all parties were on the same page" for Trace's adoption.
At times, they weren't, Mark Goldstrom said.
"It was ridiculous that it took so long. … It's not the caseworkers' fault; they're doing the best they can. Sometimes their hands are tied. They're bound by the system, too."
When the Goldstroms were trained, they were told it "takes more than just love" to be involved as a foster or adoptive parent.
But Mark Goldstrom said, "I'm here to tell you that's the biggest part, to show them that somebody cares and loves them and wants them and wants to take care of them. … There's nothing more rewarding than when one of these kids calls you Mom or Dad or tells you that they love you."
OUTREACH EFFORTS
But the involvement is evolving into something more than just becoming a foster or adoptive parent, Ruiz-Lee said.
"It's about looking at these children who exist in the child welfare system and asking yourself as an individual, 'What can I contribute to make these children's lives better?' "
Now the department is working jointly with Clark County Commissioner Lawrence Weekly in a new foster care and adoption effort called "I Am Silent No More."
The program aims to educate the community about how to get involved without fostering or adopting while connecting resources for children and families. That could include donating clothes or gift cards and finding other ways to help children in the system.
Weekly, who was adopted as a baby through Family Services, recently shared with the Review-Journal his own tale of connecting with his biological family and discovering his roots after 46 years. He said the "I Am Silent No More" outreach effort is very personal for him.
"This is about giving somebody else a chance to have a good life," Weekly said. "I pray that even as bad as the economy has been that people don't give up on children, who should at least have an opportunity to be something. I'm a living testimony to that. If you give someone a chance, you can be somebody in life."
Contact reporter Kristi Jourdan at kjourdan@reviewjournal.com or 702-455-4519.
Clark County's Finalized Adoptions
2006 — 293
2007 — 283
2008 — 332
2009 — 427
2010 — 446
2011 — 719
Source: Clark County Department of Family Services
'I AM SILENT NO MORE'
More information about the "I Am Silent No More" program.
More information about foster care and adoption in Clark County.