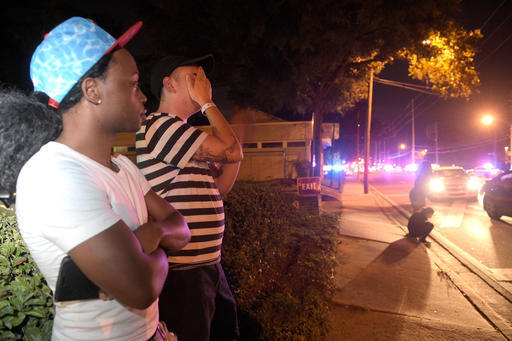 Supporters of lesbian, gay, bisexual and transgender rights in Las Vegas are figuring out ways to make positive change after Sunday's killings at a gay nightclub in Orlando, Florida.
"We need to respond to this kind of hatred with love," Frank F. Garside Junior High School's dean of students Andrew O'Reilly said.
Young people met Tuesday to talk about how they can help at the nonprofit Gay and Lesbian Community Center of Southern Nevada in downtown Las Vegas.
O'Reilly, who works at the center and the Southern Nevada chapter of the Gay Lesbian Straight Education Network, said youth groups might come up with projects to help those who were affected by the killings in Florida. They could instead spend their summer trying to get people to understand LGBT issues in Las Vegas.
During the school year, there are 28 student groups that work on LGBT issues and anti-bullying across the Clark County School District, the nation's fifth-largest, O'Reilly said.
Elizabeth Jodzko, a security monitor at Southeast Career Technical Academy has since 2010 led the school's Pride Alliance, an LGBT support club. She said she hopes the families of those killed in Orlando knew about their loved ones' lifestyle.
"It's hard enough finding out they died," she wrote in a message to the RJ, "but to find out where is another shock some people aren't equipped to handle."