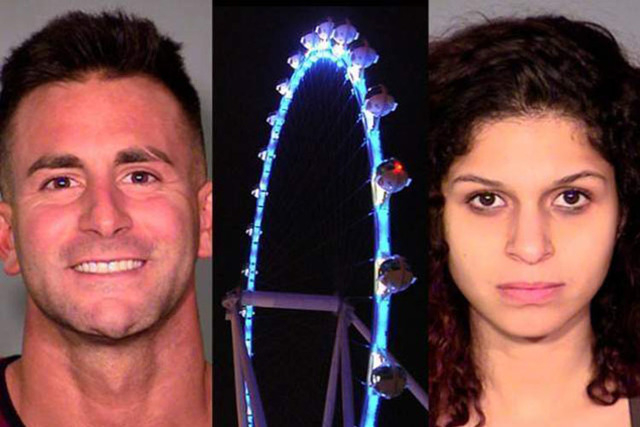 They met, they coupled, they went their separate ways.
Chloe Scordianos, of Hicksville, New York, became instantly famous last month after police said surveillance video caught her having sex with Philip Panzica, in cabin 16 of the High Roller on the Strip.
But now he's dead, shot in a Saturday morning carjacking in Houston. And she told the New York Daily News on Monday that she and Panzica hadn't talked since their Feb. 5 tryst.
"I haven't spoken a word with him," Scordianos told the newspaper, adding that she hadn't heard of Panzica's death until an hour before a reporter called her. "I didn't even add him on Facebook. There was so much drama, I usually just try to keep drama out of my life. It's funny how that just comes to me."
Scordianos, 21, also told the Daily News she met Panzica on the Strip the day of their escapade, her 21st birthday, and that the "one-day stand" was unusual for her.
According to police reports cited by the Houston Chronicle, Panzica, 27, was killed at 5 a.m. Saturday inside the car of Mistie Bozant, his fiancée, after leaving Vivid, a strip club where she works as a dancer.
Bryant Christopher Watts, 28, and Aaron Jones, 31, had driven off from the club with the couple. Police told the Chronicle that after they shot Panzica, Watts and Jones exited the car, dumped his body at the roadside and ordered Bozant out. They drove away from the scene in her car with her cash.
Police arrested suspects Watts and Jones, 31, in the shooting. They have been charged with capital murder; both are booked into the Menard County jail.
After their Las Vegas coupling, Panzica and Scordianos were arrested and booked in the Clark County Detention Center. They posted $3,000 bail and were arraigned in Las Vegas Justice Court.
During a March 9 court hearing, Panzica's lawyer Bennair Bateman said he expected his client to plead guilty to misdemeanor disorderly conduct in connection with the incident. Panzica was expected to enter a written plea in April. Bateman told the Daily News on Monday that he doesn't think the Las Vegas tryst and the Houston shooting are related.
Scordianos' lawyer, Chris Rasmussen, has said his client aims to take the felony charge of committing sex acts in public to a preliminary hearing.
Contact Matthew Crowley at mcrowley@reviewjournal.com. Find him on Twitter @copyjockey