Agency says it can supply water if Las Vegas footprint expands
Updated June 16, 2018 - 12:31 am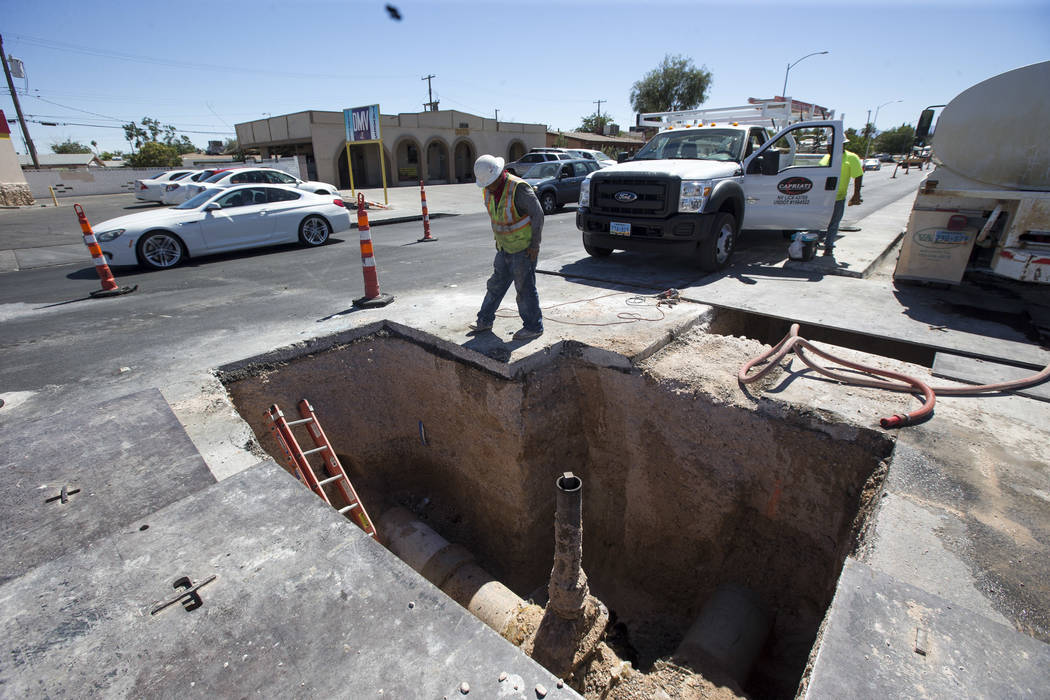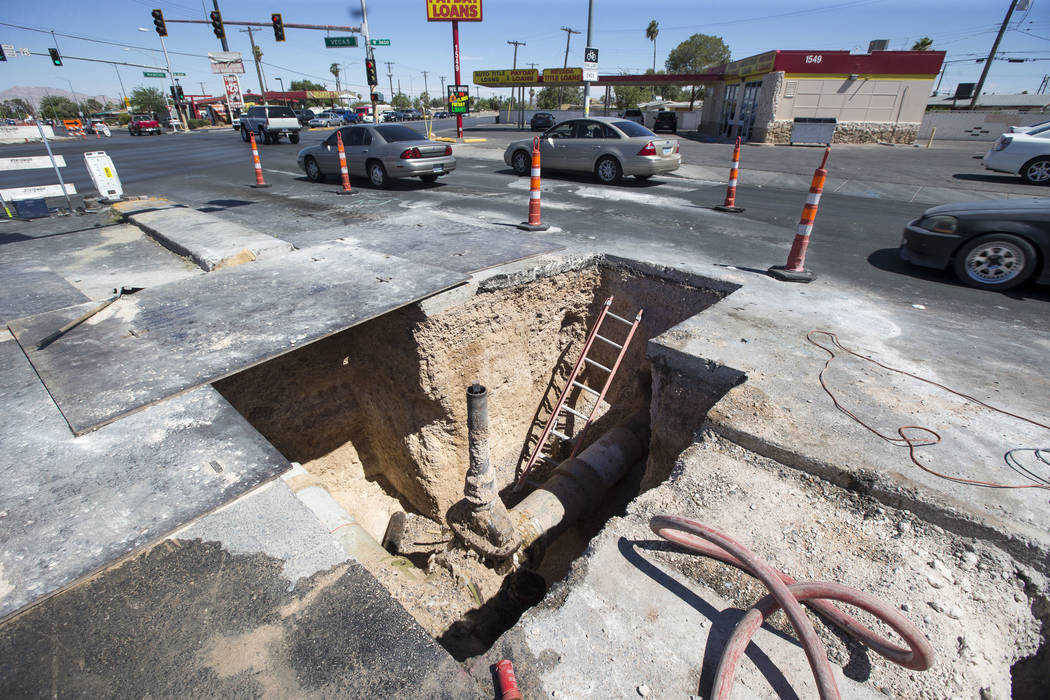 The Southern Nevada Water Authority says it has more than enough water to supply new homes and businesses that could be built one day on thousands of acres of federal land just outside the Las Vegas Valley.
The challenge will be getting the water there and making sure it is used — and reused — as efficiently as possible, said water authority chief John Entsminger.
The Clark County Commission is set to vote Tuesday on a resolution seeking federal legislation to open almost 39,000 acres of public land for sale to developers.
Most of the land is south of the valley between Sloan and Jean, where county officials envision a large commercial manufacturing and distribution hub along Interstate 15 and others expect new housing tracts to the east of the highway in Hidden Valley.
Entsminger said such development is already baked into the authority's water resource plan, which lays out where the community's water supply will come from over the next 50 years. That plan is renewed annually using the same growth projections that underpin the county's decision to ask Congress for more land.
Preparing to outgrow the valley
Entsminger said the authority has been preparing for large-scale development outside of the valley for more than a decade, dating back to the early 2000s when the county began floating plans to develop an as-yet-unbuilt regional airport on the Ivanpah dry lake bed near Primm.
The community's wholesale water supplier also has had talks with Henderson about the potential for future development in the Eldorado Valley and with North Las Vegas about the delivery of water to the Apex industrial park.
"We've been looking at this at all compass points," Entsminger said.
In May 2017, the water authority board, which includes three members of the Clark County Commission, made those plans official with the adoption of its first out-of-valley water use policy.
The one-page document calls on far-flung developments to discourage or outright ban things like man-made lakes, water-cooled power plants and decorative turf. Those developments should return their treated wastewater to Lake Mead whenever feasible or reuse enough of it on-site to "displace the need for SNWA water resources," the policy states.
Entsminger said the policy was not developed in anticipation of the county's resolution seeking more land for growth, but "we've certainly looked at it and are aware of what the county is asking Congress to do."
At the very least, he said, new developments outside the valley should be expected to consume the same net amount of water as the ones within the valley do.
"But I think our goal is to have them use less," he said.
'Not trying to reinvent the wheel'
In the case of the land south of Sloan, Entsminger said water likely will be delivered the usual way — by extending the system of pipes, pumps and reservoirs that currently supplies the southern edge of the valley with Colorado River water pulled from Lake Mead.
Water recycling outside the valley could be accomplished in several ways, including using treated wastewater for landscape irrigation and the cooling systems in buildings or injecting it into the aquifer to be pumped out and used again later.
Such methods are "pretty well established," Entsminger said. "We're not trying to reinvent the wheel here."
Once development south of the valley reaches "critical mass," he said, it might make financial sense to build a second set of pipes to return wastewater to the Las Vegas Valley. Then it can be released back to Lake Mead along with most of the community's treated effluent to earn so-called "return-flow credits" that allow the authority to draw additional water from the lake.
Without that recycling arrangement, the Las Vegas Valley would have outgrown its annual supply of Colorado River water decades ago.
Conservationists are already criticizing the county's expansion plans as a gift to developers who want to replace more pristine desert with urban sprawl.
But at least one urban planning expert said the community will need more room to grow, even if it gets serious about higher-density in-fill development within the valley.
Robert Lang is executive director of the Lincy Institute and Brookings Mountain West at UNLV. He said Las Vegas is "naturally constrained" by mountains, federally owned land and a lack of available water, so it has had to fit more homes into a smaller area. As a result, he said, the valley actually has a much higher population density than true examples of sprawl such as Nashville, Atlanta or Dallas.
"Vegas' problem is one of urban design, not poor use of physical space," he said, referring to the need for better transit and more walkable communities.
"You can do a better job in the interior (of the valley), but that's not going to be all the growth the valley is going to see," Lang said. "It's going to require more land."
Contact Henry Brean at hbrean@reviewjournal.com or 702-383-0350. Follow @RefriedBrean on Twitter.
Resolution up for approval
Clark County Commission is slated to vote Tuesday on a resolution seeking federal legislation to open almost 39,000 acres of public land for development and set aside more than 370,000 acres of new wilderness and protected areas for the desert tortoise and other threatened species.
The four-page resolution outlines 15 separate transactions, including a 41,000-acre expansion of the Moapa River Indian Reservation, several new or expanded wilderness areas totaling almost 83,000 acres and nine areas of "critical environmental concern" totaling almost 293,000 acres.
The document and related maps are available for review on the county's website at https://bit.ly/2JHlh1d.
County officials gave the general public its first look at the proposal during a June 5 open house, then accepted written input for a week.
Those wishing to provide further input will have to do so during public comment Tuesday.
The commission meeting is slated to start at 9 a.m. The resolution is item No. 97 on the agenda.