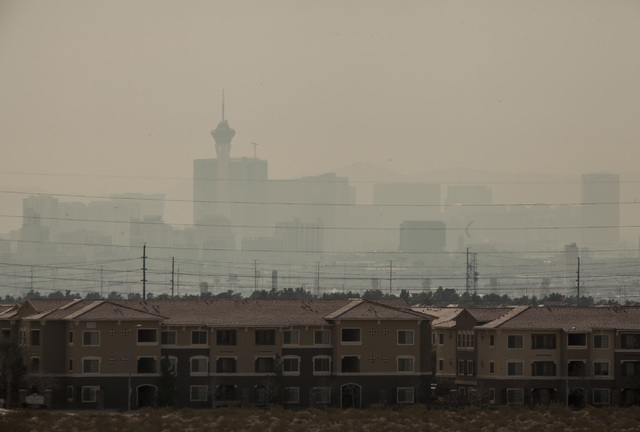 UPDATE: Due to continued high winds, a dust advisory has been extended until 5 p.m. Tuesday. The advisory was previously set to expire Tuesday morning.
Clark County officials said they are expecting high winds and issued a moderate air quality advisory for dust for Monday through Tuesday morning.
Unhealthy levels of dust did not occur early Monday morning, but as part of the county's dust-control program, air quality officials are sending notices to construction sites in the Las Vegas Valley, asking them to take precautions to prevent blowing dust.
Chris Stumpf, a meteorologist with the National Weather Service's Las Vegas office said winds may get up to 45 mph, and blowing dust will be possible.
Airborne dust is a form of air pollution called particulate matter and can aggravate respiratory diseases such as bronchitis and asthma. Children, the elderly and people with respiratory diseases should stay indoors during dust storms.
Officials also recommend people drive slowly on unpaved roads, avoid short cuts through vacant lots, ride off-road vehicles only in approved areas outside the city and fence off barren property or cover it with gravel, rock, or desert-friendly landscaping.
Strong gusts should last until Monday evening, Stumpf said, but Tuesday will also be a little windy, with chances of rain on the mountains and in the valley and cooler temperatures.
The county said air quality officials will continue to monitor conditions and will post an alert on their forecast website if unhealthy levels actually occur.
Air quality forecasts can be found online at http://redrock.clarkcountynv.gov/forecast/ and information about getting air quality forecasts and advisories via e-mail or text message is available at www.enviroflash.org.
You can call Air Quality's dust-complaint hotline at 702-385-DUST to report excessive amounts of blowing dust.