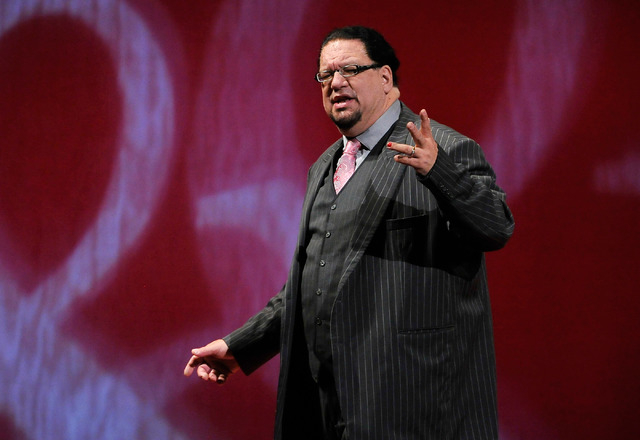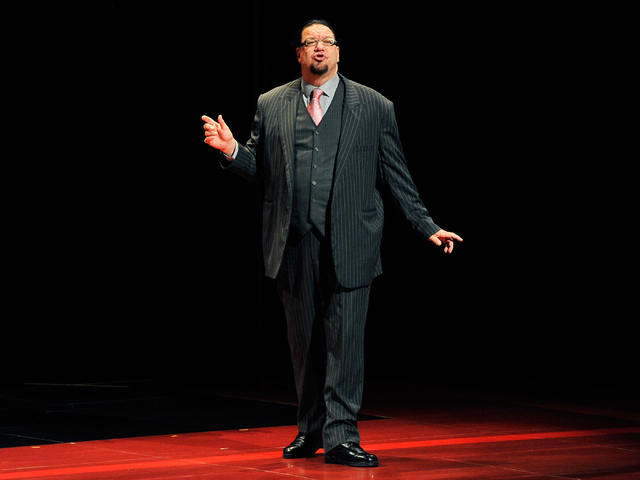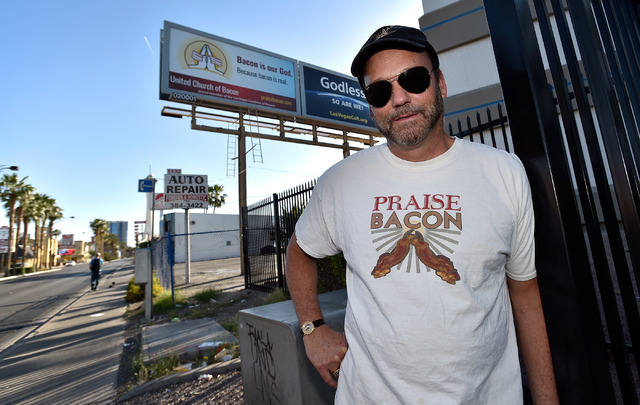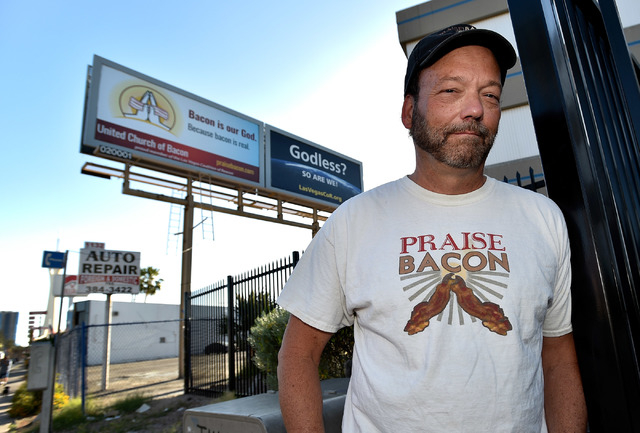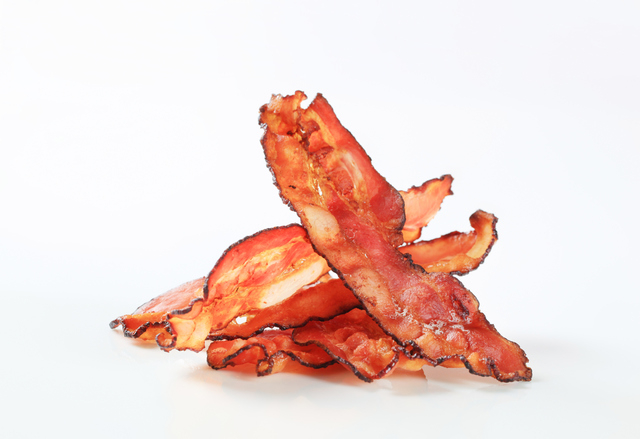 It may sound like sacrilege to say so, but not every problem can be solved with bacon. Sometimes bacon is the problem.
That's what John Whiteside learned a year ago when he strolled into his local Wells Fargo Bank branch to have a document notarized for his church. By the time he left, he said, he had withdrawn all of his money, closed his account and accused branch employees of discriminating against him on religious grounds.
Now the retired United Airlines pilot is organizing a Wednesday afternoon protest in front of the bank branch, beneath some billboards he had put up in support of his cause.
So what does all this have to do with the most divine of all breakfast meats?
Whiteside is the founder of the United Church of Bacon, a five-year-old congregation of atheists and other skeptics that now boasts some 4,000 members worldwide, roughly 500 of them in Las Vegas.
Whiteside said the group has a funny name but a serious mission: to fight discrimination against nonbelievers and promote the separation of church and state, in part by operating as a real, legally recognized church to highlight the special privileges enjoyed by mainstream religious organizations.
They're also trying to win acceptance for atheists everywhere, particularly in the U.S. "We're not immoral. We're not un-American," said Whiteside, a Marine veteran who flew fighter jets during the first Gulf War. "That's what we're trying to get corrected."
The church concept was dreamed up in 2010 by a group of friends at the Las Vegas home of entertainer and skeptic Penn Jillette, now a congregation member, certified wedding celebrant and "our sanctioned Sunday school teacher," Whiteside said.
The United Church of Bacon does not accept donations or claim tax-exempt status, choosing instead to donate to secular charities such as Opportunity Village and the Leukemia and Lymphoma Society.
Roughly a quarter of church members are certified to perform weddings, which is what brought Whiteside to the bank branch on Las Vegas Boulevard near Charleston Boulevard on an April day last year. He was there to get a notary's stamp on a state affidavit one of his congregants needed to officiate marriages.
But Whiteside said the woman at the bank refused to notarize the document for no other reason than "discrimination against those who don't believe in God."
Bank officials are more than skeptical.
"Wells Fargo believes discrimination of any kind and against any group or customer base is wrong and we categorically deny the claims brought forth by Mr. Whiteside," the company said in a statement. "We have a long history of supporting and serving the needs of a widely diverse customer base in Nevada and throughout the country. We regret that this organization and Mr. Whiteside have decided to target Wells Fargo as a means to further their agenda."
Whiteside said he eventually got his affidavit stamped at another Wells Fargo branch, but that didn't stop him from lodging complaints with bank management and the Nevada Equal Rights Commission.
When they didn't seem to be taking him seriously, he decided to organize the protest.
Whiteside said he expects at least 50 people to turn out at Wednesday's 4:30 p.m. demonstration, including "celebrities from Las Vegas and Hollywood," though he declined to name names. He said they will have Mardi Gras masks available for anyone who wants to take part without revealing their true identities.
Also, there will be jugglers. After all, the fifth commandment of the United Church of Bacon is "Have Fun."
Some of the protesters plan to close their Wells Fargo accounts in hopes of showing the bank the importance of properly training their employees not to discriminate, Whiteside said. "I'm not trying to get anyone fired. I'm just asking for people to address the issue."
He's serious about it, too, though being taken seriously isn't something he and his fellow bacon worshipers always preach.
"We enjoy people mocking us. We mock ourselves," Whiteside said. "This isn't supposed to offend anyone."
Contact Henry Brean at hbrean@reviewjournal.com or 702-383-0350. Find him on Twitter: @RefriedBrean.