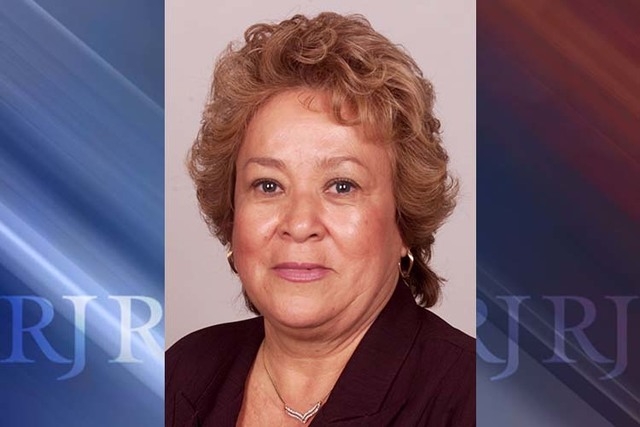 Priscilla Rocha sneaked nearly $14,000 worth of computers and electronic equipment — bought with Clark County School District money — across the Mexican border without a customs inspection, according to grand jury transcripts obtained by the Las Vegas Review-Journal.
Rocha, the indicted former director of the Adult English Language Acquisition Services program, told police that she and her entourage were met at the border by a ranking city of Ensenada official who got them special treatment through customs, according to the testimony of Las Vegas police Detective Robert Whiteley.
"She told you that the guy came to the border and met her?" Chief Deputy District Attorney J. P. Raman asked Whiteley.
"Yes. And that's how she was able to get the computers across into Mexico without declaring them through customs," Whiteley responded.
Rocha donated roughly two-dozen computers, laptops and iPads and other equipment to a library and a school for children with autism in Ensenada, transcripts show.
Her indictment last week alleges the donation was just one part of a scheme to steal $289,000 from the School District through "ghost employees," fake companies, secret bank accounts and equipment thefts, dating back to 2005.
"Did you speak with her, did she admit anything about knowing it was School District property and it wasn't her right to give that away?" Raman asked Whiteley.
"Yes. We confronted her with that fact and she acknowledged that she probably shouldn't have done it that way," Whiteley said.
Rocha, 66, a former elected member of the Nevada State Board of Education, and four other defendants, including her son Jerome Rocha, were charged in the 52-count indictment. She faces 26 felony counts of theft and 24 counts of unlawful use of public money in an elaborate scheme to enrich herself and others with stolen School District resources.
All five defendants are to appear for arraignment Monday in District Court.
The language acquisition services program, designed to provide skills to non-English speaking adults,was shut down after Las Vegas and School District police raided the program office March 19. At the time, the program was operating on a $1.1 million publicly funded budget and employed 22 workers. Five staff members, including Rocha, were suspended after the raid, and Rocha later retired while under investigation.
A total of 17 witnesses appeared before the grand jury, providing 1,007 pages of testimony.
The transcripts show Rocha made four trips to Ensenada in 2011 — one to tour the city and meet with school officials, two to deliver the goods and a fourth to appear at a large party hosted by Ensenada officials to thank her for the donations.
Maria Rivera, a former language acquisition services employee, testified that Rocha had so much equipment to bring to Mexico that she couldn't fit it in a rented van and had to make two trips.
Another former employee, Claudia Zapata, testified that Rivera told her one of the trips with the computers was "pretty dangerous." Zapata quoted Rivera as saying the group was met by police at the border and was transferred to bullet-proof vehicles on the way to Ensenada.
Zapata testified that she went on the final Ensenada trip in November 2011 to attend the party honoring Rocha.
Ensenada officials gave the Las Vegas group a tour of the autism center, Zapata said, and she saw the donated equipment in a new computer lab. She also saw donated iPads given to children as gifts.
Manuel Ramirez, a former information technology specialist for Rocha's program, testified that he saw a Facebook post of Ensenada officials thanking Rocha for the donations.
Ramierez, who struck a deal to plead guilty and cooperate with prosecutors, said Rocha asked him to find out what it would take to get the computers across the border. After checking with the Mexican consulate in Las Vegas, he learned that serial numbers of the computers would have to be provided.
When he informed Rocha, she told him not to go through the consulate — she would "handle it."
One of Rocha's co-defendants, Andres Mendoza, testified that he helped arrange Rocha's donation effort through contacts in Ensenada. Mendoza, who was not a School District employee, served under Rocha at the League of United Latin American Citizens.
"I know everything," Mendoza testified. "I put Mrs. Rocha in touch with these people, even with administrators of the school in Ensenada."
Mendoza, who is facing theft, burglary and possession of stolen property charges, said the computers were a gift to stay in Mexico, earning Rocha an award and flowers at a ceremony in the Ensenada mayor's office.
"Mrs. Rocha decided to find a way to take some computers down to Mexico and give them away to those kids," Mendoza testified.
He claimed he didn't know the computers were School District property.
Ramirez testified that Rocha directed him to install a video surveillance system bought with school district money at Mendoza's house.
Rocha also instructed Ramirez to place secret cameras in her office and the office of an aide because she thought people were going through their paperwork, said Ramirez, who had also kept school-owned computers, iPads and security cameras at his home.
"She (Rocha) was handing stuff out to everybody," Detective Whiteley said.
Rocha's office cameras were hidden in a clock, a pencil sharpener and an alarm sensor, Ramirez said.
Despite his earlier public support for Rocha and her innocence, Mendoza testified that he knowingly received School District computers and electronics from her.
"I know it's wrong," he told the grand jury. "I'm sorry but I am a low-income organizer, and sometimes it's hard for me to pay for my gas and food because I don't have any other income and I was in a hardship."
In a raid at Mendoza's home and business, police found a district computer, printer and other electronics with stickers reading "Property of Clark County School District." Police also found about a dozen security cameras.
The grand jury indictment alleges Rocha used $5,000 in school district money in May 2013 to help buy a local beauty salon, and later had one of her program employees work there on School District time. The district paid the employee, Ana Soto, $2,483 for work she never performed as a program tutor.
The indictment also alleges Rocha, as far back as 2005, paid ghost employees tens of thousands of dollars in program funds for work they never did as part of a scheme to enrich herself, family and friends.
Perhaps, the greatest benefactor of the theft was Rocha's son, Jerome Rocha, and co-defendant Donnie Placencia, both New Mexico residents. Priscilla Rocha paid Placencia as a tutor in her department starting in 2005 even though he lives in another state. Rocha approved $132,870 in district payments for work Placencia couldn't possibly do that far away, especially "five days a week almost every week," Whiteley testified.
The School District deposited the payments into an account shared by Placencia and Rocha's 44-year-old son. Both men are facing 10 felony theft counts.
Rocha also created a fake company called Olverita's Tradition and Folklore LLC, copying the name of a real Los Angeles business selling dresses and costumes for Hispanic ballet. This enabled Rocha to camouflage district invoices for her fake company within invoices for actual services provided by the real Olverita's.
"(The invoices) both looked completely identical except for the way one of the receipts was a little bit different," said Whiteley, describing how district payments would land in Rocha's "fake Olverita's bank account, which ultimately went into her account."
Renee Romero, another former Rocha employee, testified that Rocha directed staff to charge three fees to students for books, ID cards and lab work – only accepting cash.
Assistant Superintendent Tammy Malich told the grand jury that the language acquisition services program was entirely funded by state and federal grants and wasn't supposed to charge the adult students at all.
Even if students were charged, fees had to be deposited in a Bank of America account with School District access, not secret, unwatched accounts, Malich said.
"I would never allow it," Malich said.
Rocha created a secret Wells Fargo account, making Romero co-sign and putting thousands of dollars in there from fees collected, Romero said. Then, Rocha ordered Romero to write checks from that account to LULAC, department employees and other unidentified people, including a $5,000 check to the owner of the beauty salon that Rocha would soon purchase.
Contact Jeff German at jgerman@reviewjournal.com or 702-380-8135. Find him on Twitter: @JGermanRJ. Contact Trevon Milliard at tmilliard@reviewjournal.com or 702-383-0279. Find him on Twitter: @TrevonMilliard