Angry parents pepper officials at town hall meeting with questions about mercury contamination
September 8, 2016 - 10:43 pm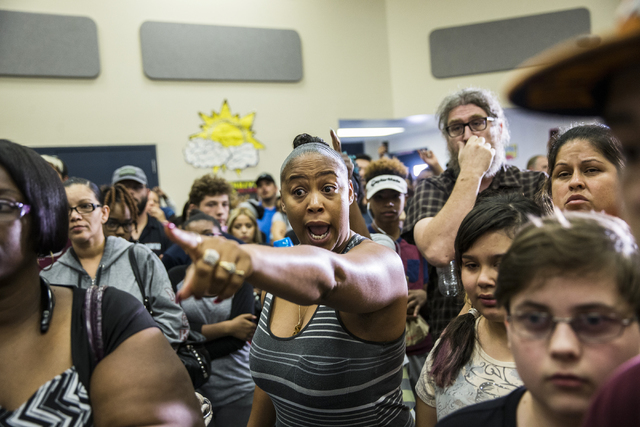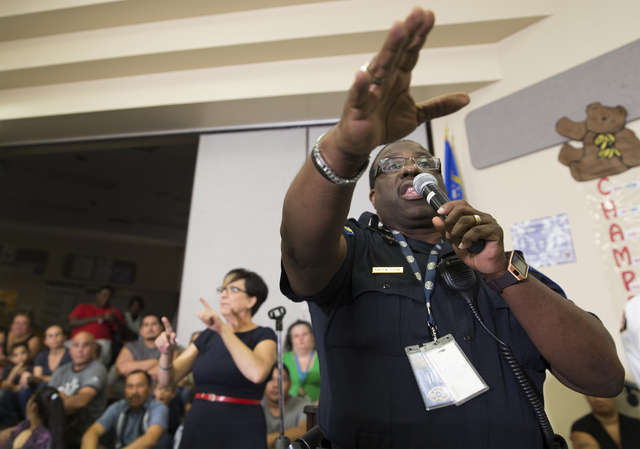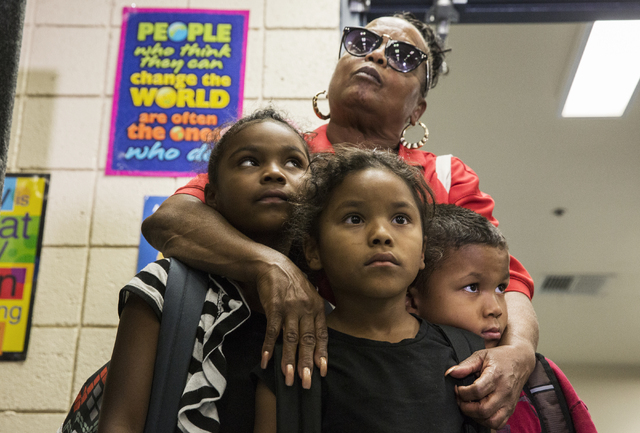 Mike Barton, Clark County School District's chief academic officer, began a town hall meeting Thursday by telling a crowd of parents, "We want to hear you tonight, loud and clear," regarding the mercury contamination incident at Johnson Junior High School.
"We know we need to look in the mirror as far as how can we improve communication to you," he said.
But the town hall meeting, originally planned as a forum for parents to ask questions of district, police and Environmental Protection Agency officials one-on-one, or in small groups, quickly devolved, as angry parents expressed their frustration over a lack of answers about the incident.
The intended format turned into a free-for-all, with parents shouting questions at the officials, standing near the back of the room.
"You say you want to address it, but you're not addressing it," parent Nicole Watson said. "You're talking in circles."
One of the most pressing answers parents sought was where, when and how much of the mercury was found.
Randy Nattis, EPA federal on-site coordinator, said he did not have an answer.
"It's unknown how much material was spilled," Nattis said. "A very little amount of mercury can go a long way in the way that it vaporizes and gets into the air."
However, Las Vegas Fire Department spokesman Tim Szymanski said fire crews have described the amount to be about five to 10 drops.
Parents also questioned why, if the mercury spill was small, the screening process took so long.
Nattis told them he arrived on the scene at 9:30 p.m. Wednesday with two additional mercury vapor analyzers, bringing the total to five, and he said his priority was to make the screening process more efficient. Once he arrived, the hazmat team began screening students at a rate of 100 to 150 an hour.
After Nattis spoke for a few minutes, a father in the crowd, Michael Durkin, shouted that his son came into contact with the mercury on Sept. 2. Durkin expressed concern that his son could have spread the substance through his house.
Watson, one of the most vocal parents in the room, said she wanted to know the specific amount of mercury that was found on her child, rather than being told it was a "low threshold."
School District Police Capt. Kenneth Young addressed the crowd, saying screeners did not record each child.
After about 30 minutes, the Q&A session ended without notice, and parents broke up into small groups, asking questions of Young, Nattis and district officials.
Because questions swirled about the timeline of the mercury exposure, Nattis announced toward the end of the evening that parents can bring any clothing they believe may have been contaminated earlier in the week to Johnson Junior High School after 8 a.m. Friday to be screened.
Contact Natalie Bruzda at nbruzda@reviewjournal.com or 702-477-3897. Follow @NatalieBruzda on Twitter.
RELATED
Mercury contamination screenings completed at Las Vegas junior high school
Classes canceled as authorities uncertain how mercury contaminated Las Vegas junior high