Animal activists praise hefty sentence in Reno dog torture case
October 2, 2015 - 4:13 pm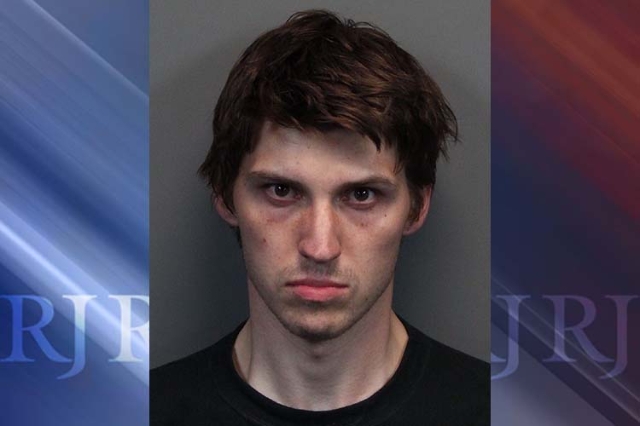 CARSON CITY — Animal rights activists who pushed the bill to make animal cruelty a felony in Nevada welcomed the stiff sentence handed down on a Reno man who tortured and butchered dogs in a motel room, videotaping some of the abuse that observers called barbaric and shocking.
"I could not be more pleased," Gina Greisen, of Nevada Voters for Animals, said Friday of the up to 28-year sentence handed down the day before on Jason Brown. "We believe this is historic not only in Nevada but nationally."
Brown, 25, earlier pleaded no contest to seven felony counts of torturing or killing an animal. Washoe District Judge Elliott Sattler imposed the maximum, four-year sentence on each count and ordered him to serve those terms consecutively. He must serve about 11 years before he becomes eligible for parole.
Brown was arrested in July 2014 after the grisly scene was discovered by a motel maid at a room he had been staying at in south Reno. Police reported bloodstains, dog limbs, drugs and drug paraphernalia were found in the room. A decapitated brown dog was found in the bathtub. The heads of four small dogs were found in a small refrigerator.
Brown said he didn't remember killing the dogs because of his drug addiction.
But he recorded video of some of his gruesome deeds, which were played for the judge in court. Spectators in the audience did not see the graphic images, but could hear the horrifying audio.
State Sen. Mark Manendo sponsored a 2011 bill to make egregious animal cruelty a felony. The bill was called "Cooney's Law," named after a dog killed in 2010 when its owner sliced open its stomach with a box cutter in a motel room. The owner was charged with a misdemeanor, because that's all the law at the time allowed.
"It's encouraging to see, when you work so hard to pass legislation, it's good to see that actually working and having an effect," Manendo said of the Brown sentence.
All 50 states now have a felony provision in animal cruelty statutes, according to the Animal Legal Defense Fund.
But Manendo and Greisen said more needs to be done to prevent convicted animal abusers from acquiring new pets.
"It's not in the law that you're not allowed to own a dog," Greisen said. "We want a law that says if you harm an animal, you can't own another one."
Manendo, D-Las Vegas, said he's working on a bill for the 2017 session to set up a law enforcement registry for animal abusers.
He also would like to see more intervention with people who harass or harm animals in ways that don't meet the threshold of a more serious offense.
"There are times when people will throw rocks at a dog in the back yard. Do those people need to be locked up? No. But do they need counseling? Do they need to go before a judge?"
Manendo said mistreatment of animals can escalate to more violent behavior toward animals and people.
"I think there are things that we need to do," he said. "We need to make sure they're going through some kind of process where they can be evaluated, get some type of help."
Contact Sandra Chereb at schereb@reviewjournal.com or 775-687-3901. Find her on Twitter: @SandraChereb