Animal conservationists petition to cancel Safari Club convention in Las Vegas
February 3, 2016 - 10:23 pm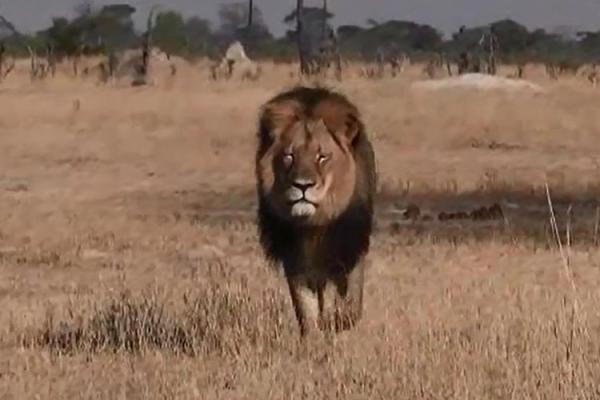 Cecil the lion is making headlines again — this time in Southern Nevada.
Animal right activists are circulating an online petition asking executives of Mandalay Bay to cancel the four-day Safari Club International hunters convention that opened Wednesday and is expected to be attended by 21,000 people.
MGM Resorts International officials say they have no plans to cancel.
Separately, a group of animal advocates plans to rally at Mandalay Bay on Saturday morning as part of a worldwide rally to call attention to Cecil, a male Southwest African lion that was killed July 1 near Hwange National Park in Zimbabwe.
The lion was a major attraction at the park and was being studied by researchers with the University of Oxford. Activists allege that Cecil was lured from the park and was shot and killed with an arrow by a recreational big-game hunter, Minnesota dentist Walter Palmer.
The incident resulted in worldwide outrage and threats against Palmer. At the time of the incident, he issued a statement that said he deeply regretted "that my pursuit of an activity I love and practice responsibly and legally resulted in the taking of this lion."
A spokesman for MGM issued a statement and confirmed the company has no plans to ask the Safari Club to cancel its event, which had been planned for more than a year.
"Our convention facilities are contracted by a wide range of organizations with diverse interests," the MGM statement says. "We understand that not everyone will support every viewpoint held by the thousands of groups that meet at our facilities each year."
By late Wednesday, the online petition had more than 67,000 signers with a stated goal of getting 70,000.
"More than 20,000 trophy hunters are descending on Las Vegas this week to place bids at a trophy hunting auction," the online petition says. "Sign this petition to demand the Mandalay Bay Hotel cancel the four-day event and promise not to hold any future auctions encouraging the slaughter of animals."
Raising awareness about Cecil
Care2, a social network with 30 million members that share common viewpoints on sustainability issues, produced the online petition. Last year, the company was responsible for raising awareness about the Cecil controversy, developing a petition that got more than 1.1 million signers worldwide.
"It's a catalyst that got everybody talking, by sharing it through social media," said Randy Paynter, founder and CEO of Care2.
Paynter said the petition is being directed at Mandalay Bay to apply social pressure on the company.
"There's a risk to Mandalay Bay of tarnishing its reputation," Paynter said. "Sea World changed its ways with the production of its orca shows through this kind of pressure."
One of the companies that heard that debate was Southwest Airlines, which cut ties with Sea World and repainted some of its jets that once displayed a whale theme.
Representatives of Safari Club International said revenue generated by hunting permits support the organization's conservation efforts and directly aid communities through projects that provide a higher quality of life to remote villages in African nations.
Chip Burkhalter, the director of government affairs and a spokesman for Safari Club International, said one of the ironies of the protests and petitions is that they back many of the same things the club is attempting to accomplish.
"We, the Safari Club International, fully support the right of protest, but what protesters at this convention should understand is that it would be much more effective to partner with us in conservation than fight against us," the organization said in a statement it issued. "The ironic reality is that the work done by SCI, its members and the hunter-conservation community does much more for the conservation of species and habitat than many of the misguided policies that these protesters would like to see supported."
Millions spent on conservation, other services
Burkhalter said since 2000, the organization has spent $60 million in conservation, wildlife education and humanitarian services. It spends about $4 million annually to promote science-based conservation through wildlife research, capacity-building in governments, youth and education and humanitarian programs, he said.
"In protesting this convention, these people are protesting the many, if not all, of the programs featured at this convention that are geared toward the conservation of animals, such as the 'Future of Elephant Conservation' class," the organization's statement said.
The organization also is planning a panel discussion as part of its event to discuss challenges the hunting community faces, including anti-hunting legislation and social media attacks.
The Friday panel will be moderated by Jeff Crane, president of the Congressional Sportsmen's Foundation. Panelists will include Rep. Ryan Zinke, R-Mont., Sen. Steve Daines, R-Mont., Louis Muller, managing director of Pro Safaris Africa, Johan Svalby, director of legal and public affairs for the European Federation of Associations for Hunting and Conservation, and American hunters Ivan Carter and Melissa Bachman.
The separate protest scheduled Saturday is being staged by the nonprofit Compassion Works International.
Group adopts more militant tone
Carrie LeBlanc, executive director of the organization, called for a boycott of MGM properties, and the organization, announcing the 10 a.m.rally, had a more militant tone than the petition.
"The slaughter of other living beings for the purpose of entertainment is archaic, cruel and must end," LeBlanc said in statement. "It is irrational to believe that the killing of wildlife is a reasonable approach to conservation.
"We call on MGM Resorts International and Mandalay Bay to end its relationship with Safari Club International," she said. "It is time MGM, well-known in Las Vegas for supporting animal captivity, joined the right side of history on issues related to animals. Until they do, we ask residents and visitors of Las Vegas to join our rally and to boycott all MGM properties."
Contact reporter Richard N. Velotta at rvelotta@reviewjournal.com or 702-477-3893. Find @RickVelotta on Twitter.