Animal shelter dogs treated to 'field trips,' courtesy of volunteers
Updated January 6, 2023 - 4:27 pm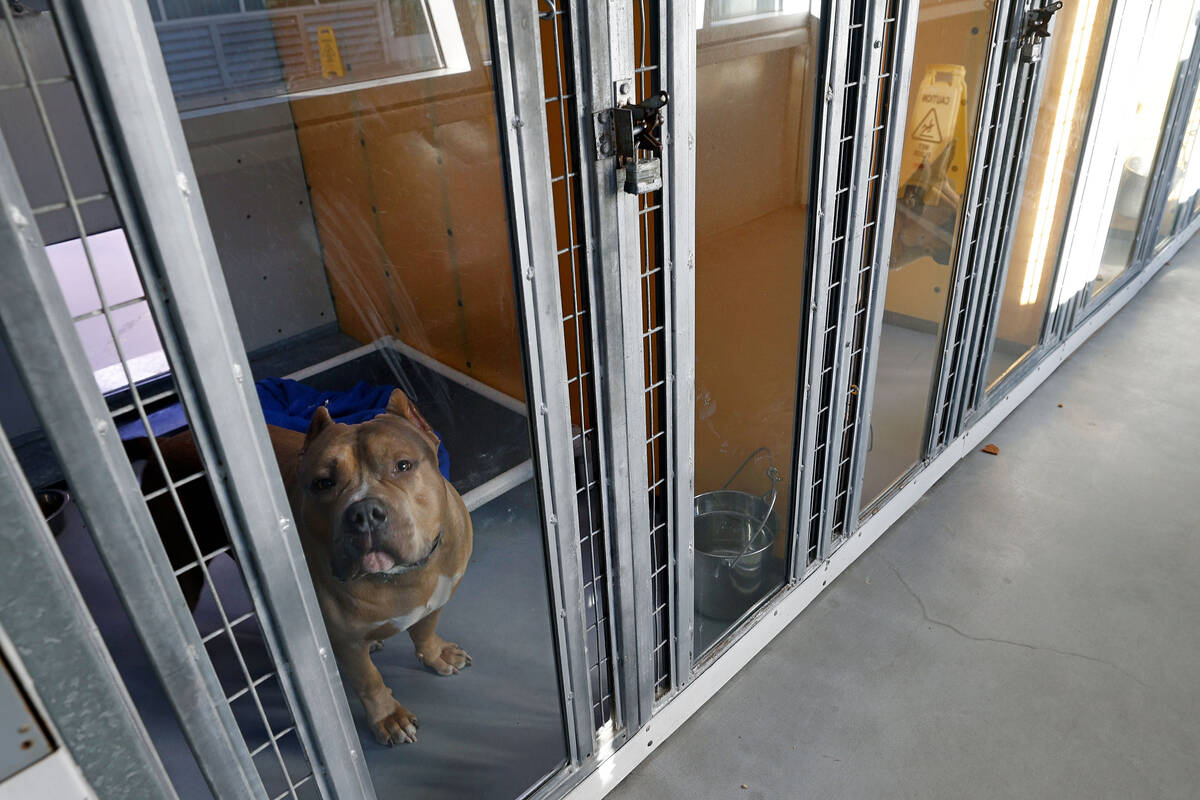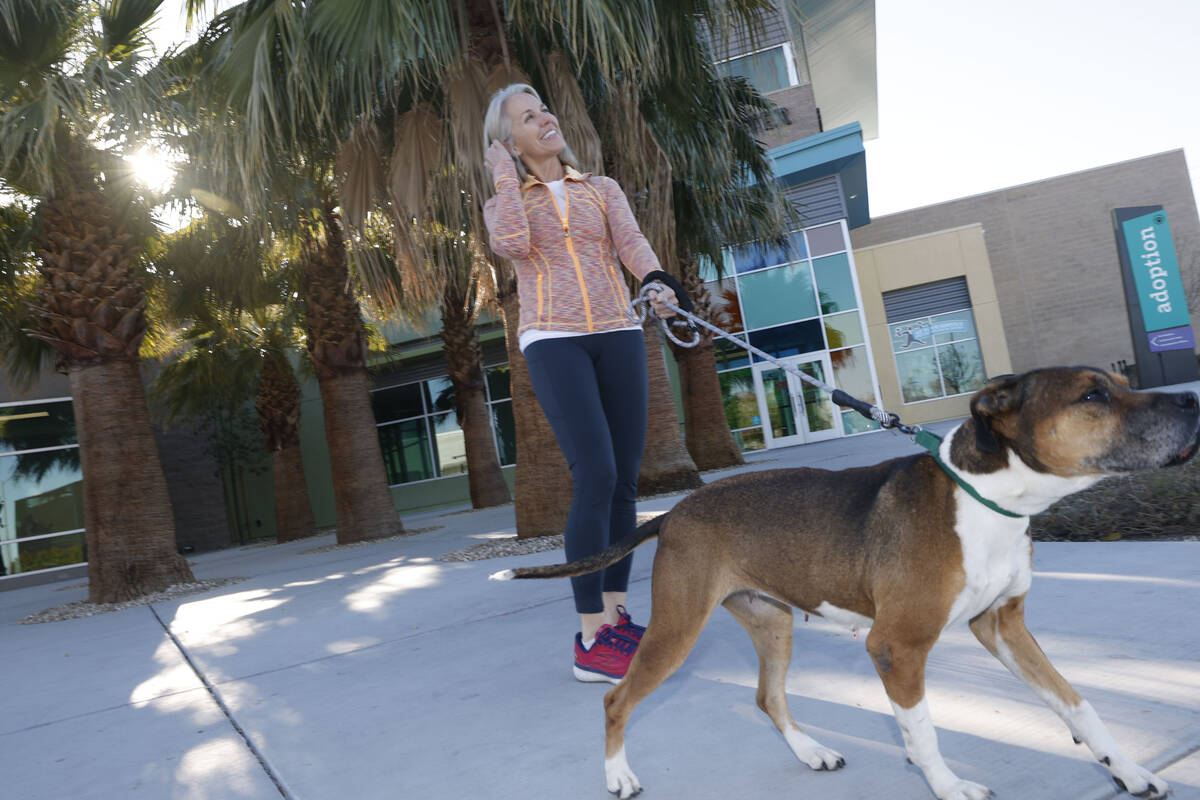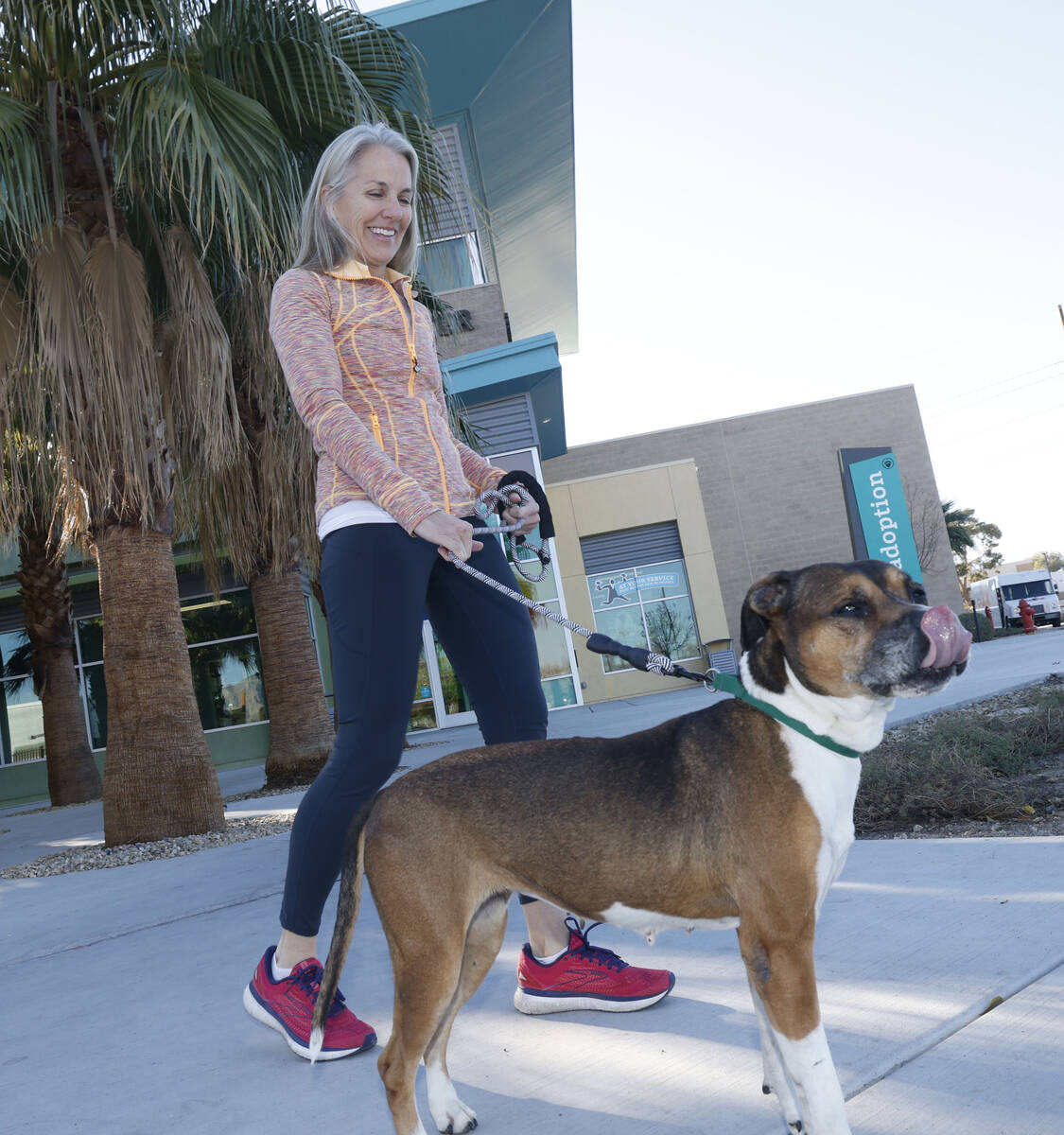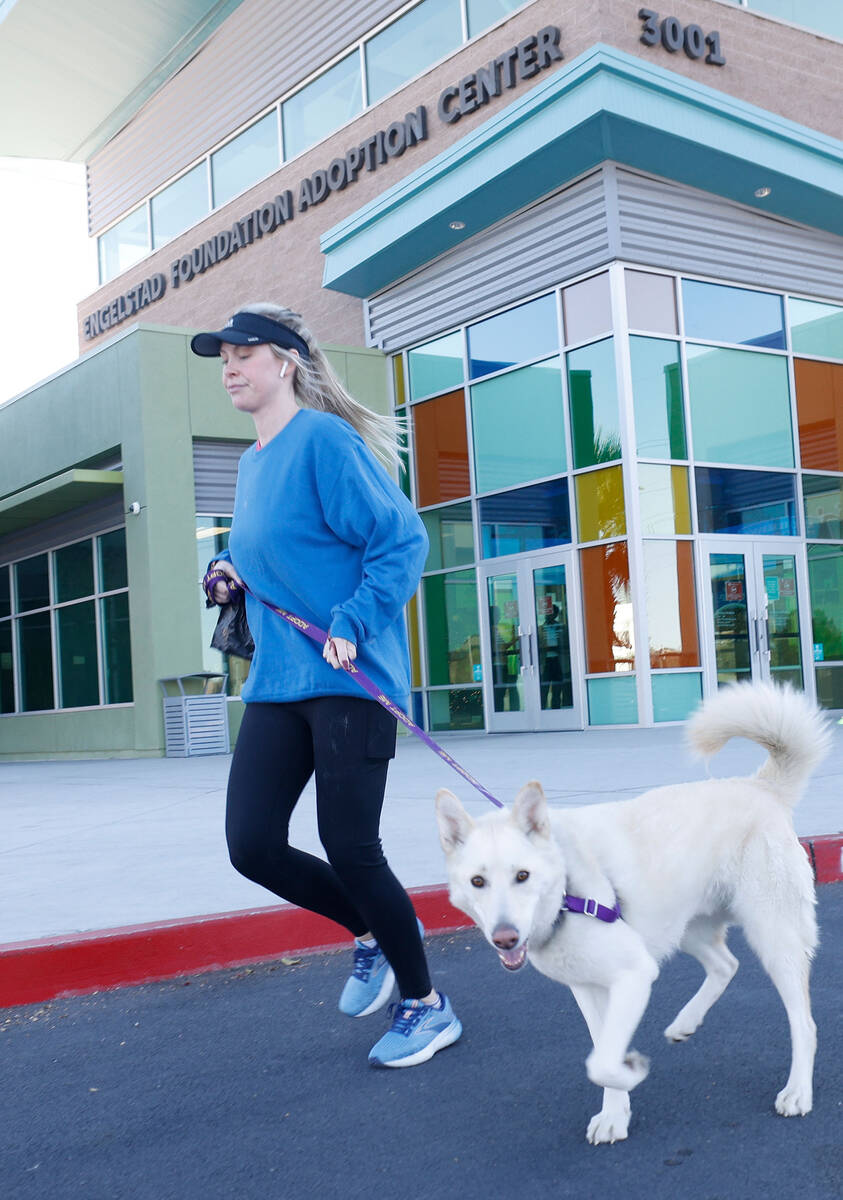 The Animal Foundation is on a mission to not only rescue dogs and try to find homes for them but also ease their stress while they're in a shelter environment.
The best way to do that, according to the foundation, is through the shelter's foster field trip program, which encourages Las Vegas residents to take shelter dogs out for walks or to run errands.
"Stress makes these dogs sad," Alec Petronsky, the foster coordinator at The Animal Foundation, said. "Their personalities are hidden in their caged environment, but when they are taken out to the park or on a hike, the dogs are smiling from ear to ear."
Petronsky said he's noticed that dogs that have been on field trips get adopted sooner. The people who've taken the animals out on field trips have witnessed often-shy dogs personalities start to shine when they're out of the shelter and enjoying the outdoors.
"You have no idea how beneficial taking these dogs out is for them," Petronsky said.
The program, which started in 2018, had been on track for 1,000 field trips before it had to pause in 2020 due to COVID-19, Petronsky said. That was 10 times the number of field trips from the first year, he said.
After rebooting the foster field trip program, the foundation now expects to get over 600 trips, he said.
At the shelter, a small group of frequent fosters take out dogs weekl.
Lunch break runs
The first time Deputy Chief District Attorney Mary Madden heard about the need for volunteers to take out the dogs, she thought that if she can go for a run with a dog, it'd be a double positive.
More than once a week Mary Madden, stops by the shelter during her lunch break to take a different dog out for a run.
"It's my understanding that when they're in the kennel for too long they literally lose their minds and then they have to be put down," Madden said. "But if you can get them out for even a 1-mile run or even a 1-mile walk, they're gonna spare them."
She encouraged her co-worker, prosecutor Kelly Porazzo to take out a dog with her during their lunch breaks.
On a recent day, Porazzo waited in the lobby of the Animal Foundation gor a fluffy white dog named Rumor
"There's my little girl!" Porazzo said as Rumor pulled the staff through the lobby in anticipation of going on a run.
"It's so rewarding because you're really helping them," Porazzo said.
She said that previously, she used to run with another dog she fell in love with but he was adopted and now runs with Rumor, another high-energy dog with eyes that widen at the sight of the front door. Porazzo is happy that a family recently adopted him and noted she has a cat that doesn't like other pets and makes it impossible for her to adopt a dog.
"Of course I miss them, but that's the point of all this," she said.
A taste of normalcy
The foster field trip program allows people to take out a dog for as little as an hour or up to twoweeks. Samantha Miles, a Las Vegas resident and accountant, likes to take a different dog out of the shelter a few days at a time.
"The shelter is amazing and provides everything for the dogs' needs, but it can be a really tough environment for some dogs," Miles said. "For some dogs, it's incredibly stressful and they need a bit of a break."
She believes the dogs need a taste of normalcy in their lives, which is what got Miles and her husband to start fostering short term. Over the years she's realized that not only do the dogs need to be taken out, but some need to be taught how to be house-trained.
Recently, they fostered a dog that was a stray that had never been inside someone's car. When Miles took the dog home, it was startled by its own reflection in the window. Training a dog that lacks these skills could make the difference between being adopted or not.
"We try to take the dogs that have been in the shelter for a little bit longer," Miles said. "The ones that maybe have a wonky eye or a lopsided smile, we try to take those."
They're the dogs that often are in the shelter the longest.
Previously, she picked up a dog named Lady, she remembered her big smile and loved belly rubs. Miles said she has never seen a dog smile so hard. She had taken her to Calico Canyon and took a video of how happy she was.
"The day she finally got adopted, we know that it was from the stupid video," she said laughing, even with the bittersweet note of knowing she won't likely see the dog again after its adoption.
When the Animal Foundation asked Lady's new owners, they said they were drawn to her based on the video and description Miles provided.
"It's those cute little things that you add that will make someone read it and go, 'Oh my God, that's a dog for me,'" she said.
Bittersweet goodbye
All the frequent foster participants said that dogs' personalities shine through as they loosen up on the foster field trips. This is key for Petronsky, as this helps the shelter personalize the dogs and allow people to imagine the dogs in their homes.
When a dog comes back from a field trip, its fight or flight levels are always significantly lower than before they left, Petronsky said.
For information on taking a dog on a field trip, visit www.animalfoundation.com/volunteer/foster-pet to fill out a questionnaire. Dogs eligible to go on a field trip must be at least 6 months old and weigh over 25 pounds. When time for their field trips, each dog comes out with an "adopt me!" bandana tied around its neck and with a leash.
The shelter also provides a list of restaurants and other pet-friendly locations such as outdoor malls like Town Square.
But when the time comes to bring them back, it's not always easy, Miles said.
"It is really hard to drop them back. So I have to admit, every single time I drop a dog back, I cry a little bit," she said. "You can't keep them all, but you can give them a really great time and also help them to gain some of the skills that they need for their new home."
Contact Jimmy Romo at jromo@reviewjournal.com or call 702-383-0350. Follow @jimi_writes on Twitter.