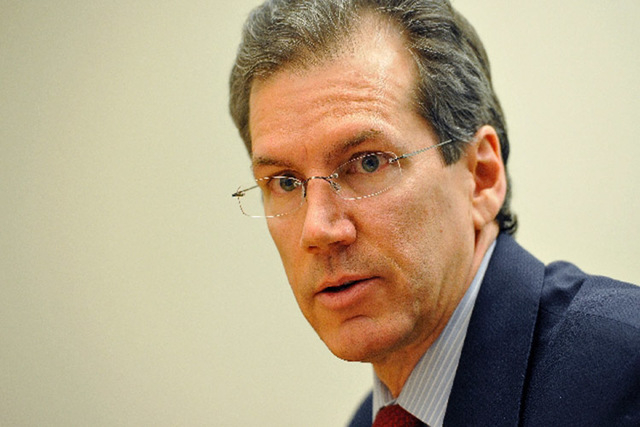 Candidates to be the next president of the University of Nevada, Las Vegas withdrew their names from consideration before it was made public they would be finalists for the job, a Nevada System of Higher Education regent said Friday.
"Candidates, especially candidates with excellent current positions, are always faced at the last minute with the decision of whether to allow their names to be made public," said regent and chairman of the UNLV presidential search committee Mark Doubrava in a memo Friday. "That occurred here and in the final stages of this search. We had candidates in our pool who chose not to participate in the public process."
That committee was set to announce the names of three to five finalists for the job early Friday, when the meeting was abruptly canceled.
"Rather than move forward quickly we determined to pause and take a look at where we are in the process," Doubrava said.
It was not made public who the candidates were, where they worked, nor how many candidates withdrew their name.
The search committee set a new meeting date of Oct. 20 at Marietta Tiberti Grand Hall in the Richard Tam Alumni Center when the finalists will be announced.
Campus visits by the candidates will be conducted the week of Nov. 10. Each candidates visit will include forums with faculty, students, staff and the public.
The search committee will then meet on Nov. 17 and 18 and decide whether to make a recommendation to the full board of regents. The Board of Regents will then decide whether to hold a special meeting to pick a president.
"The UNLV community and the general public's input is an integral element of the search process. Public comment is invited, anticipated and welcomed at each of these committee meetings and at the board meeting," Doubrava said.
Higher education Chancellor Daniel Klaich and consultant Jerry Baker are vetting the finalists.
Baker's Atlanta-based company was hired in May at a cost of $150,000, regardless of the time involved, to conduct the search.
It's been nearly a year since Neal Smatresk announced he would step down as president of Nevada's largest university to become president of the University of North Texas for about double the salary.
Don Snyder has led the school since the Board of Regents appointed him interim president in February. Snyder, a former member of the UNLV Foundation's board of trustees and dean of the William F. Harrah College of Hotel Administration, cannot be considered for the position.
Contact Francis McCabe at fmccabe@reviewjournal.com or 702-224-5512. Find him on Twitter: @fjmccabe.