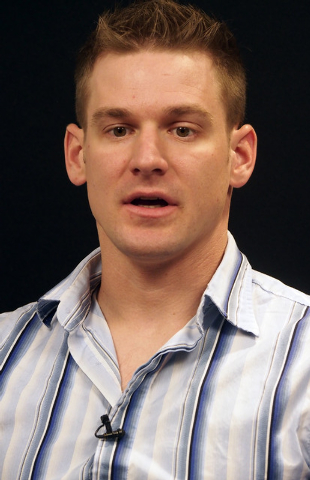 It has an eye-catching cover, nearly 500 pages and a way for readers to see photos and watch video clips of what a straight Nevada soldier experienced in combat in Afghanistan while his gay friend, a Las Vegas entertainer, worried about his safety.
Just like the scenes portrayed on its cover of the Las Vegas skyline twinkling at night above a daytime helicopter rescue operation on a barren Afghanistan mountainside, "On Two Fronts" tells one story from two perspectives of the time in 2009 when Sgt. Adam Fenner, an Army National Guard medic, deployed to the war zone, leaving his friend, opera singer Lance Taubold, behind. It was released Sept. 24.
The two men became friends between one of Fenner's previous deployments when he worked as a security guard at Paris Las Vegas where Taubold performed.
During his last deployment in 2009 and before their book's debut this week, the military went through a number of changes from the policy of "Don't Ask, Don't Tell," to acceptance of gays, the start of women in combat and benefits for same-sex couples.
Fenner, who now lives in Las Vegas, said his buddies wondered whether he was gay even though he's not and he would be razzed about it.
"It was something we talked about generally, joking among friends," he said Tuesday. "So if anybody knew I was friends with Lance I would get a lot of those questions.
"Some guys would get picked on because they drink too much or maybe they're a little bit overweight, or maybe we just decided they were ugly that day. But I would get picked on because they would go, 'Oh you're gay. You can just tell us. It's not a big deal.' No I'm actually not gay but there is no winning to that argument."
For Fenner, 29, it was his third tour in Afghanistan on top of two to Iraq, combining his service with the Marine Corps and the Nevada Army National Guard.
For Taubold, 50, Fenner's homecoming in 2010 at the Mandalay Bay Convention Center with 700 soldiers from the 1st Squadron, 221st Cavalry was the first he had experienced. More than 40 soldiers in the unit received Purple Heart medals for combat wounds and injuries, including some Fenner had treated.
"Unfortunately, your mind can't avoid going through the worst possible scenario. 'Oh my God, he's going off to war. He might not come home. This might be the last time I ever see him,'" Taubold recalled about the day Fenner left.
The print version, published by 13Thirty Books, includes a quick response code that can be scanned by a smart phone to view scenes Fenner experienced and were captured in photographs and short videos. The book and its eBook version are available from Amazon and Barnes and Noble, ranging in price from roughly $15 to $20 for the package.
"One of my biggest goals throughout the entire project was to humanize the soldiers," Fenner said. "I wanted people to recognize the soldiers as human beings. The troops are Jeffs and Mikes and Adams and Jasons and all these different guys. They're real humans that come home to their real families so I wanted to find a way to let people hear their voices and see their faces.
"You can hear sounds and see what's going on. You can hear kids laughing when they terrorized us on patrol. And you can see the beautiful little girls that are going to grow up into beautiful women if the men don't terrorize them like cattle. It puts a face on all these things," Fenner said.
Although the book shows the war from a medic's eyes and is told in the coarse language that soldiers speak, Taubold said, in reality, "It's not a war story. It's a relationship story" about their pen-pal exchanges and what's going through their minds when the bullets aren't flying and when they are.
Said Fenner: "Lance in his own way displays what a lot of family members can't show their loved ones. He's reaching out to the people who aren't normally discussed. The people who are deployed, we get our piece. We just don't get the piece from at home because we've never been at home while someone's deployed."
Fenner puts the reader in his shoes when, for example, the vehicle in front of him is blown up by an improvised explosive device, or IED.
"I ran to the driver, and opened the door," he wrote. "Normally, I would have to climb up the wheels to do this, but the engine compartment was no longer attached. The driver's compartment was nose in the dirt. The hood lay twenty-plus feet away, where it had landed after flying high into the sky, its heavy bulk upside down along the side of the hill. … 'How are you feeling, Bacon?' I asked the oldest member of the platoon. 'I'm good, but my leg hurts.' I took a glance at his leg. He was moving it but was still obviously in pain."
Taubold, who lives in Henderson, said it was that passage and others about fire fights and mortar attacks that "made me realize that every day, every moment that he's there, something can happen."
In retrospect, Fenner said the IED explosion marked "the point where I stopped having fun. It took me about a week to get out of a real bad funk I was in. That was where I was like, 'Now I want to go home. This is no longer this little adventure I was going on.'"
Taubold said the lesson he learned from the project is "we take so much for granted, our lives, other people and the military."
"It's a bunch of guys over there and they're fighting for us. Yeah, that's really wonderful that they're fighting for us so we have all our freedoms. But no, it's not a bunch of guys. Everyone is an individual. Every single individual is important to a lot of other individuals. And that's what really opened my eyes," he said. "It's not the Army. It's individual men and women."
Contact reporter Keith Rogers at krogers@reviewjournal.com or 702-383-0308.