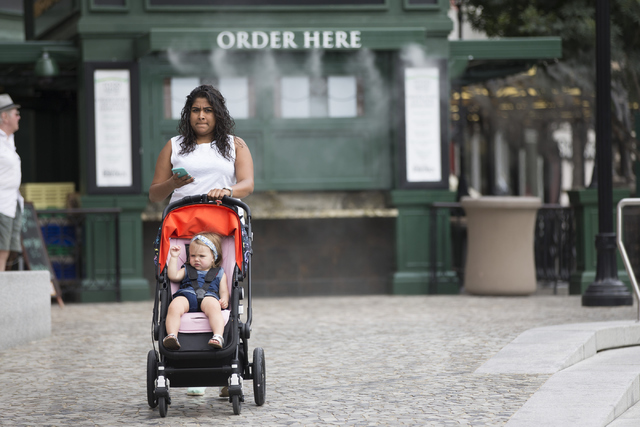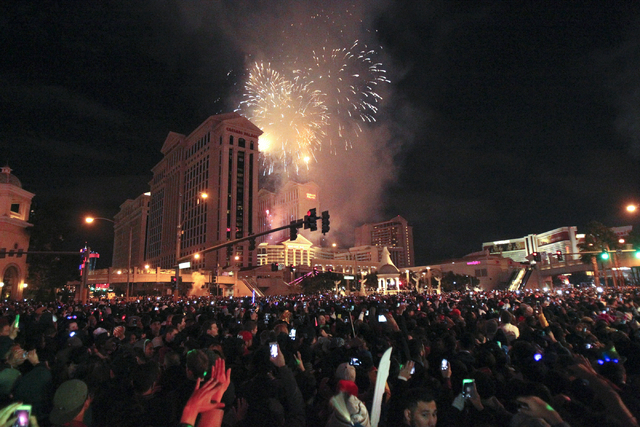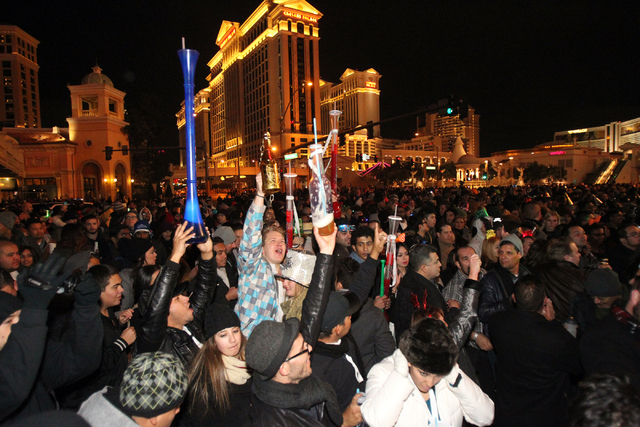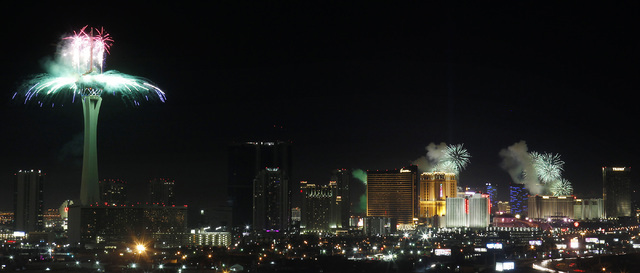 New Year's Eve revelers headed for the Strip shouldn't plan to bring any large bags or coolers to this year's bash.
The Clark County Commission on Tuesday approved a bag ban that bars bulky items including briefcases, computer and camera bags, coolers, backpacks, fanny packs, strollers and carts at the big event.
Purses that are larger than 12 inches by 6 inches by 12 inches are also banned on the Strip during the celebration.
The measure, which the Metropolitan Police Department requested earlier this year, received unanimous approval, without discussion by commissioners.
Police banned bags on the Strip for those who rang in 2016 on the Strip, in the wake of deadly terrorist attacks in San Bernardino, California, and Paris, but it wasn't wasn't enforceable. Tuesday's county action changed that for the Dec. 31 and Jan. 1 celebration, which can draw as many as 300,000 people to the Strip.
"If people showed up with backpacks there was nothing we could do about it," Metro director of intergovernmental affairs Chuck Callaway said in March, when Metro requested the ban.
Warnings will be given to violators, allowing them to come into compliance with the new regulation. Police officers will be able to issue citations, and those who refuse to comply could face arrest.
Medical devices, vehicles needed for medical purposes and news media equipment are exempt from the regulation.
Tuesday's county code change also now allows aluminum cans at special events, such as building implosions, block parties and grand openings. Glass containers are prohibited.
Nevada Resort Association President Virginia Valentine, Terry Murphy of Wynn Resorts and Las Vegas Metro Chamber of Commerce Director of Government Affairs Justin Harrison all commended the county for the code change.
"We understand the importance of safety on the Las Vegas Strip" for tourists, residents and other people who make their way to the stretch of Las Vegas Boulevard.
The commission also approved on Tuesday a brief lane closure on Las Vegas Boulevard South from Caesars Palace to Flamingo Road on the evening of July 3 for the hotel-casino's 50th anniversary celebration. The bag ban will not be in effect for that event.
Contact Jamie Munks at jmunks@reviewjournal.com or 702-383-0340. Find @JamieMunksRJ on Twitter.