Bail set for woman driving in crash that killed niece
August 29, 2014 - 5:05 pm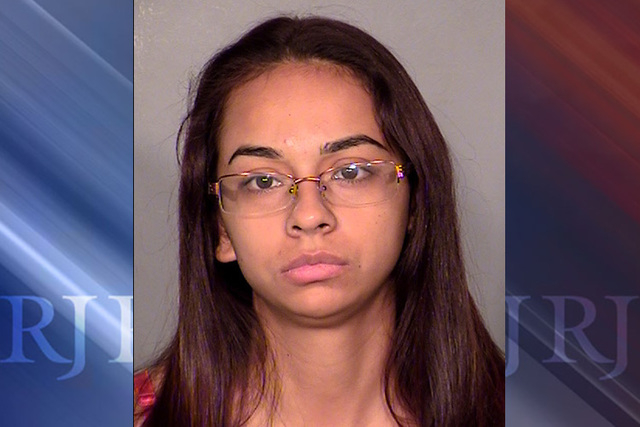 A judge set bail at $70,000 Friday for a Las Vegas woman who was behind the wheel in a crash that killed her 9-year-old niece.
Wendy Carrion, 22, faces felony and misdemeanor charges including involuntary manslaughter, child abuse or neglect, failure to maintain lanes, driving without a license and not restraining a child.
On July 2, Carrion and six children were traveling north on Interstate 15 when she lost control of her SUV and it rolled, according to the Nevada Highway Patrol.
Three girls, ages 4, 6 and 9, were thrown from the vehicle onto northbound lanes of the freeway. At least two of them had not been wearing seat belts. One of them, 9-year-old Gabriela Casias, died at University Medical Center.
Carrion and the rest of the children, who were all under the age of 7, were treated at the hospital and released.
Her attorney, Bret Whipple, said witnesses have told him another vehicle cut Carrion off, and she swerved to avoid it.
"This was an accident," Whipple said, adding that Carrion had been placed on suicide watch in the jail. "She's going through hell."
The Ford Explorer Carrion drove the day of the crash was not equipped for six child passengers, NHP said.
Whipple said that the vehicle was not equipped because on the day of the crash, Carrion had dropped off her sister at work and was carrying her children and her sister's children in the SUV.
Prosecutor Charles Martinovsky said Carrion should have taken precautions to prevent the children from being hurt.
"There's a dead person here, a very young individual who relied on (Carrion) to take care of her, and she did not do that," Martinovsky said. "All she had to do was leave those kids somewhere else or put them in a child seat. It's not a small deal. Maybe she's going through hell, that's great. But other people she caused harm to are dead or were in the hospital. That's a big deal."
Four of the children were Carrion's, while two were her sister's, Whipple said, and when Carrion picked up her two nieces, she placed the youngest four in car seats.
Gabriela's mother wants her sister released from jail, Whipple said, and has prepared a statement for Justice of the Peace Joe Bonaventure, who set bail.
Carrion is a single mother with no criminal history and has worked in housekeeping at the Tropicana for three years, Whipple said.
"Every moment that she's away from her children and her family is causing her pain," Whipple told the judge, pointing to relatives who appeared in court.
Carrion did not have a valid driver's license, according to the Nevada Department of Motor Vehicles. She was convicted in North Las Vegas last year of driving without a license and not properly restraining a child in a vehicle.
Bonaventure, who called the charges "very serious," is expected to address Carrion's bail again Tuesday.
Contact reporter David Ferrara at dferrara@reviewjournal.com or 702-380-1039. Find him on Twitter: @randompoker.