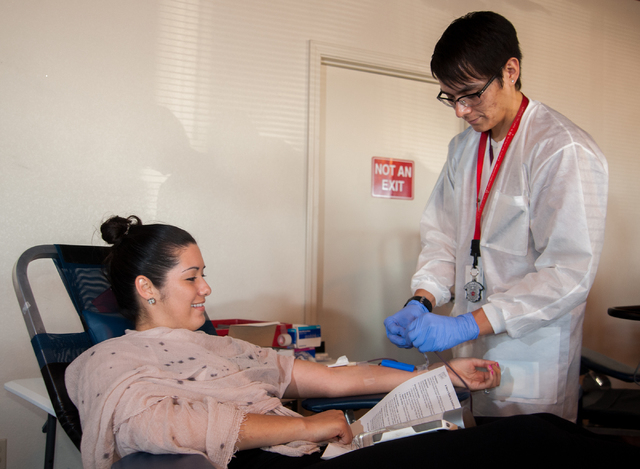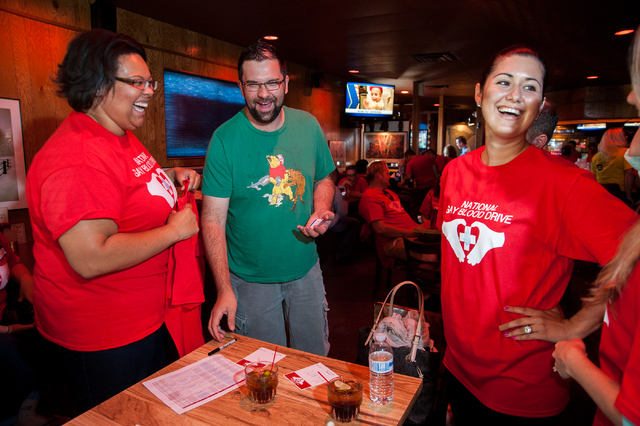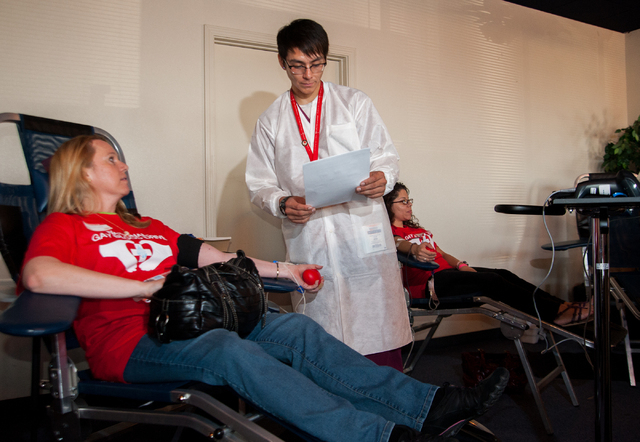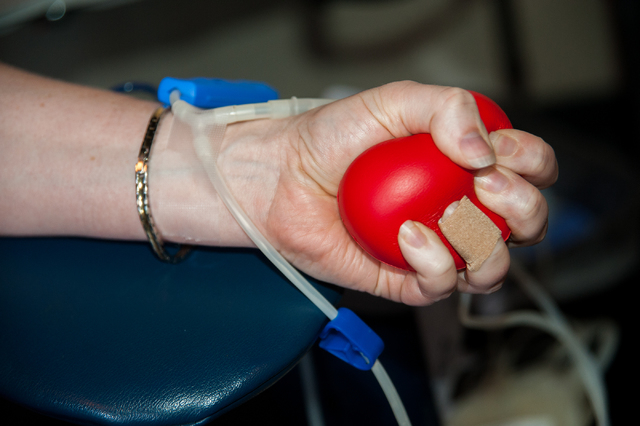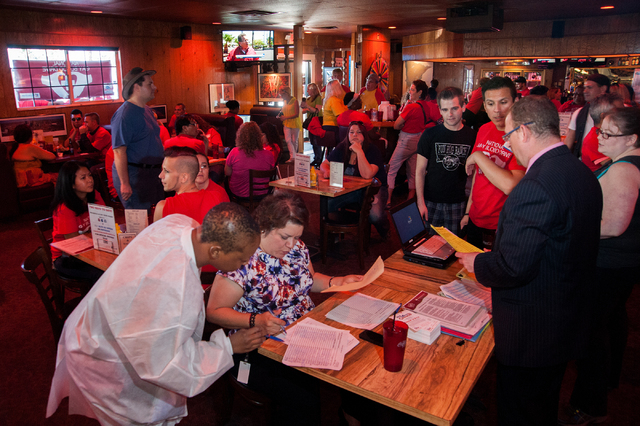 Protests against the Food and Drug Administration's ban on blood donations from gay men were held Friday in dozens of U.S. cities, including Las Vegas.
The FDA bans donations from any man who says he has had sex with another man after 1977. The ban is a response to the prevalence of sexually transmitted viruses such as HIV and hepatitis within the gay community.
Dozens of people crowded into the Blue Ox Tavern on Sahara Avenue, near Jones Boulevard. In the tavern's banquet room, United Blood Services set up shop to take blood donations, although gay men were disqualified immediately after signing up.
In a statement given out at the event, United Blood Services said that it and other national blood banking organizations think the lifetime ban should be changed to a 12-month deferral.
"Back then tests were not as accurate as they are today," said Paul Milakeve, donor recruitment manager for UBS.
The ban started in 1983, when the risk of transmitting AIDS from a transfusion was first recognized. The FDA's current policy began in 1992 and places gay men in the same risk category as intravenous drug users and prostitutes.
Colby Spencer organized the event in Las Vegas and said he wants to see the policy change from being based on sexual orientation to being based on behavior.
"This is really a grass-roots effort," Spencer said. "Everybody who's walked through the doors signed the petition."
Testing blood donations for viruses like HIV and hepatitis is standard practice but not foolproof. According to the FDA's website, the risk of getting HIV from a blood transfusion has now been reduced to about one per 2 million units of blood transfused.
The risk of hepatitis C is about the same as for HIV, while the risk of hepatitis B is somewhat higher.
The FDA attributes these numbers to a few factors.
There is a window of a few months after a person is infected with HIV when the virus might not be recognized by current tests. The FDA says on its website that there is also a chance of human error: Blood being stored in a blood bank might be given accidentally to a patient before testing is completed or after testing positive for diseases.
"Every sample is tested. The window period applies to straight people, right? So why would they only apply that reason to gay people?" Spencer asked. "It's 2014, not 1983."
The current FDA policy does not make allowances for gay men who are married or mono­gamous.
Having a low number of sexual partners is known to decrease the risk of HIV infection. The FDA, however, has not developed donor eligibility questions about monogamy or safe sexual practices.
In the future, improved questionnaires could be helpful in selecting safe donors, the agency says on its website.
FDA officials say the only way they would lift the ban is if they had scientific evidence to show that doing so would not increase the risk of infection to people receiving blood donations.
The U.S. Health and Human Service's Advisory Committee on Blood Safety and Availability met to discuss the FDA ban in 2010. It found that current policies permitted some potentially high-risk donations while preventing some potentially low-risk donations. The committee voted to uphold the ban and called for further research to establish a sound scientific basis for a policy change.
In August 2013, U.S. Sen. Elizabeth Warren, D-Mass., Rep. Dina Titus, D-Nev., and others wrote an open letter to the U.S. Department of Health and Human Services questioning the ban and the research that had been done since 2010.
"Since the beginning of the HIV/AIDS epidemic more than 30 years ago, the scientific community's understanding of the virus has changed dramatically. We have seen vast advances in blood screening technology, blood donation policy changes in other countries allowing (gay men) to donate, and opposition from our nation's blood banks who have called the current ban 'medically and scientifically unwarranted,' " the letter reads.
The letter cites the American Medical Association's opposition to the ban, saying it encourages outdated stereotypes and discrimination.
"Our current policies turn away healthy, willing donors, even when we face serious blood shortages," the letter reads.
"They have a good reason to be scared of HIV, but it's not reasonable to exclude all gay people," said 25-year-old Joshua Wright. The Las Vegas man has donated blood more times than he can count, and he's gay.
"Sex with a man doesn't equal having the virus," he said. "I want to do my part, and they won't let me if I'm honest."
Petitioners have until the end of the month to reach the 100,000 signatures required to get a response from President Barack Obama.
"It was a pretty damn big success for a blood drive," Spencer said. An hour and a half into the event they had to send someone for more blood bags and started turning away donors.
Contact Wesley Juhl at wjuhl@reviewjournal.com and 702-383-0381. Find him on Twitter: @WesJuhl.