Barn Buddies helps rescue ailing farm animals in Las Vegas
November 25, 2018 - 7:34 pm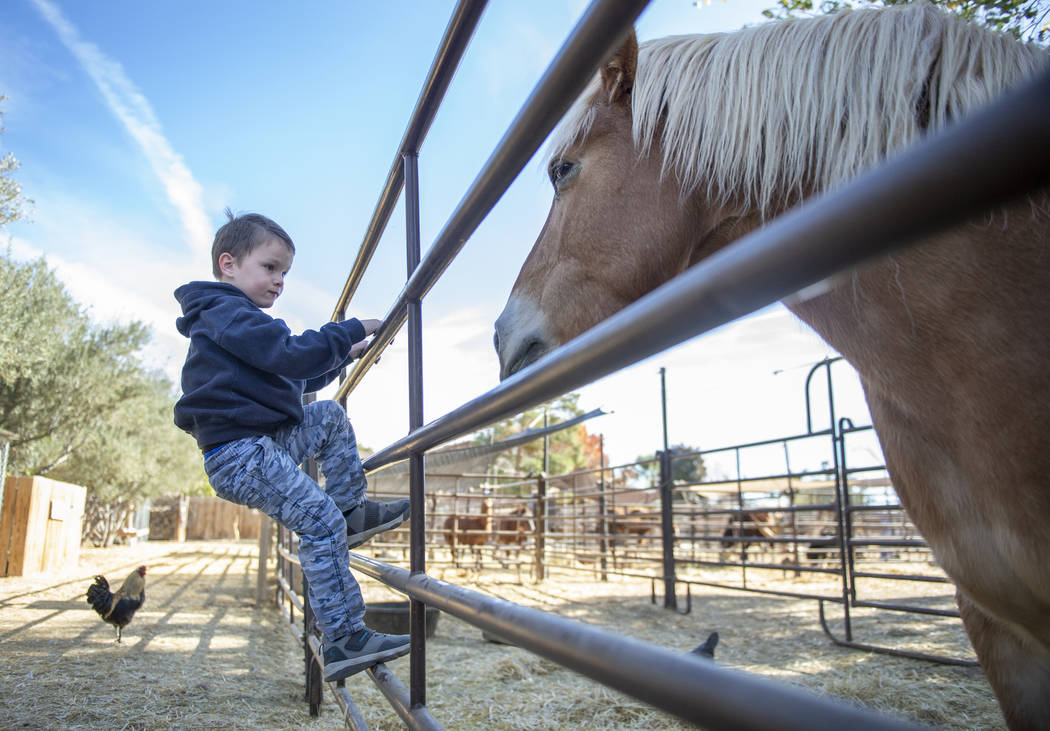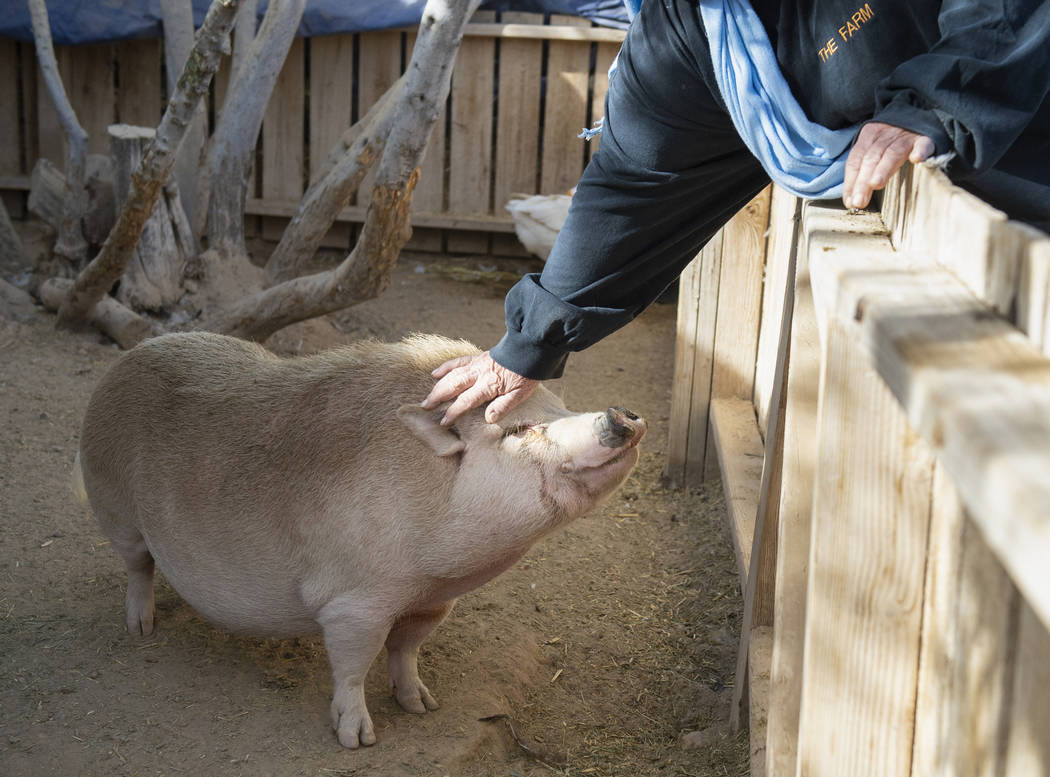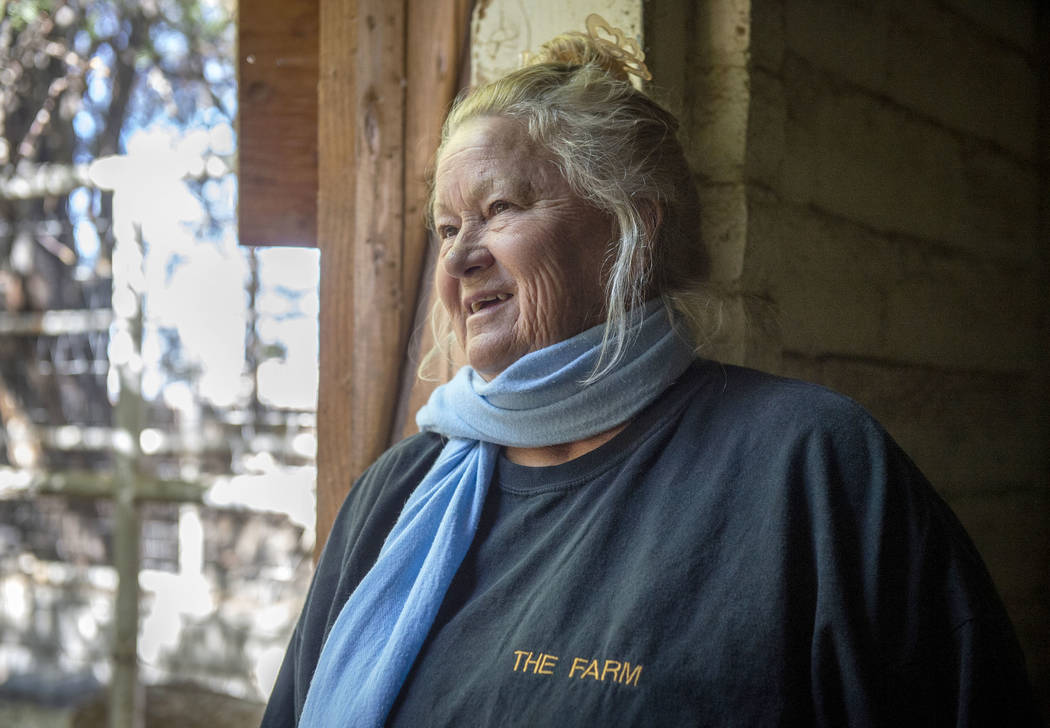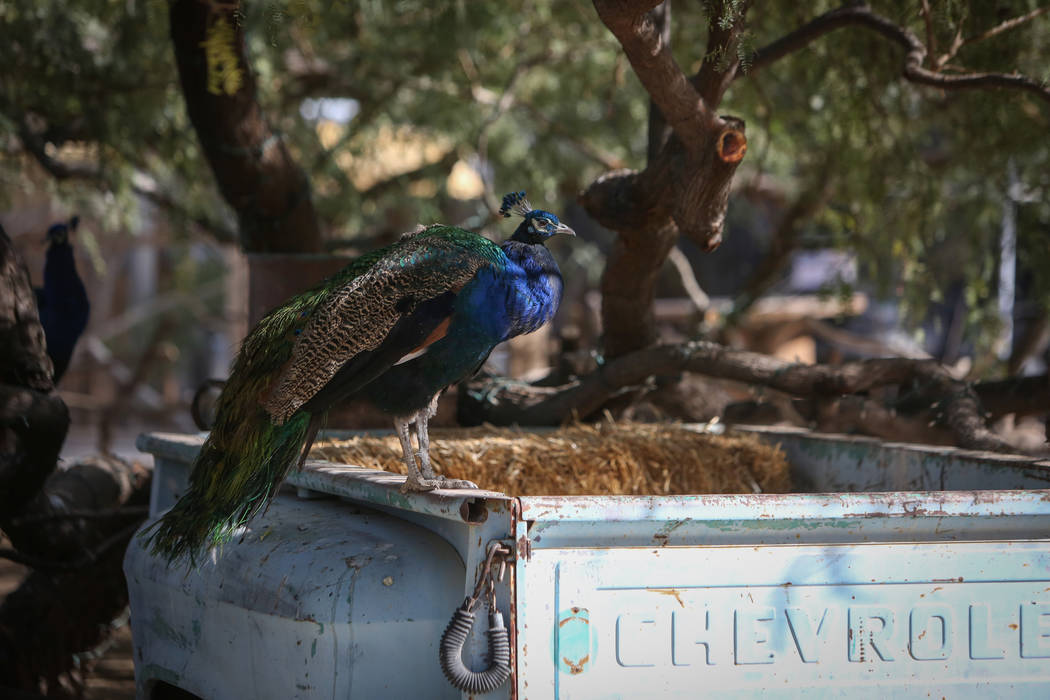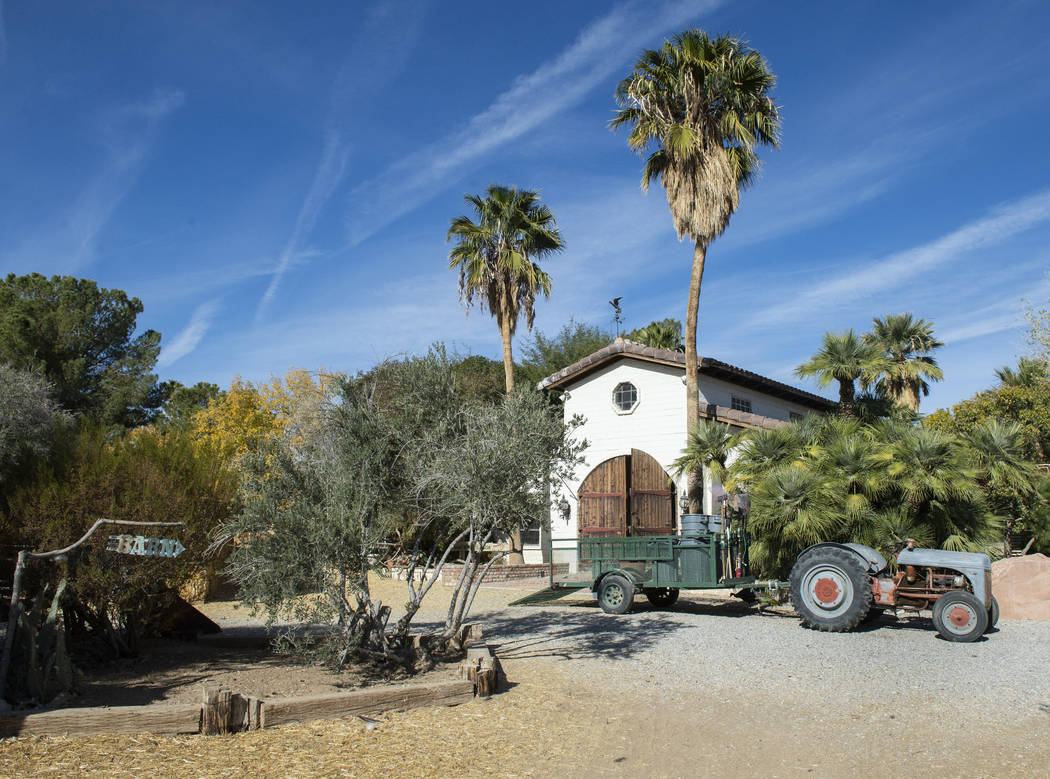 From the moment that visitors walk through the farm's archway, it's apparent Barn Buddies is not like most rescues.
The 5-acre property in the northwest Las Vegas Valley takes in abandoned, injured, sick or old farm animals.
"Horse populations, goat populations, rabbits, geese, donkeys, mules, llamas, cows – you'd be amazed at what is out here that needs our help," Sharon Linsenbardt, the owner of Barn Buddies Rescue, said Sunday morning.
She was interrupted by the crow of a rooster but seemed not to notice. She's grown accustomed to animal noises, having run the farm since the early 1960s. She started the nonprofit in 2013.
"Our mission is to bring in, give safe haven, give medical treatment, give rehabilitation and give a soft place to fall for any farm animal that needs it," said Linsenbardt, 70.
As Linsenbardt ambled through the animals' pens, she retold the horror stories that brought each animal to her yard. Kevin, a black potbellied pig with wiry black hair, was rescued from a party where he was to be eaten, she said.
"He came off a barbecue pit," Linsenbardt said. "Somebody called me and said, 'They're about ready to butcher the sweetest pig I've ever met.' I said, 'Where?'"
She drove to the party and convinced them to sell the pig. She added that Kevin is one of the few exceptions to her rule against paying for animals.
Hazel, a black-and-white cow with wonky horns, was rescued from a group of starving calves that had been abandoned by their owner. Hazel was the only one still alive when Linsenbardt found them.
"Every animal here comes from an irresponsible situation. Otherwise, we wouldn't have them," Linsenbardt said.
Miss Charlotte, a pink potbellied pig, had been living with her owner in a women's shelter.
"The safe house called and said, 'We can keep the mom and her kids safe, but we can't keep a pig.' So we got Charlotte."
Linsenbardt found Dixie, a brown mare, abandoned in the desert 100 miles from Las Vegas with maggot-infested wounds and a cut on her face that required 26 stitches. She rescued Gus Gus, a blind white goose, from a nearby park where boys had been hitting him with a stick.
The farm is a good place for field trips, she said, because it teaches children about respect for animals.
"Do not be a bully, not only to people but to animals," Linsenbardt said. "All of these animals deserve our respect and deserve the opportunity to live without fear."
Niki Quiles, 38, has been visiting the farm for 15 years and has volunteered there for the past six months. She said Barn Buddies is an escape from her busy work life.
"These animals need so much love, attention and help. It makes all my other problems seem insignificant," she said.
Conrad Phillips, 33, was on his way home to Grand Junction, Colorado, with his family when they decided to stop at the farm. His sons and nephew offered up paper bags full of grass to a horse named Daisy.
"We're from Colorado, so we see a lot of animals, but this is awesome, where they're all tame," Phillips said. "And they all have a different personality."
Daisy knocked her hoof against the side of her metal pen, urging the boys to feed her more grass.
Barn Buddies also sells honeys, jams, breads and soaps, all made on-site. In addition to the recommended $6 donation for admission, visitors can sponsor animals by pulling an envelope from a wooden tree and offer to help pay the costs associated with the animal shown on the envelope.
On Sunday morning, one couple pulled the envelope for Kevin, the pig, whose nail and tusk trims, along with trims for the other eight pigs, cost the nonprofit $800, twice a year.
"Our food bill here is over $7,000 a month," Linsenbardt said.
That figure doesn't include medical care, grooming costs, habitat construction, straw for bedding, power and utilities, or spay and neuter costs.
"All of this care adds up," she said. "We've got a community of people supporting us, and we want the community to grow."
Contact Kimber Laux at klaux@reviewjournal.com. Follow @lauxkimber on Twitter.
Barn Buddies
The nonprofit, 7222 W. Grand Teton Drive, is open from 9 a.m. to 4 p.m. Saturdays and Sundays. Barn Buddies hosts weddings, birthday parties, field trips and corporate events. For more information, or to learn how to donate or to volunteer, visit barnbuddiesrescue.org or call 702-982-8000.