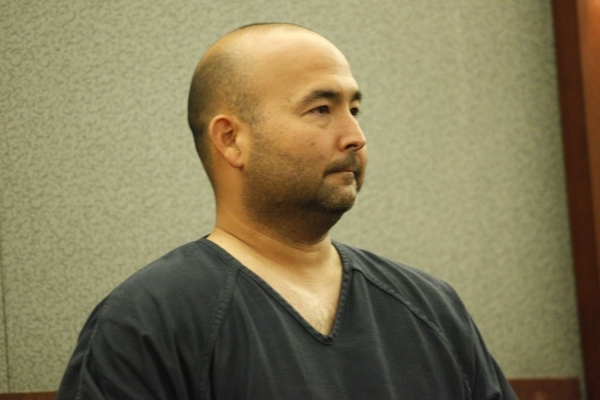 A former Bellagio craps dealer and a man who placed phantom bets at the casino pleaded guilty Thursday in what prosecutors called a million-dollar swindle.
Mark M. Branco, 42, and Anthony G. Granito, 49, were the last of a group of four to plead guilty in the two-year scam that authorities said defied 452-billion-to-1 odds.
From the summer of 2012 to the summer of 2014, Branco, fellow dealer James R. Cooper, 43, and two players, Granito and Jeffrey D. Martin, 38, scammed the Bellagio by making phantom hop bets, according to grand jury testimony. A hop bet is a one-time, high-risk verbal proposition in which a player wagers that a specific number will be rolled next.
Defense lawyers dispute the high-dollar figure as stolen money, saying that the group sometimes won legitimate bets.
Andrew Leavitt and Dennis Leavitt, who represent Branco and Granito, said Bellagio counted every cash-out as a cheat, but the group also profited from fair wagers that the defendants should not have to pay back. Branco even underpaid players on occasion, the attorney said.
Prosecutors said the legitimate bets were built into the scam so casino bosses wouldn't become suspicious.
Entering his plea, Branco told District Judge Valerie Adair, "I was a dealer at the Bellagio, and we fixed the outcome of the game."
Granito said, "I was playing at the Bellagio, knowing the outcome of the game."
The judge asked if he also placed "regular bets" in order to "not look unduly suspicious."
"All the time," Granito said.
Cooper and Branco would have to be working the same table for the scheme to prevail, according to prosecutors. As a shooter tossed the dice, Granito or Martin would mumble something that sounded like a hop bet, and one of the dealers would pay out as if they had correctly wagered on whatever fell.
At the time, the felt on the craps table at Bellagio had no designated spot for such bets.
Odds are that over two years the crew would have lost $712,029, but they won a total of $1,086,400, according to an MGM statistician. Granito had racked up more than $33,000 in comps, and Martin had more than $12,000 that could have been used on shows, steak dinners, free rooms or a day at a spa. But they cashed in on very little.
Branco and Granito rejected offers that included mandatory prison time, and their lawyers are expected to argue for probation at a sentencing next year. Prosecutors could ask Adair to send Branco, Granito and Martin to prison for more than three years.
Martin pleaded guilty last month to one count of theft and one count of cheating at gambling and faces punishment similar to that facing Branco and Granito.
Cooper cooperated with authorities immediately after the group was caught on surveillance. He is expected to be sentenced after all of his co-defendants.
Contact David Ferrara at dferrara@reviewjournal.com or 702-380-1039. Find him on Twitter: @randompoker