Bias finding prompts new trial in Vegas FBI agent murder
January 23, 2015 - 6:41 pm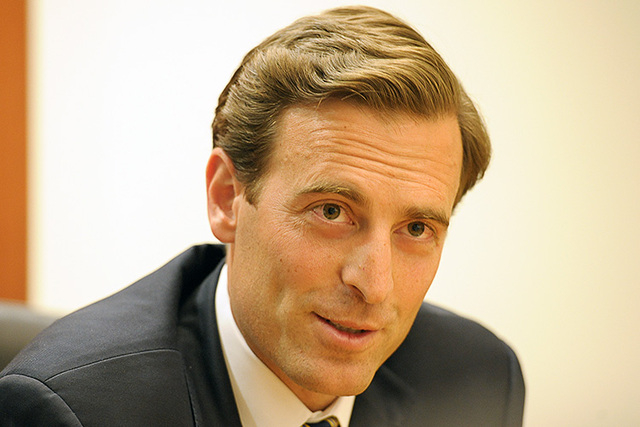 Nevada Attorney General Adam Laxalt said Friday that his office has appealed a federal judge's decision that could result in the release of a death row inmate convicted of killing an FBI agent.
The inmate, Jose L. Echavarria, was convicted in Clark County District Court in the 1990 of the shooting death of FBI Agent John Bailey in a Las Vegas bank. The local FBI building is named for Bailey, a widely known and highly regarded federal agent.
Bailey happened to be in a Security Pacific Bank branch on FBI business on June 25, 1990, when a man disguised as a woman — later identified as Echavarria — pulled a gun on a teller, according to court documents. Bailey scuffled with the robber and was fatally shot.
Echavarria was arrested in Juarez, Mexico, the next day and returned to Las Vegas to face charges in Bailey's death.
In a 57-page decision filed in Reno on Jan. 16, U.S. District Judge Miranda Du found that Echavarria had gotten an unfair trial because of alleged bias on the part of the presiding district judge in Las Vegas, Jack Lehman, who has since retired.
Echavarria and his lawyers argued they learned after the trial that Bailey had investigated Lehman several years earlier over a questionable land deal when he was a member of the Colorado River Commission.
"The evidence submitted by the Echavarria shows, beyond any dispute, that Agent Bailey had been centrally involved in conducting the investigation of the trial judge and that the alleged fraud and the FBI investigation were of such significance that they would have had serious implications for the trial judge," Du wrote.
Du concluded that it was "constitutionally intolerable" for Lehman to preside over the case because an average judge in this position might be tempted to avoid rulings unfavorable to the FBI or the prosecution "in order to appease the FBI and avoid any further investigation."
Defense lawyers had complained about some of Lehman's rulings during the trial, and Du said she came to the "inescapable conclusion" that the risk of bias on Lehman's part was too high to be confident the case was handled by a "neutral and detached arbiter."
Du granted Echavarria's petition for a writ of habeas corpus and ordered his release from custody within 60 days unless the attorney general filed notice of intent to retry Echavarria.
Du also put her decision on hold to give the attorney general an opportunity to seek a review at the 9th U.S. Circuit Court of Appeals.
"Jose Echavarria does not deserve a retrial, and my office has already filed a notice to appeal this order to the 9th Circuit," Laxalt said in a statement Friday.
The appeal is likely to leave Du's decision in limbo for months.
Earlier this week, the FBI Agents Association also weighed in on her decision.
"The FBIAA urges the state of Nevada to take all necessary actions to protect the public from Jose Echavarria and to ensure that justice is served for the murder of Special Agent John Bailey," the national organization said in a statement. "Echavarria is a threat to public safety and his release would cause unnecessary risks to the public and further pain for Special Agent Bailey's family, friends, and fellow special agents."
A member of the group who worked with Bailey, retired Agent John Wilson, added that: 'I looked up to John for guidance and direction because of his dedication to his job and his capabilities. He was a top agent and a committed family man.
"I join with my fellow retired and active special agents in urging the state of Nevada to take action to protect the public from John's murderer."
Contact Jeff German at jgerman@reviewjournal.com or 702-380-8135. Follow @JGermanRJ on Twitter.