Big crowds for downtown Bikefest prompt Fremont Street restrictions
September 26, 2013 - 1:41 pm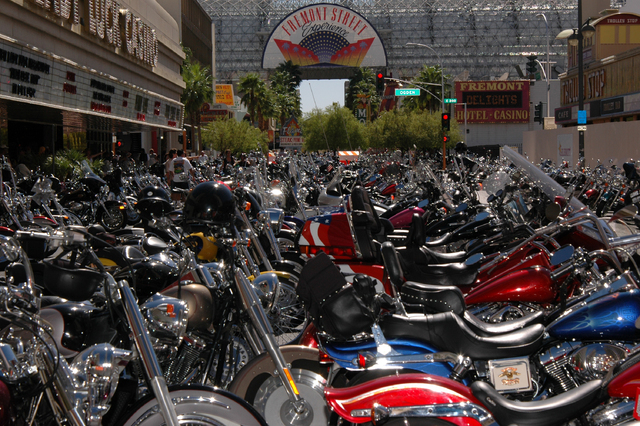 New Year's Eve is coming early on the Fremont Street Experience, at least when it comes to crowd control.
Access to the typically wide-open pedestrian mall in downtown Las Vegas will be controlled by barricades and restricted by age on Oct. 4.
That's because in recent months the first Friday of the month has meant surging crowds descending on the adjacent Fremont East bar district. And the upcoming first Friday coincides with Las Vegas Bikefest, a popular tourist event that's also expected to attract thousands of visitors.
Jeff Victor, president and general manager of the Fremont Street Experience, said Las Vegas Police requested controls similar to New Year's Eve to ensure the pedestrian mall doesn't exceed its 30,000-person capacity.
Victor said barricades will most likely go up between 6 p.m. and 8 p.m. on Oct. 4 and remain in place until about 4 a.m. Oct. 5.
People will need identification showing they are 21-years-old or older to access the pedestrian mall and will receive a wristband, Victor said. Unlike New Year's holidays past, there won't be a fee or cover charge.
The Fremont Street Experience will need a special events permit from the city and will enforce the restrictions with police help, Victor said.
Victor said he hopes Bikefest attendees won't feel the restrictions are aimed at them.
"We feel bad this is happening on Bikefest weekend," Victor said. "We hate to send an unintentional message to the bikers."
Crowd control has been a popular topic downtown on recent months. The Arts District, several blocks south of the Fremont Street tourist corridor, has for a decade hosted First Friday street festivals each month.
But in recent months the Fremont Street area has seen its own surge of First Friday crowds independent of the official First Friday.
Police have experimented with barricades, officers on horseback and prohibiting pedestrians from walking around with beverages of any kind, even though city code allows people to drink beverages, alcoholic or otherwise, on public sidewalks as long as the booze comes from a licensed tavern.
Contact Benjamin Spillman at bspillman@reviewjournal.com and follow him on Twitter at @BenSpillman702