Biker lawyer under investigation over forgery allegation
November 19, 2014 - 4:15 pm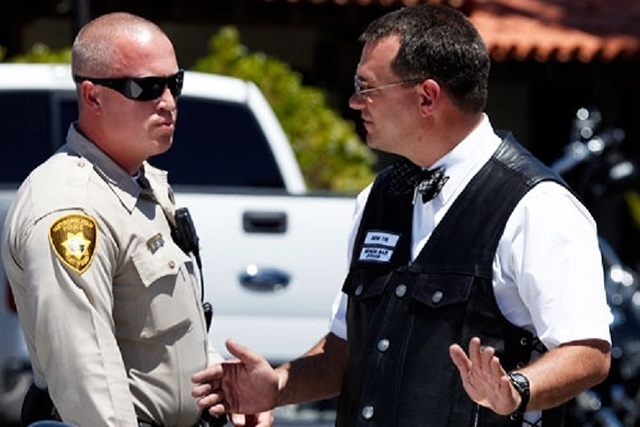 Las Vegas police are investigating allegations a defense lawyer submitted a forged plea agreement in court without his client's knowledge.
The lawyer, Stephen Stubbs, has tangled in court with police in recent years on behalf of local motorcycle clubs.
He denied the allegations Wednesday and said that police have a vendetta against him because of his legal battles with them.
"No matter how menial, they have tried to prosecute me over and over again because I sue police officers," Stubbs said.
Intelligence detectives with the Metropolitan Police Department raided the attorney's Las Vegas and Boulder City offices on Oct. 29 looking for evidence.
Stubbs, a notary, is alleged to have notarized the plea agreement with a phony signature of his client before filing the agreement at a September 2013 hearing in Las Vegas Justice Court.
The agreement was filed in court as a written "entry of plea" in the absence of his client, James L. Green, court records show.
Written guilty pleas in Justice Court are usually done if a defendant lives outside the state or is too ill to make a court appearance, officials said.
In an interview with the Las Vegas Review-Journal, Green said the signature on the plea agreement is not his and he doesn't know why Stubbs filed it in court without his knowledge.
"I thought he was a better man than that," Green said. "All he had to do was pick up the phone and call me if he needed something. I'm very upset."
Green's case stems from his October 2012 arrest on charges of driving under the influence of the prescription painkiller hydrocodone. The 46-year-old, who has operated heavy machinery for an asphalt company, is cooperating with police in the Stubbs investigation.
Green spent time in the Clark County Detention Center after a May arrest for not fulfilling the terms of the plea agreement he maintains he never signed. Justice of the Peace Joe Bonaventure had issued the warrant for his arrest from the bench in March.
Green, who takes pain medication for a back problem, said he was interviewed by police in September while he was at the detention center.
In addition to Green's signature, the plea agreement Stubbs submitted in Bonaventure's courtroom also includes the lawyer's signature and notary stamp.
The agreement states that Green was pleading guilty to driving under the influence of alcohol rather than painkillers and would pay a $585 fine, complete a DUI counseling class and attend a victim impact panel.
Stubbs disputed Green's account of what happened with the plea, saying, "There's no way I would ever forge a signature."
He said he gave the paperwork to Green's girlfriend, a woman he has known for a decade, and she brought it back to the office the next morning promising that Green had signed it. That's when Stubbs said he signed and notarized the agreement.
Stubbs said Green had "medical problems" and couldn't come to his office to sign the paperwork.
Nevada law states that a notary must witness the signing of a document before notarizing it. A violation of the law is a gross misdemeanor.
Detectives last month sought Stubbs' notary journals between March 27 and Sept. 27 of last year and all documents associated with Green's case, including a retainer agreement between Stubbs and Green, according search warrant records obtained by the Review-Journal.
At Stubbs' 626 S. Third St. office, detectives seized billing records in the Green case, a copy of the written plea and email correspondence, search warrant returns show.
Detectives confiscated a notary record book belonging to Stubbs from his Boulder City office, the returns show.
Stubbs has had several encounters with police in recent months.
In one case, he said, he faces trial in Justice Court next month on a charge of obstructing a public officer. The misdemeanor stems from a November 2013 confrontation between Stubbs and police over his refusal to leave his client's side during an interrogation of the client outside a business.
Stubbs attracted media attention in 2012 when he filed a civil rights lawsuit, alleging Southern Nevada law enforcement agencies were systematically harassing motorcycle clubs.
Stubbs, who represented an association of 37 biker clubs, detailed six encounters with authorities between June 2010 and September 2011 that he alleged violated the constitutional rights of his clients.
Actions involving four motorcycle gangs – the Mongols, Stray Cats, Bandidos and Vagos – were cited in the suit.
Defendants included the Las Vegas Metropolitan Police Department, the North Las Vegas Police and numerous police officers.
Contact Jeff German at jgerman@reviewjournal.com or 702-380-8135. Find him on Twitter: @JGermanRJ