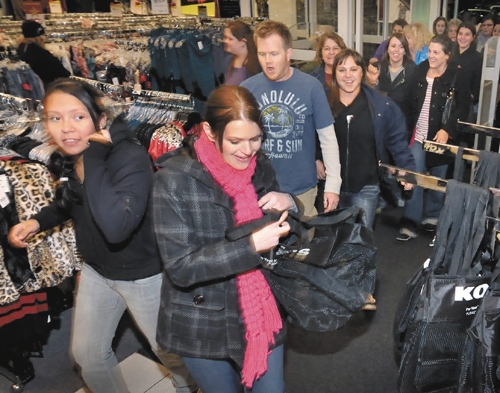 There comes a point when everything has to die. One day, the universe will explode. Or implode. Ask a physicist. One of 'em's going to happen.
The point is, Black Friday began its death spiral last year when Toys R Us opened at
10 p.m. Thanksgiving night. Now, everybody's doing it.
Black Friday has become something else. Tortured Thursday maybe?
Walmart, Target, Best Buy, Old Navy, Kohl's, even the mall. They all opened before the turkey was digested.
Christmas fever — and make no mistake, it is a disease — has so overtaken our lives that it has finally ruined Thanksgiving.
What's next? Halloween? Labor Day? Manic Monday specials on Memorial Day, just in time for Christmas?
Look at this place. It's
11:18 p.m. on Thursday, and there are 135 people in line. They're huddled outside the Kohl's in northwest Las Vegas like they're waiting for the second coming.
The line will triple in size before the store opens at midnight, the first time it has ever opened that early. It'll stay open for 24 hours before closing again.
"We just wanted to be first!" says Breanna Baker, 17, who is, indeed, first in line. She's waiting with stepsister Rose, 16. They got here at 9:45. She says they cruised by at 6 p.m. to check it out. There was no line yet.
"There's this really cute jacket I want," she says.
But it's more than that, surely. Bargains are just money.
This? This is an event.
People swap Black Friday war stories as if they're telling fishing tales. "It was thiiiiis big … "
"I guess people had rioted and ripped everything off the shelves," one woman says.
"I found this website?" says another in a tone that suggests she's giving away state secrets. "There's a Black Friday website!"
"We get Kohl's cash today, too!" a teenager says. "Fifteen dollars, not just 10. Woohoo!"
They've got cellphone face, most of them, that bluish glow lighting them up as they wrap blankets around their shoulders and peer into their tiny screens. Others browse the sales fliers, warm their hands with gourmet coffee.
"Walmart was a mob scene," says Virginia Brough, who's here with her daughter and two daughters-in-law.
"We sent the husbands to Target," she says, laughing.
Kim Prieto is the manager here. She says they've been preparing for this night for weeks. Trucks delivering loads of goods, hiring holiday help.
"Everybody is working," she says, and for sure, the store is hopping with employees 15 minutes before the doors open. "Everybody works Black Friday."
Cashiers line up at their stations.
The crowd inches closer to the doors.
"OK, associates," Prieto says over the internal intercom. It's 11:58 p.m. "We have approximately 400 people outside our building." She says something about manning the battle stations, and, whoosh, the doors are opened.
There are cheers, smiles, an orderly rush, a little running, more jogging.
All the carts are gone by 12:01 a.m. The shopping bags by 12:02.
By 12:08, there's already a line 20-people long at the cash register. By
12:20, the line's 80 people long.
Baker, the teenager who was first in line, rushes by with her arms full of clothing.
She's smiling. Really wide.
She's totally infected.
Contact reporter Richard Lake at
rlake@reviewjournal.com or 702-383-0307.