Black-market drone operators a worry, Henderson executive says
September 28, 2016 - 3:00 am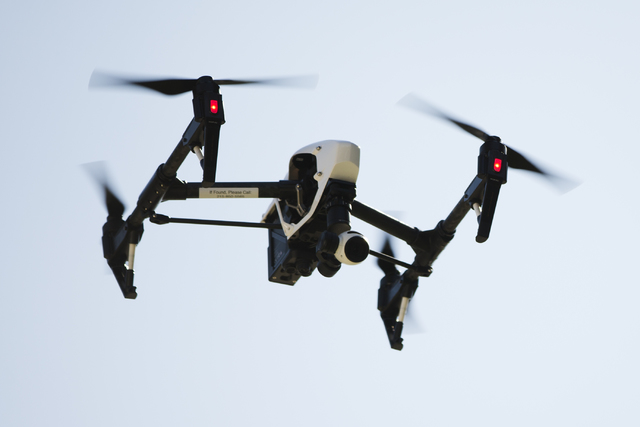 An official with an unmanned-aerial system consultant company based in Southern Nevada told members of Congress during a hearing on Tuesday that containing the black market should be a priority for the Federal Aviation Administration.
Commercial drone operators are competing not only with each other, but also with the black market of unmanned aerial system service providers.
Jonathan Daniels, CEO and co-founder of Henderson-based Praxis Aerospace Concepts International Inc., said during his testimony that his concern is twofold.
"First, there is a culture perception of premium for the cost of compliance that has deflated the market," Daniels said. "My overhead is much greater than a black marketer who does not have insurance, permits and bonds; even if our labor costs were the same, my company is at a disadvantage.
"Second, the public will not discriminate between a legal and illegal operations when the inevitable accident occurs," Daniels said.
The UAS industry has a general problem with "misfeasance and malfeasance," he said. Misfeasants are those who are improperly complying with the law, and malfeasants are those who are willingly skirting the regulations.
"Unfortunately, the list of both misfeasants and malfeasants include large corporations, small businesses and sole proprietors alike. The internet is full of illegal promotional videos, obviously flown over people, in close proximity to airports or beyond visual line of sight," he said.
Rep. Cresent Hardy, R-Nev., chaired the hearing of the House Small Business Committee's Subcommittee on Investigations, Oversight and Regulations hoping to gain insight into next steps for small businesses, as the FAA recently implemented regulations for commercial drone use.
"With an initial report indicating that an overwhelming majority of companies operating UAS for commercial purposes have 10 employees or less, this industry will truly be a small-business industry," he said.
Contact Nicole Raz at nraz@reviewjournal.com or 702-380-4512. Follow @JournalistNikki on Twitter