Blind climber who scaled Mount Everest describes 'rebirth'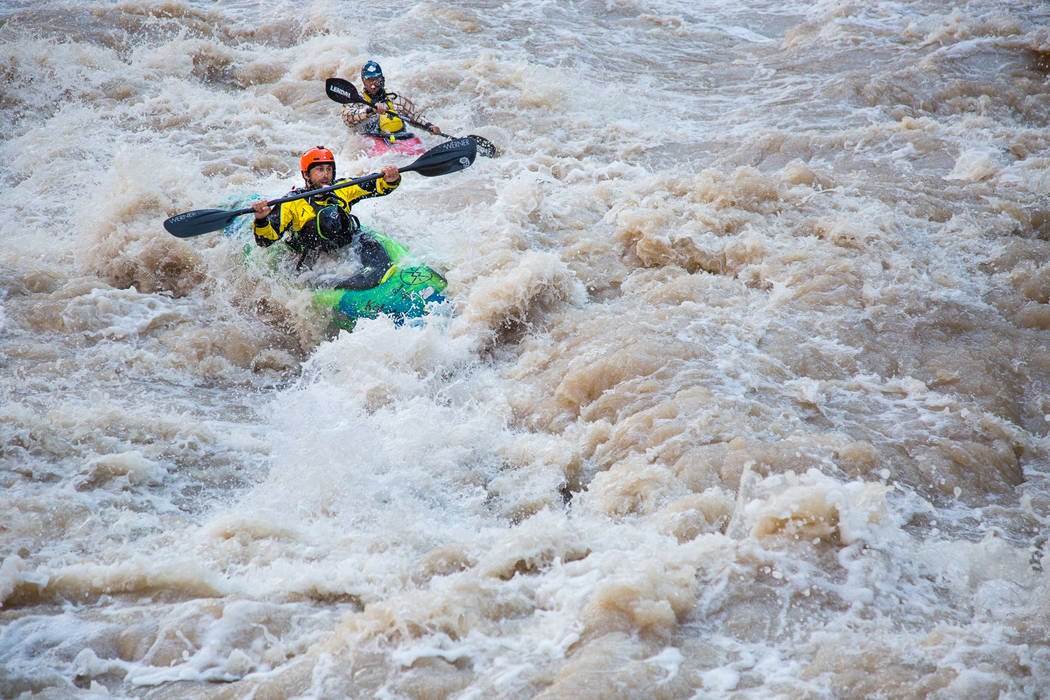 Erik Weihenmayer was born twice.
Once on Sept. 23, 1968.
The next was when he first went rock climbing as a teen.
It was like being reborn, Weihenmayer said, because he had grown up with a rare eye disease, retinoschisis. Weihenmayer was slowly going blind his entire childhood, until he finally lost all of his vision in his early teens.
"I'd worried that blindness would be like this prison you can't escape from," Weihenmayer said.
But rock climbing "was just fully so absorbing," Weihenmayer said. "It was everything I thought blindness wasn't going to be."
Weihenmayer, now an accomplished mountain climber, endurance athlete and author, was the featured speaker for UNLV's most recent Barrick Lecture Monday evening.
Although Weihenmayer is often billed as the first blind person to climb Mount Everest, his accomplishments begin much further back and continue past his historic ascent, completed in 2001.
Weihenmayer's first large expedition was Denali in Alaska in 1995. At 20,310 feet, it's the tallest peak in North America.
Then, in August 1997 he climbed Mount Kilimanjaro in Africa, where he married his fiancee near the top. The 19,341-foot mountain in Tanzania was the second of the "Seven Summits" — the world's tallest peaks on every continent — Weihenmayer completed.
He kept climbing, and biking and running and even kayaking. In 2014, he completed a 277-mile journey down the entire Grand Canyon with blind kayaker Lonnie Bedwell.
He's also the author of three books and the founder of No Barriers, a nonprofit that takes individuals with disadvantages, whether physical, mental or economic, and leads them on travel programs and expeditions.
Weihenmayer spoke at length Monday night about what it's like to lead a "no barriers" life, but it has been and continues to be a struggle to maintain that mindset.
Overcoming failures
On Weihenmayer's first climb of Aconcagua in Chile, the tallest mountain in South America, he "failed miserably."
The planned ascent route had so much snow that his team couldn't get the mules to base camp, one of his climbing partners got "hideously sick" and a secondary eye condition, glaucoma, caused Weihenmayer incredible pain in his eyes.
"I thought honestly my climbing career was over," Weihenmayer said.
Weihenmayer lost both his eyes after that trip. The result was receiving two, brand new plastic eyes. Eventually he became able to meet the failure with a positive attitude.
"Plastic eyes don't have any problem at altitude," Weihenmayer said, laughing. "Solved that problem."
The next year, he went back and completed Aconcagua.
Weihenmayer also experienced failure during his Everest ascent, when attempting to cross the notorious Khumbu Icefall, a giant, constantly moving and changing river of ice.
"It's a blind person's worst nightmare," Weihenmayer said. "It's a scary place."
The first time trying to cross, he didn't make it through.
"I was so crushed," Weihenmayer said. He felt like he was "imprisoned in this labyrinth of ice, and I couldn't take a step without feeling like my foot was going to slide and roll off into space."
But he did it.
And to complete the climb, he did it nine more times after that, as he set camp further up the mountain and his body got accustomed to living at altitude.
Weihenmayer attributed his success to three things: Physical training, a good team and the ability to push fear out of his head.
"It's a really hard thing to do, to have all the discipline to push all that stuff out of your brain that's really not doing anything for you at the time," Weihenmayer said. "I've only been able to do it for short amounts of time and at those critical moments it creates this profound awareness and focus and fear kind of turns into energy."
Still climbing
Weihenmayer has several trips planned. In the next month, he'll head to Yosemite National Park to climb Half Dome. In June, he'll be in Nepal with a group of youth for a two-week trekking trip across the country with his nonprofit.
In November, he hopes to climb Ama Dablam, a Himalayan peak in Nepal he failed on 18 years ago.
But right now he's arranging a trip to the doctor's office. He's got some hip trouble that might require stem cell treatment before he can go off on another adventure.
"Hey," Weihenmayer said. "It's another barrier you've gotta work through."
Contact Madelyn Reese at mreese@reviewjournal.com or 702-383-0497. Follow @MadelynGReese on Twitter.