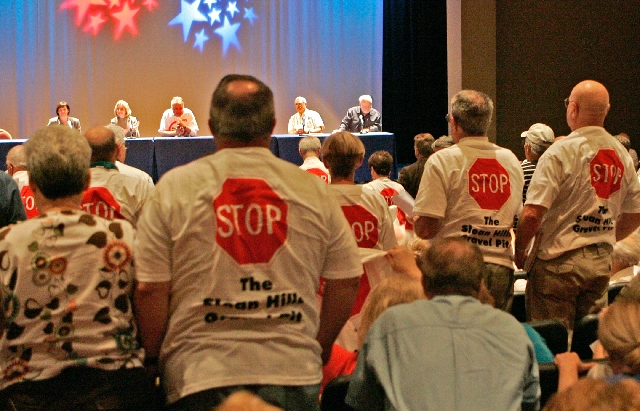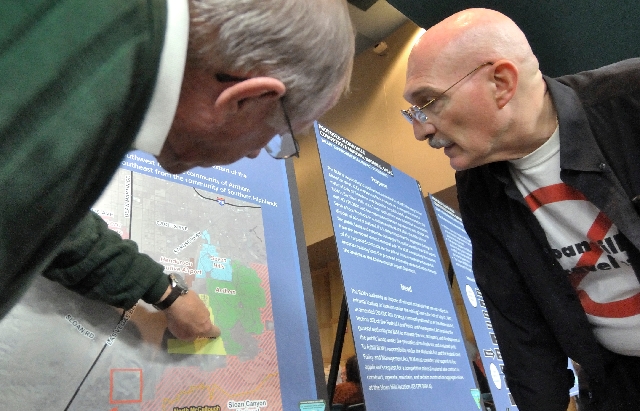 Public lands officials shot down plans Friday for a gravel pit operation on the outskirts of Henderson that residents feared would have devalued homes, degraded air quality and diminished the primitive ambience of the Sloan Canyon area, which is rich with American Indian rock art.
The Bureau of Land Management said it will not authorize the "competitive sale of mineral materials in the Sloan Hills area," where two mining companies — CEMEX and Service Rock Products Corp. — had filed applications to process gravel, specifically limestone and dolomite minerals.
"The selection No Action Alternative reflects the BLM's intent to continue current management of public lands within the Sloan Hills area," the agency said.
Calls seeking comments from CEMEX and Service Rock Product officials weren't returned Friday afternoon.
The BLM's decision was welcomed by opponents of the mining companies' plans.
Marcia Kosterka and Donna Dickey, who led an anti-mine grass-roots committee in 2008, were elated by the BLM's decision.
"I'll feel the five years were not in vain," said Kosterka, who made a case that particulate pollution from mining operations would have been unbearable.
"The amount of toxicity would have been unbelievable. It's more than the tortoise that wouldn't have survived," she said, referring to the threatened, federally protected desert tortoise. "Human beings would have been subjected to life-threatening medical conditions."
Dickey said she too feels the five-year opposition campaign succeeded in persuading the BLM to say no.
"Of course we're all ecstatic," said Dickey, who raised questions about how the gravel pit operation would have reduced groundwater supplies and scarred the surrounding landscape.
"It would have impacted the water we need, and it was going to be an enormous eyesore" next to Sloan Canyon National Conservation Area, she said.
The conservation area holds some of Southern Nevada's most spectacular panels of petroglyphs, ancient rock art etchings by American Indians who inhabited the area hundreds and thousands of years ago.
The proposed Sloan Hills mining operation site sits on an island of public land that is surrounded by undeveloped public land annexed to the city of Henderson.
About 400 residents protested the quarry at a public hearing in April 2009, most hailing from nearby Sun City Anthem in Henderson. More than 5,500 people signed petitions against it.
Clark County Commission Chairman Steve Sisolak applauded the decision.
"This has been a long fight by thousands of Henderson-area residents," Sisolak said. "We've all been deeply concerned. These mining operations and its parade of dump trucks would have really damaged residents' quality of life and potentially affected their health. It would have raised more dust, truck traffic and noise and lowered property values. This decision was a no-brainer and a victory for Henderson residents."
Likewise, U.S. Sen. Harry Reid, D-Nev., lauded the decision, saying his office has "heard from thousands of Southern Nevadans who oppose the Sloan Hills gravel pit."
"The BLM's decision shows they took the needs of the community to heart," Reid said in a statement. "I am pleased that these ill-conceived mines will remain inactive."
U.S. Sen. Dean Heller, R-Nev., said he, too, is pleased with the BLM's decision.
"Mining in the area would not only have been a detriment to the impacted neighborhoods, it would have placed additional burdens on local communities we cannot afford," Heller said.
Rep. Dina Titus, D-Nev., also weighed in on the rejection.
"The proposed mine would have only exacerbated air quality concerns negatively affecting the health and well-being of children and seniors throughout the Valley," she said in a statement.