BLM wild horse adoption yields new home for Darcy Annie
December 19, 2015 - 6:24 pm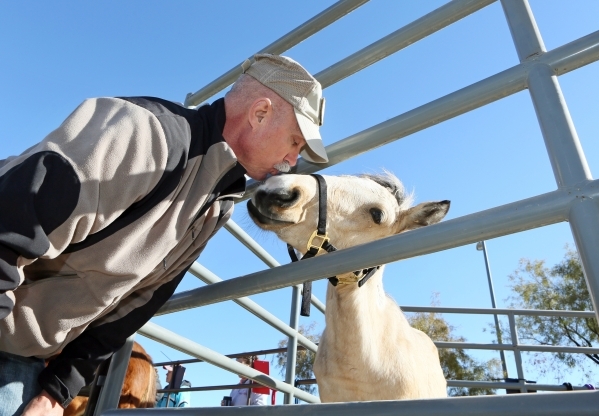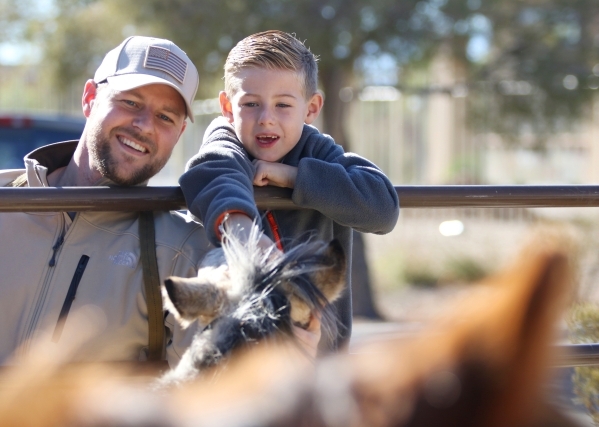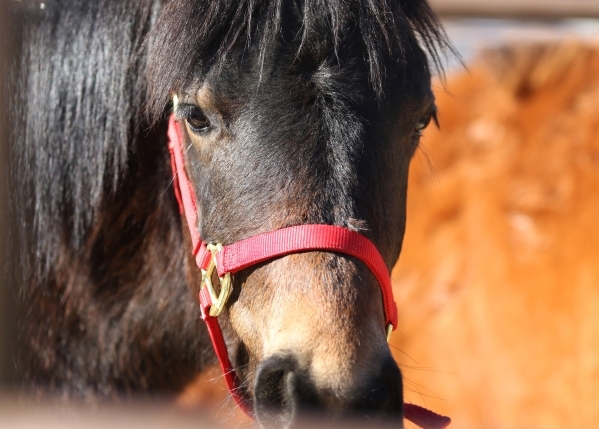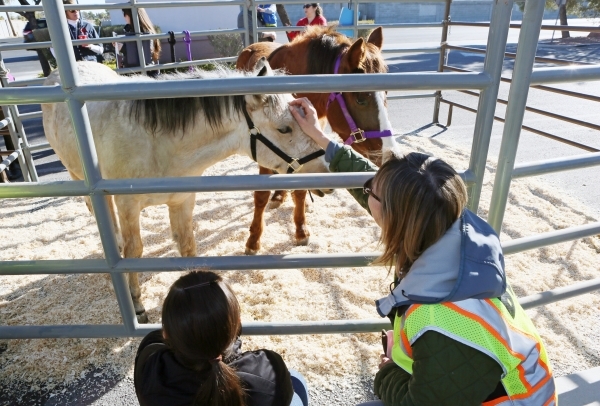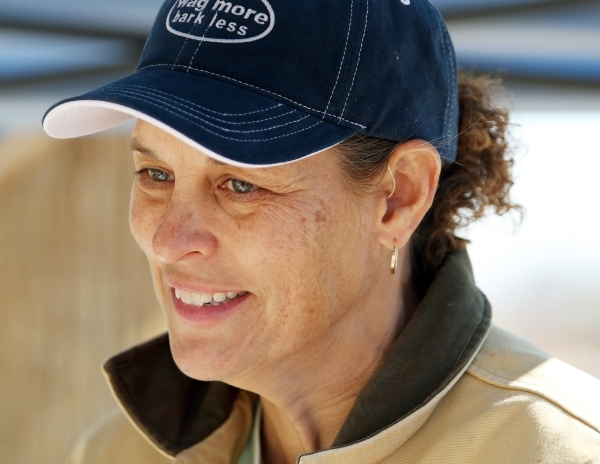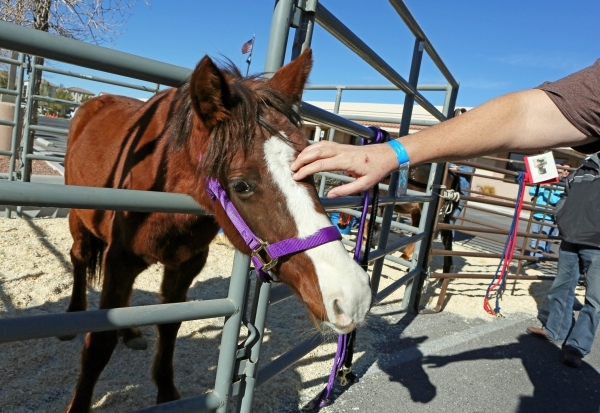 Four foals pranced around pens in the middle of the Bureau of Land Management's parking lot off Torrey Pines Drive on Saturday morning.
Darcy Annie, Big Red, Little Red and Tiny were rescued in a September roundup at Cold Creek, nearly 35 miles north of Las Vegas, according to BLM Assistant District Manager Karla Norris.
More than 200 horses that were at risk of starvation were collected during the roundup, and 28 were euthanized.
"They were separated from the herd and their moms so we've been working with them so they can be led, brushed, touched and get in and out of a trailer," she said. "They've been fostered until we can find them homes."
Becki Leets of Las Vegas said she and her husband Craig took in the four mustangs until they can be adopted.
"We adopted our first wild horse about 20 years ago, and they've become our passion," she said. "It takes work to earn their trust and for them to accept human contact, but we do it in order to get them successfully adopted."
On Saturday, BLM hosted its second horse adoption event of the year in an effort to give the four foals a forever home.
For Las Vegas resident Darcy Grizzle, it was both a happy and sad day as she helped rescue horse Darcy Annie, who was named after her.
"I was up in Cold Creek documenting the horse roundup, and I tracked her for about two miles and didn't think she would make it," she said of Darcy Annie. "When the herd left her, I thought she was going to die."
Grizzle stepped in and called Norris to let her know that Darcy Annie was stranded near a pond.
"They were able to get her onto a truck and take her to the vet," she said. "To see her and the others get a second chance means a lot, and it's been a rewarding experience."
Since rescuing Darcy Annie, Grizzle has seen her nearly every day as she helps Leets take care of the horses.
"I help clean the stalls, brush them and pet them," she said. "I help Becki as much as she lets me."
Though more than 20 people were in attendance at Saturday's adoption, the silent bids, which started at $125, weren't pouring in for the horses.
No horses were being bid on except for 4-month-old Darcy Annie.
At 11 a.m., Las Vegas resident Valeria Juick was deemed the foal's owner. She paid $140.
"She's full of personality," she said of Darcy Annie. "I've come out to other auctions, and when I saw the event on Facebook I said, 'What the heck.'"
Darcy Annie is her first mustang, Juick said. The foal will join Juick's three other horses on her 1-acre property at Cold Creek, north of Las Vegas.
Since foals are not fit for riding until they are between 2 and 3 years old, Juick will have her work cut out for her until then.
"She'll take more time and energy so I plan to spend several hours a day with her," she said. "I'll be desensitizing her by walking her around the neighborhood so she can get used to cars and trucks."
Juick added that she has no doubt her other horses will accept Darcy Annie.
"She'll be welcomed into the pack and learn her pecking order," she said. "She'll be my last horse that I'll grow old with."
According to BLM Northern California District Public Affairs Officer Jeff Fontana, approzimately 28,000 wild horses roam BLM-managed public lands in Nevada and nearly 50,000 on public lands throughout the western United States.
The last horse adoption in Southern Nevada took place Jan. 24, and another is planned for the spring.
Norris said she's confident the next adoption event will yield better results.
"We'll find good homes for them," she said. "I know we will."
Contact reporter Ann Friedman at afriedman@reviewjournal.com or 702-380-4588. Follow @AnnFriedmanRJ on Twitter.