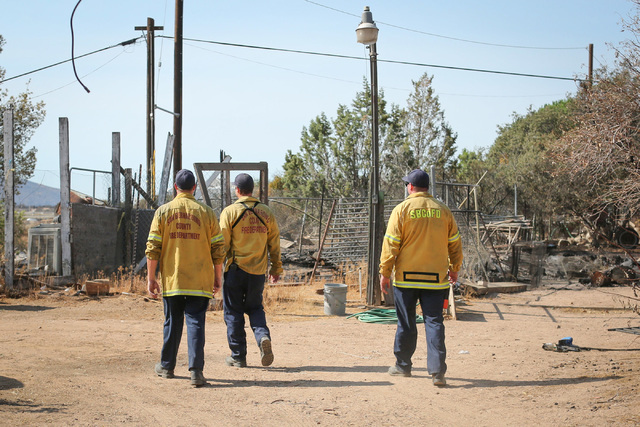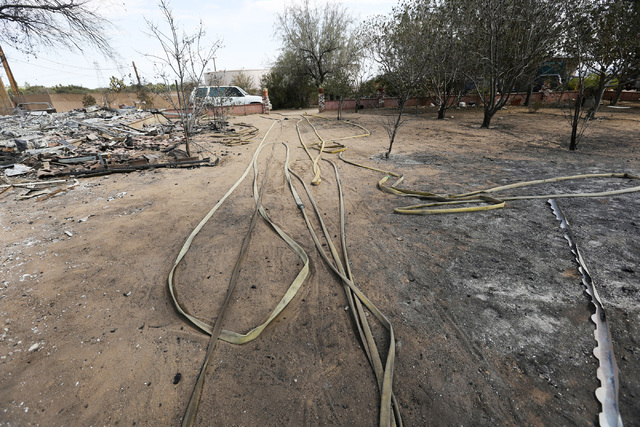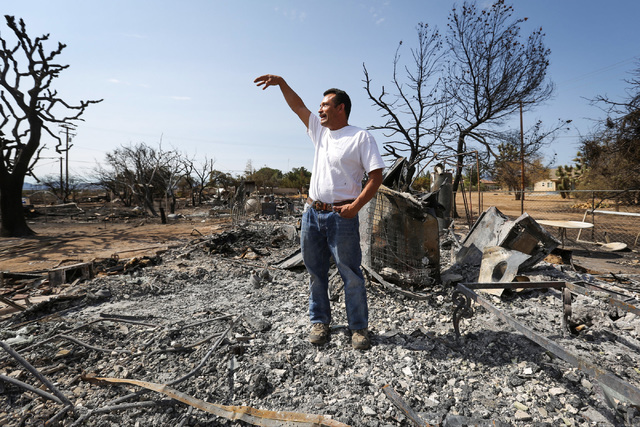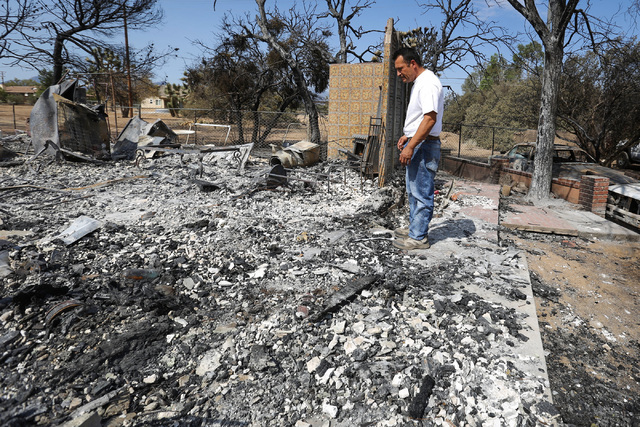 SAN BERNARDINO COUNTY, Calif. — After 26 years of living in the tiny community of Lytle Creek surrounded by national forest land, Joe Cole can now say he's seen the steep hills behind and in front of his log cabin home burn to ash.
During the Grand Prix Fire in 2003, he witnessed the hills in front of his home engulfed in flames. Last week, Cole saw the slope behind his home ablaze as the Blue Cut Fire made its way down the hill.
Despite a mandatory evacuation order, the 62-year-old said he had no intention of leaving.
"I've put too much time and money into this home," Cole said Saturday of his sprawling house made of northern California spruce trees behind him. "I've got ponds, fire blankets, everything."
Cole was far from alone in his decision to stay home during the Blue Cut Fire, which has ravaged approximately 37,000 acres of San Bernardino County's dry landscape and destroyed nearly 100 homes and more than 200 other buildings since Tuesday morning.
The San Bernardino County Sheriff's Department reported only a 40 percent compliance rate from county residents living in areas ordered to evacuate.
Despite the fire being 73 percent contained as of Saturday evening, mandatory evacuation orders remained standing in Lytle Creek and West Cajon Valley, the U.S. Forest Service reported. A voluntary evacuation remained in Wrightwood, but in that community some residents had already returned earlier in the week.
"At 68 percent contained it's a good amount, but we're by no means out of the woods yet," U.S. Forest Service spokeswoman Lyn Sieliet said. "If we get a good, strong wind on it, it could pick up and start moving again."
Georgia Duncan, spokeswoman for the American Red Cross in San Bernardino County, said displaced residents continue to leave local shelters as other communities' evacuation orders have been rescinded. She estimated about 200 people remained at local shelters as of Friday night.
She added that the Red Cross will soon transport mobile feeding stations into affected neighborhoods and communities, as well as bring large amount of items for cleanup including shovels, gloves and trash bags.
As of Saturday afternoon, more than 2,700 workers were still fighting the Blue Cut Fire, the U.S. Forest Service reported.
The agency reported those men and women were operating, among other vehicles, 275 fire engines, 32 bulldozers and 14 helicopters.
It was helicopters, Cole said, that saved Lytle Creek, which is ensconced within the San Bernardino National Forest.
For "three solid days" they ferried water from the community's ponds and lakes to douse the burning hillside. Cole watched it all from his backyard.
"It's nerve wracking," he said. "They were back to back."
While Cole's house was saved, other San Bernardino County residents spent Saturday evaluating the destruction of their homes.
In Oak Hills, Jose Chavez and his family held a mass burial after being forced to leave their livestock behind during a last-minute evacuation.
He and his family dug graves for hundreds of chickens, two goats and a pig. Some ducks were lost as well.
"For them to have no escape, nowhere to go, it was very sad," said Chavez, 46.
On Saturday morning a handful of spared chicks roamed the scorched yard together. Firefighters hosed down the family's lone surviving pig, much to the swine's apparent delight.
Chavez surveyed the damage to the 8-acre property he has called home since 12, when he, his four sisters and parents emigrated from El Salvador.
Ruined was the avocado-green Jaguar the family had restored. Ruined was the four-cylinder pickup truck Chavez's nephew drove. Only burnt shells remained.
Their wooden guest house was reduce to a pile of ash and rubble. A warped metal bed frame, cast iron wood stove and water heater gave clues to the former floor plan.
Chavez chose to count his blessings.
"I was just blessed to see our main home standing," he said. "It's important we still have a roof over our heads."
Still, he realized it would take time for any sense of normalcy to return.
"I wanted to start cleaning up," he said. "But for insurance purposes we can't touch it."
Contact Michael Scott Davidson at sdavidson@reviewjournal.com or 702-477-3861. Find @davidsonlvrj on Twitter.