Bonnie Springs Ranch namesake dies at age 94
February 7, 2016 - 11:03 pm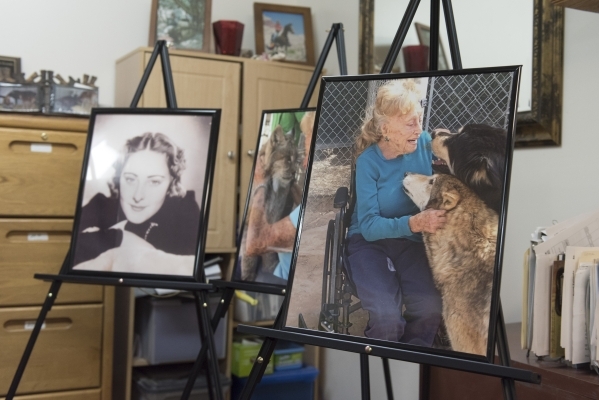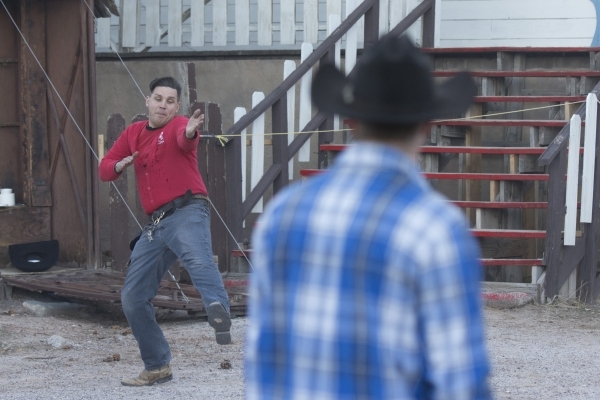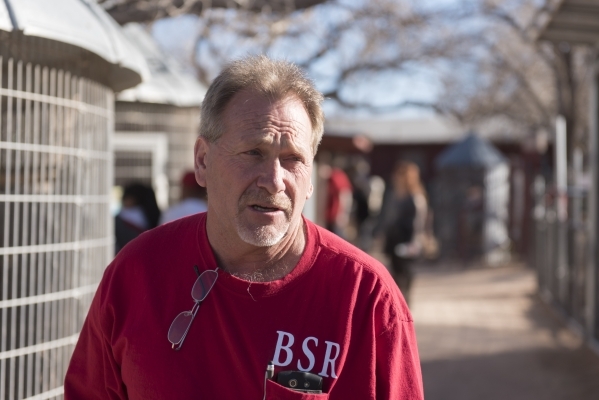 Roosters crowed, and the burro brayed, and kids and parents cooed as they fed tidbits to the deer and goats Sunday at the Bonnie Springs Ranch in the shadow of Red Rock Canyon. Folks strolled the grounds, and the actors at the Old West town played their sheriff and bad guy parts.
But something — or rather someone — was missing. Bonnie Levinson, lover of animals and owner-operator of the ranch attraction she created more than six decades ago, has died.
Levinson was 94 when she fell ill and was briefly hospitalized before she died Jan. 29. Her family announced the death Sunday and plans to have a public gathering from 10 a.m. to 5 p.m. Saturday to celebrate her life.
She is already missed, not only by her own family, friends and employees but also by the many generations of families who cherished coming to the ranch over the years and would stop Levinson to chat and take photos.
Las Vegan Kelly Barrington was saddened by the news. "Oh my gosh, I've been coming here since I was a child," said Barrington, 42.
"I've seen Bonnie many, many times. A really loving woman."
Not many know much about her early life. Born July 30, 1921, she lived in Hollywood with her mother and father, an actor and director, said her son, Alan Levinson, who runs the ranch with his sister, April Hopper, two of Bonnie's three children.
A dancer, Bonnie Levinson worked in the movie business for a while, but one day decided she wanted to ice skate, her son said.
It took her a while, but she kept working at it. "And she actually got a part with [famed figure skater] Sonja Henie."
Then Bonnie Levinson and her mom bought a small piece of property in Twenty-Nine Palms in the 1940s where they raised turkeys. "I always used to ask her, 'How did this come about? Hollywood, lingerie, professional ice skater, turkey farmer.' It made no sense."
He still doesn't know the answer. "I guess it was just her wanting to be out."
Whatever the reasons, it was the turkey business that brought her to Las Vegas to deliver the birds — alive, her son said — to the hotels and restaurants. One day after delivering turkeys to a friend who owned a diner in town and was preparing to return home, he told her he wanted to show her a ranch he thought she'd love.
"He brought her out here early in the morning and she saw the sunrise on the mountains and the view, and then next thing you know she was here," her son said. After leasing the place, she bought it within the year, and shortly thereafter married Al Levinson, who died in 1994.
The ranch had no paved roads and no electricity. "Even when I was a kid we had no power and dirt roads for a few years," said her son, who's 56.
Initially, she and her husband had a bar and a couple of cabins, and friends who were dancers and others from the shows on the Strip would come out to visit.
"They wanted to go horseback riding, and so my mom got a couple horses so they could go horseback riding, so then she got a few more so this was kind of the little hangout for those people," he said.
Soon the couple added a restaurant. "There were always stray dogs, and by the time I was in my early teens people started dumping off animals out here, bunnies, and of course she started collecting so we had a small zoo of sorts."
She stood 5 feet 1 inch and weighed maybe 100 pounds, but she had a personality that drew people to her. "She never met a stranger," and always made time to talk to visitors, he said. "My mom loved everybody."
The ranch, which includes the petting zoo, horse stables, a hotel and restaurant and bar, operates seven days a week, with only the old West town and its shops going dark Monday and Tuesday. At its core, it's a family attraction, he said.
"My dad and mom used to say the family has to have somewhere to go with the kids."
Beverly Boyer, assistant manager of the petting zoo, was misty-eyed as she talked about her boss.
"She was a pistol. I would have loved to have known her in her younger days," Boyer said. "I used to tell her, 'Bonnie you've lived three lifetimes in one life from little Hollywood girl to famous dancer, to ranch hand.'"
Bonnie would come to the petting zoo, bearing treats for the animals, and tell stories of how she raised some by hand, including a lynx named Simba and two wolves, Tikia and Little Foot. "She'd tell us, 'They're my vitamins. I have to come here to get my vitamins,'" Boyer said.
By the time Boyer got to know her, Bonnie was in a wheelchair, having her second broken hip at age 91. "We'd take her to the lynx enclosure, and he'd always meet her at the door and rub up on her."
Before Bonnie died, she'd ask Boyer and the others whether the kids were enjoying it and were still coming out. "We'd tell her every day that the kids are still coming out. She'd tell us, 'I built this place for the city kids because they don't know what animals are.'"
Bonnie, she said, left an important legacy. "She wanted as many people to enjoy this place as possible. It's something I hope lives on a very long time."
Levinson said it's been a difficult time since his mother died, but he can take comfort in knowing, "this was where she wanted to be, and I can say she probably did everything she wanted to do with her life."
Contact Marian Green at mgreen@reviewjournal.com or 702-387-5205. Find her on Twitter: @mgreen0708