Boom! Civil War re-enactors invade Spring Mountain Ranch — PHOTOS
October 24, 2015 - 6:41 pm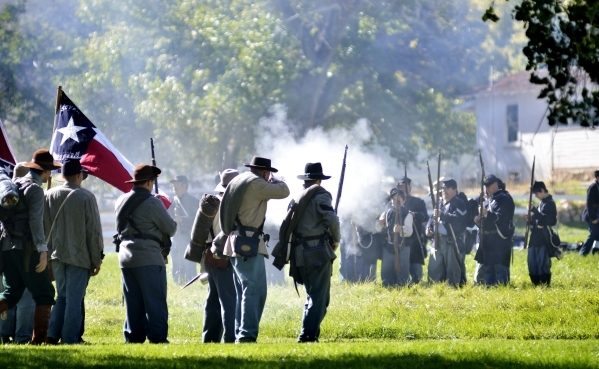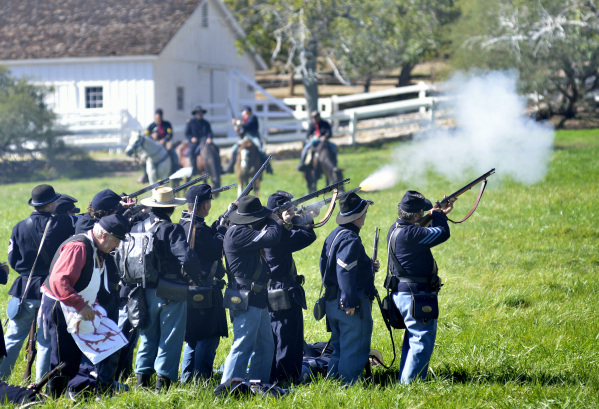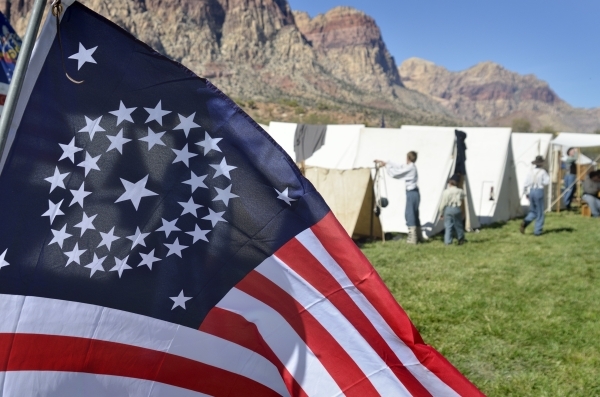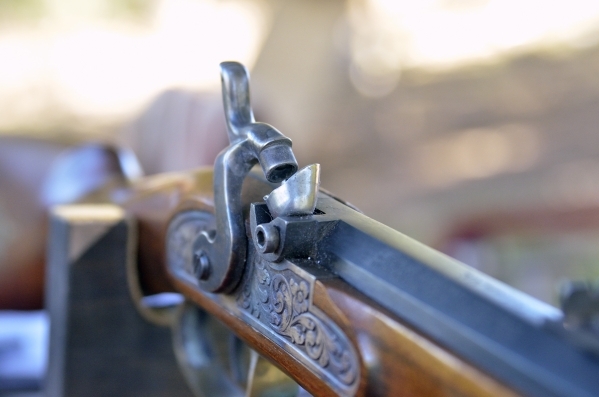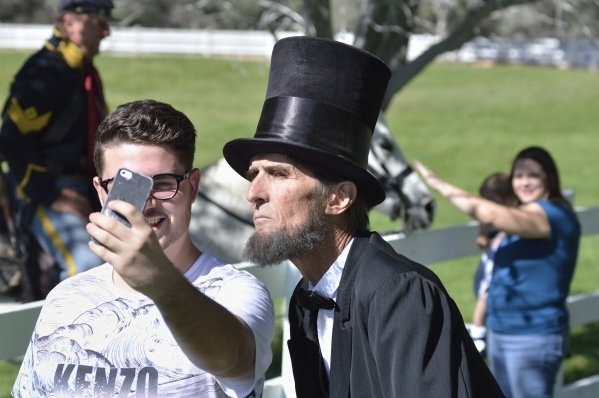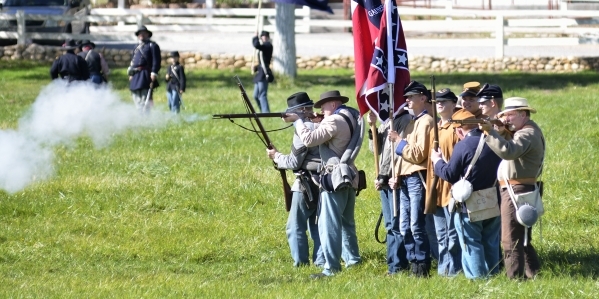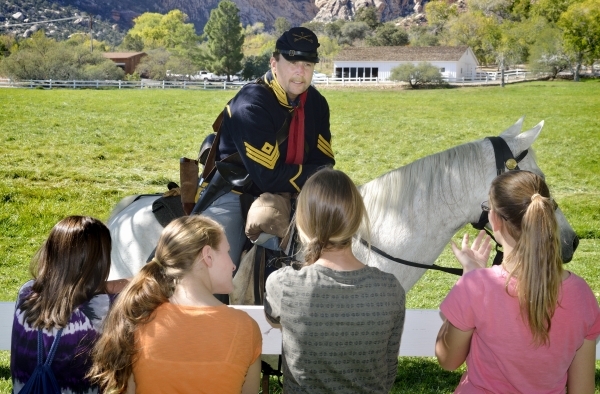 The sounds of gunfire rang out at Spring Mountain Ranch State Park on Saturday morning as more than 150 re-enactors in period clothing gathered to simulate a Civil War battle.
A crowd gathered on the green grass in front of the main ranch house and along the fence near the park's picnic area in Red Rock Canyon to watch the 10th annual Civil War Days in the Battle Born State.
The event, which is being held through Sunday, kicked off with a battalion and brigade drill featuring Confederate and Union troops. The "ladies" participated in a tea and fashion show later in the day.
The Civil War started in 1861 due to differences between the free and slave states regarding the power of the national government to prohibit slavery in the territories that had not yet become states. Nevada was admitted to the Union on Oct. 31, 1864, as its silver and gold production were needed to help finance the war.
It was one of the deadliest wars in U.S. history as more than 620,000 soldiers died from combat, accident, starvation and disease. That's more American deaths than in World War I, World War II, the Korean War and the Vietnam War combined.
Capt. Tom Atkins of the 8th Louisiana Infantry, who has been participating in re-enactments for the past 25 years, said the event aims to teach children more about history.
"They don't teach enough about the Civil War in schools and that's part of the reason why we do it," he said.
Atkins' favorite part of participating in Civil War Days, which drew more than 600 people, is getting the chance to live in the past.
"Everyone's polite, respectful, they escort their lady around, there's no cursing, minimal drinking and there's a church service on Sunday," he said. "It's a chance to escape the modern world."
Chuck Dayton, a seventh-grade U.S. history teacher at Bridger Middle School, has been attending Civil War Days since it began 10 years ago. He takes video and photos each year to show his students.
"It's different to see it in real life rather than just reading about it in books," he said. "We have to keep doing this so people never forget."
Mark Brown, a Civil War historian, traveled from Northern California to the park. He donned a captain chaplain's uniform as he took in the sights and sounds of the re-enactment.
"The men shooting at each other today can get up but thousands couldn't get up when they fought for the freedom of our country," he said. "It makes you so much more appreciative of the sacrifice our ancestors made and it's good to get in touch with that sacrifice."
Las Vegas resident Kandace Harden had been waiting nearly 10 years to go to the Civil War event.
"It's typically on Nevada Day weekend and I would always be out of town," she said. "I'm excited to be able to participate this year."
Harden, a teacher in the Clark County School District, said historical re-enactments are opportunities for children to learn more about where they came from.
"Anything that brings history alive for children is important and allows them to make connections they might not have been able to otherwise," she said.
In the future, Harden said she hopes the event expands and offers a timeline of the battles and how they impacted the Civil War.
"I hope they offer more of a variety of battles and explain how significant they were," she said. "Once you have a better understanding our past, you'll have a better understanding of the present."
Civil War Days will resume at 9 a.m. Sunday with a church service, and a battle re-enactment will start at 11 a.m. The event will end at 2 p.m.
Food and beverages are available for purchase. A donation of $3 is suggested in order to watch the battle. No other events have entry fees.
Parking is available at Spring Mountain Ranch State Park and costs $7 for Nevada residents and $9 for nonresidents.
Contact Ann Friedman at afriedman@reviewjournal.com or 702-380-4588. Find her on Twitter: @AnnFriedmanRJ.