Broad achievements bring ROTC scholarship to Shadow Ridge senior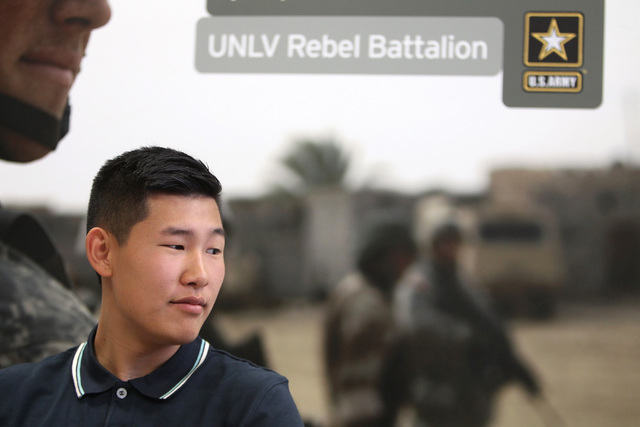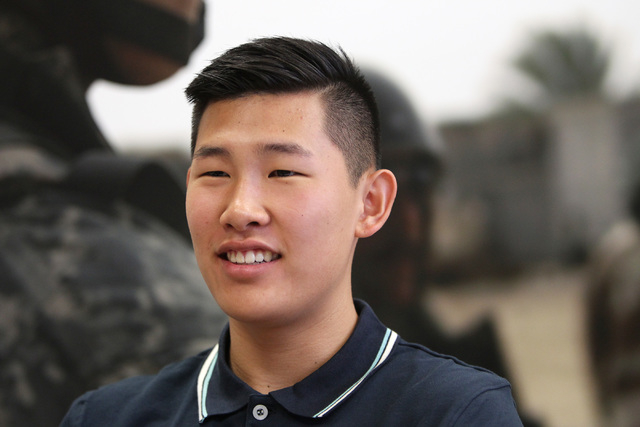 Scholar. Athlete. Leader.
Not all college scholarships go to high-powered athletes or straight-A students.
Some go to hardworking, in-shape high school seniors who want to be officers and lead soldiers.
That's the case with Joshua Han, a senior at Shadow Ridge High School who has earned a $45,000 Army scholarship to UNLV to join the Army Reserve Officers' Training Corps. The money is for tuition, books and living expenses for four years. Because he is seeking a technical degree in nursing, he will be eligible to extend the scholarship for a fifth year, the time it takes to complete that degree.
Han, 18, is public affairs officer for Shadow Ridge's Air Force Junior ROTC program. He played quarterback and receiver on the football team and runs the 100-meter dash in track.
Armed with outstanding grades, he decided to pursue an Army career in nursing, motivated by his desire to "make a difference."
"I want to make a difference in people's lives because my mom passed away from breast cancer when I was 10," he said during an interview May 7 at University Hall on the University of Nevada, Las Vegas campus.
An only child raised for the past six years by his grandmother, A Ja Ham, after his mother's death — his grandfather died a year ago and his father lives in Atlanta — he will be the first one in his immediate family to serve in the U.S. military. His family moved to the United States from South Korea in 1980.
"They worked hard to get me to this point, and I couldn't let them down," said Han, who was born in Atlanta.
Han intends to major in nursing at UNLV and earn a commission as a second lieutenant in the Army Nurse Corps upon graduation.
Maj. Derek Imig, chairman of the UNLV Military Science Department and Army ROTC officer-in-charge, said Han fit the bill for a $45,000 scholarship. "I was blown away by the quality of applicants from all across the valley."
At UNLV, 25 of 85 cadets in the Army ROTC program attend school on full or partial scholarships. The Army offers ROTC scholarships at 890 colleges in the United States and U.S. territories.
"This guy, when you look at what we're looking for, and that's the scholar, the athlete and the leader, he absolutely was at the top of each of those three categories," Imig said.
"That doesn't happen all the time. He's got an exceptional GPA, good career goals. He's got a tremendous amount of leadership experience already coming from the Air Force Junior ROTC," Imig said. "There's still a good opportunity he'll get upgraded to a full, five-year scholarship simply because there's so many scholarship offers out there and they don't all accept."
What's it take to be a leader?
"You have to know what you're doing and lead by example, so that your peers have confidence in you that you have what it takes to get the job done," Han said.
Han said he is bracing for the mental stress that comes with meeting classroom expectations for a nursing degree and clearing all the hurdles inherent with military science coursework, not counting the 6 a.m. routine for workouts to meet the Army's physical fitness requirements: run 2 miles in 16:36 minutes, do 42 pushups, and do 54 situps.
Academic work will be equally challenging.
"The nursing program here isn't a joke, from what I hear," Han said.
He knows that at some point in his budding career he might be called to go to a combat zone. He believes he will be ready if the time comes for that.
"Expect the worst. Prepare for the best. Just be ready for anything that's coming at you," he said.
He welcomes the chance to lead troops in the Army Nurse Corps, whether it be in hospitals or on battlefields. "I'm all for it. I'm ready for it."
For more information on the Army ROTC program, visit www.goarmy.com/rotc.html.
Contact Keith Rogers at krogers@reviewjournal.com or 702-383-0308. Find him on Twitter: @KeithRogers2.