Bundy must remain in custody pending trial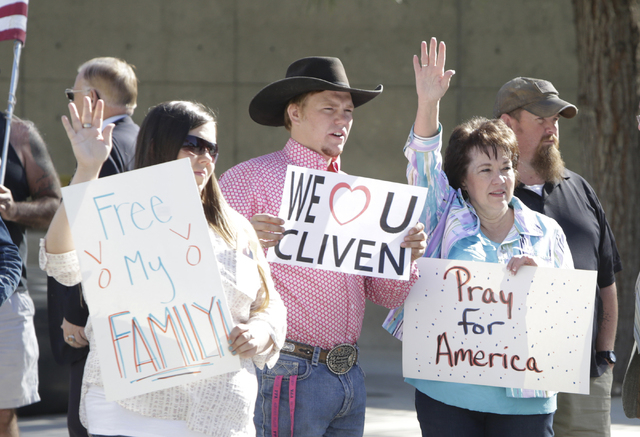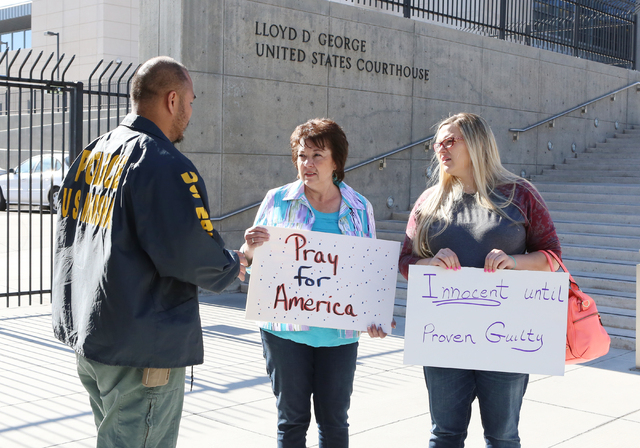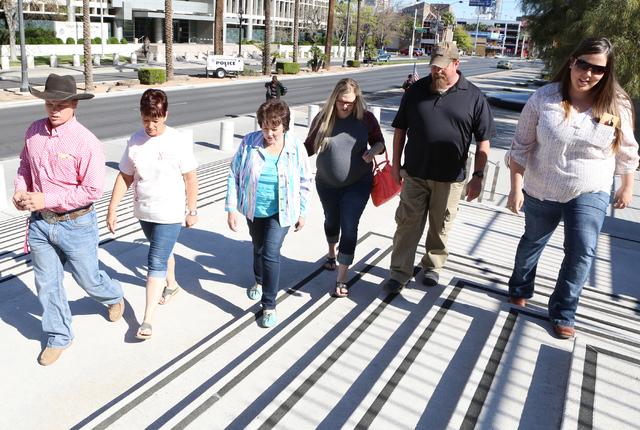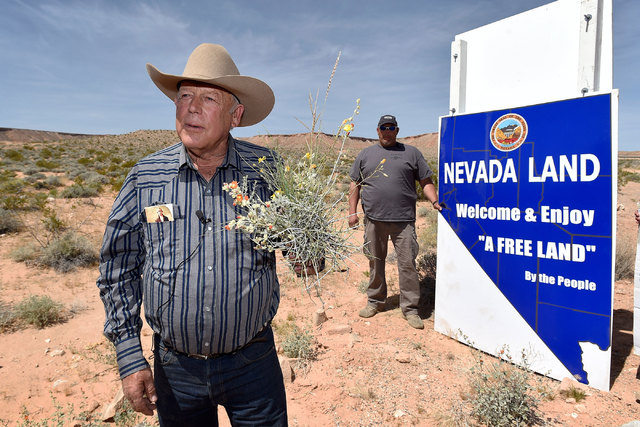 Nevada rancher Cliven Bundy was ordered Thursday to remain behind bars as he awaits trial on a slew of criminal charges tied to the April 2014 armed standoff with law enforcement near Bunkerville.
Following a brief detention hearing, U.S. Magistrate Judge Bill Hoffman found that no conditions of release could be fashioned to ensure that Bundy would appear for his May 2 trial.
Hoffman said the serious nature of the charges against Bundy, the weight of the government's evidence, and Bundy's history of disobeying court orders all figured in his decision.
The judge said the government spent 22 months investigating the April 12, 2014, confrontation and obtained one of the most detailed indictments he has seen. He added that it appeared there was "no serious question" that Bundy was the leader of the armed uprising against U.S. Bureau of Land Management officers.
Outside the courthouse afterward, Bundy's wife, Carol Bundy, criticized the judge's decision.
"This just proves the federal government is totally out of control," she said. "Where does it say in the Constitution that the federal government has jurisdiction over a sovereign state of Nevada?"
Bundy's lawyer, Joel Hansen, said afterward that he would ask a district judge to overturn Hoffman's order. The case has been assigned to Chief U.S. District Judge Gloria Navarro.
In court, Hansen argued that Bundy was not present during the Bunkerville confrontation and did not participate in the alleged conspiracy against the federal officers.
Hansen said 33 letters of support he obtained from Bundy's friends, family and neighbors demonstrated that Bundy was a man of honesty and integrity and deserved to be set free.
Bundy and 18 others — including four of his sons, Ammon, Ryan, Melvyn and David — were charged in a federal indictment in Las Vegas earlier this month in connection with the Bunkerville showdown.
The Bundy patriarch faces 16 felony counts, including extortion, obstruction of justice, conspiracy to commit an offense against the United States, conspiracy to impede or injure a federal officer, assault on a federal officer, threatening a federal law enforcement officer, and using and carrying a firearm in a crime of violence.
Federal prosecutors have pushed for Bundy's continued detention, arguing he is a "lawless" and "violent" man.
First Assistant U.S. Attorney Steven Myhre had to do little arguing in court Thursday to persuade Hoffman to keep Bundy behind bars. Myhre pointed out that he provided a federal judge in Portland last month with extensive evidence that Bundy was a flight risk and a danger to the community.
The Portland judge ordered Bundy detained and transported to Las Vegas to face the Bunkerville standoff charges. Bundy had been arrested in Portland while on his way to support the 41-day armed takeover of a government wildlife refuge in eastern Oregon.
Ammon and Ryan Bundy have been charged in Portland as leaders of the occupation, and Wednesday another Portland judge issued a temporary order prohibiting U.S. marshals from transporting them and several co-defendants to Las Vegas to answer additional charges in the Bunkerville confrontation.
The order was issued at the request of defense lawyers, who argued transporting the defendants to Las Vegas would violate their Sixth Amendment rights to a speedy trial in Portland. The defendants want to stay in Portland until their case is resolved.
Nevada federal authorities had obtained an order from a Las Vegas judge to bring the Bundy brothers and company here.
A hearing is expected to be held with authorities from both jurisdictions to resolve the matter.
Last week, Cliven Bundy refused to enter a plea to the charges in Las Vegas, forcing Hoffman to enter a not-guilty plea on his behalf to all 16 counts.
The Bunkerville confrontation aimed to force federal officials to abandon about 400 Bundy cattle they had rounded up under court orders, according to the indictment.
Members of the Bundy family had been illegally grazing cattle on federal public lands for more than 20 years, the indictment states.
Contact Jeff German at jgerman@reviewjournal.com or 702-380-8135. Find him on Twitter: @JGermanRJ
Previous coverage
See a timeline of events leading up Cliven Bundy's conflict with the Bureau of Land Management in 2014. Also, see the most recent reports involving Bundy and his family.