Burglar breaks into home of security company owners — VIDEO
December 18, 2014 - 11:09 pm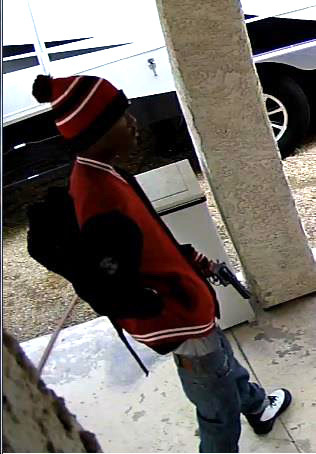 A Las Vegas burglar caught on video just so happened to pick the home of a family that owns a security company.
Surveillance video from the house in the 2800 block of Jeffrey Pines Street, near the intersection of Cheyenne Avenue and Rancho Drive, shows the intruder knocking on the front door before showing up on another side of the home holding a revolver and later breaking a window with a mop handle.
The burglar — wearing a UNLV beanie and a letterman jacket — got away with three guns, an iPad and an iPhone, said 31-year-old Shari Brantley, whose family owns Brantley Security.
No one was home at the time, just after 3 p.m. Tuesday, and she was the last to leave. But, she said, she didn't do one thing her company always recommends: turn on the alarm.
"I was just going to be gone for a short time," she said Thursday.
Earlier in the day, Brantley said, she'd been at home with her 8-year-old daughter, who was sick and didn't go to school. She said she's glad they weren't there when the burglar showed up with a gun.
Police confirmed Thursday confirmed an ongoing burglary investigation and said they are using the video and photos provided by the Brantleys to try to identify a suspect. No arrests have been made, Metro spokesman Officer Larry Hadfield said.
Anyone with information should call Metro's Bolden area command Property Crimes at 702-828-3874, or call Crime Stoppers at 702-385-5555 or visit www.crimestoppersofnv.com. Tips directly leading to an arrest through Crime Stoppers may result in a cash reward.
Contact Kimber Laux at klaux@reviewjournal.com or 702-383-0381. Find her on Twitter: @lauxkimber.