Bus drivers on night shift see it all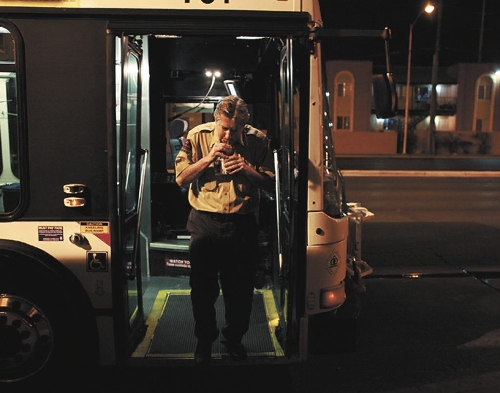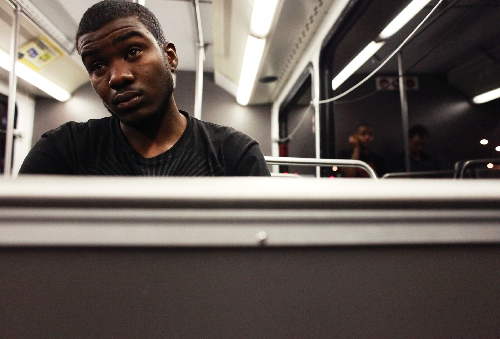 Bob Tobin heard a loud banging at the bus door as he pulled up to a downtown corner.
"It was cold as heck, 3 in the morning," he said. "I looked over and there was a naked man."
The man held his hands together in the praying position, fingers extended straight out. He begged Tobin to let him on the bus, looking back at four women down the street pointing a gun his way.
"They just robbed me and chased me up the street with no clothes on," the man told Tobin.
"I told everybody, 'I'm going to bring a naked man on the bus. Look the other way,' " said Tobin, who headed to the nearest police station.
That was years ago, but it's a story Tobin tells all new drivers. Expect anything.
"I could write a book," said the driver who has logged 3 million miles zigzagging back and forth across Las Vegas over four decades. That's equivalent to 535 round trips from Los Angeles to New York City, or 378 times around the fat of the planet.
Miles stack up quickly in a town that never sleeps because neither do the buses, which run 24/7. About 280 vehicles are rolling at a time, accumulating 38,000 miles every day.
And buses travel all over the valley, not just taking tourists back and forth along the Strip, which used to be the case, according to Angela Torres, spokeswoman for the Regional Transportation System of Southern Nevada. The buses, currently operated by Veolia Transportation, have been focusing more and more on shuttling commuters to the business centers from all corners of town.
For that reason, the plastic seats provide a glimpse of the Las Vegas nightlife that many tourists — and locals for that matter — never see.
Buses pass by the pretty people strolling the sparkling Strip in suits and ties, tight skirts and high heels.
They dive into the back streets, carrying a melting pot of workers, often transients trying their hand at living in Las Vegas.
THE BUS LIfE AT MIDNIGHT
Drivers stumble upon all kinds of things, said Brian Van Hine, operations manager for Veolia's Sunset Division.
"We're the eyes for Metro (the police department) and the ears for the city," he said, because buses cover so much ground at all hours.
Drivers have put out burning cars using onboard fire extinguishers, he said.
Tobin was even the first to spot a burning hotel roof while driving Boulder Highway. He stopped the bus and ran into the lobby to warn three workers watching TV.
"They thought I was pulling their leg," he said. "So, I ran around the building knocking on doors and screaming."
Drivers have also put an end to Amber Alerts. Michael Summers, a 2 million-mile driver, recalls the time a missing child's face popped up on his screen.
He looked up to see the child sitting in the front seat.
"Our job doesn't get boring," Summers said. "Every trip is different even though the route isn't."
Tobin laughs when telling about the time he was driving a car out to relieve another bus driver. On the way, he saw a man throw a gun into a garbage can as he ran from a bank.
"I swerved out and jumped on top of him," he said. "The cops said, 'You've done everything so far. Throw him in the back seat.' I could tell they wanted me to throw him hard, so I did."
Despite finding his calling as a bus driver, Tobin had never ridden one before sitting behind the wheel.
The stigma of buses as unsafe, dingy transportation is long-standing and prevents many who aren't down and out from stepping aboard.
"But they thank God for it," Summers said, because the bus is their last resort, their only option. Perhaps that's why ridership has increased as the recession has settled in, he said.
That's the case for Mark, sitting in the very back of Summer's Tropicana Avenue westbound bus at midnight.
TRUTH ABOUT THE BUS
"My ride broke down, got towed by Metro, couldn't pay for it, so now I'm stuck on the bus," said Mark, who didn't want his full name used. The 40-year-old, who looks a lot like John Denver, referred to himself as a salesman, providing no further detail.
But Mark has grown to enjoy the bus over the past few months, not socializing so much as just watching.
Las Vegas is often referred to as the adult Disneyland. If that's the case, the bus provides the ride behind the ride, revealing the greasy gears and hydraulics coaxing life into Br'er Rabbit's metal limbs within the plaster Splash Mountain.
Riders see beyond Vegas, the commercial, catching a glimpse of its cogs: the workers loading onto buses after late-night Strip shifts.
On the night of this Review-Journal reporter's ride-along, riders ranged from a nurse leaning against one of the poles, a housekeeper with bags under her eyes and arms, a rowdy 15-year-old redhead on her way to the Strip, a bearded man wearing a Yankees cap and "Top Gun" sunglasses, and a Speedy Mart cashier with a Bluetooth in her ear.
Rider Chris Creasy has seen it all on the bus, from the extremely violent to the extremely affectionate. The 24-year-old has been a regular rider for 15 years because his eyes, highly sensitive to light, blow any hopes of a driver's license.
"If you can think of it, I've probably seen it. I've seen people have sex on the bus," said Creasy, who buses tables at MGM Grand.
He prefers to talk about that New Year's Eve memory rather than the time two men with a gun jumped him at a bus stop.
After the midnight fireworks, the bus was so packed that riders squeezed together like concert-goers in front of the stage. No one noticed as a girl slithered to her knees, Creasy said.
"I only noticed because I was right there," he said while a young couple a few rows forward kissed. "Most others had no idea."
A CULTURAL EYE OPENER
Everybody should take the city bus for at least one month in their lives, Mark said.
"One day you may be sitting next to a crazy guy. The next it might be a sexy girl, then a Buddhist monk."
Like many people who ride the bus, that's all he's here for. Little conversation or interaction ensues.
Lynette Anderson, the previously mentioned Speedy Mart cashier, always talks to her husband via Bluetooth during the ride home.
"You never know what to expect late at night on the way home. He worries," she said.
But she likes riding "Mike's bus," as she calls it.
They're on a first-name basis, as driver Summers is with many of his riders. That's why Summers prefers residential routes, the regulars.
"Bus drivers are like bartenders," he said. "Riders tell us their problems and also expect us to know everything. A lady once wanted to know how to join witness protection. The next stop, near everyone got off the bus."
One of Summers' former riders, Patrick Seraphim, began taking the bus at age 5 and grew up wanting to follow Summers' footsteps.
"There was something about being on Michael's bus to go somewhere that made it more fun," the 25-year-old Seraphim said.
Seraphim started working at Veolia at age 17, his sights set on sitting behind the wheel.
"The bus never stops," he said, which appeals to him. "And you never know what you're going to see."
It was three years before he got his wish, his own bus like Summers.
But Summers didn't want to be a bus driver. He planned to leave the job after a few months for San Diego. That was 19 years ago.
"As a driver, you never think you're going to impact anyone's life," Summers said.
Contact reporter Trevon Milliard at
tmilliard@reviewjournal.com or 702-383-0279.