Business owners want parade on boulevard named for King
January 21, 2013 - 2:00 am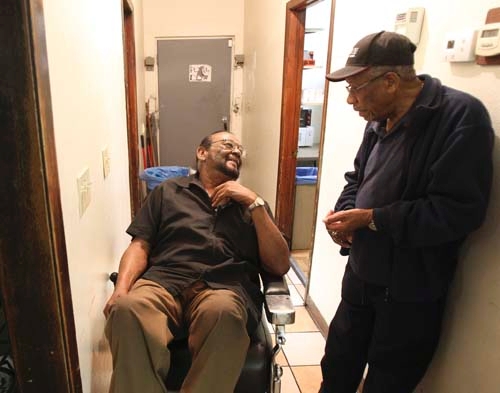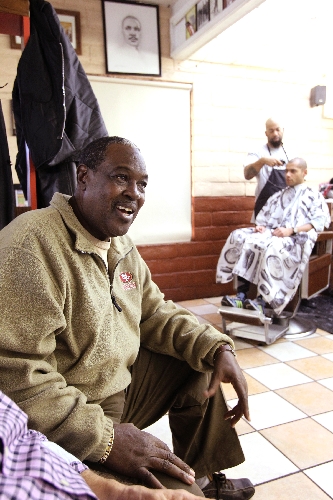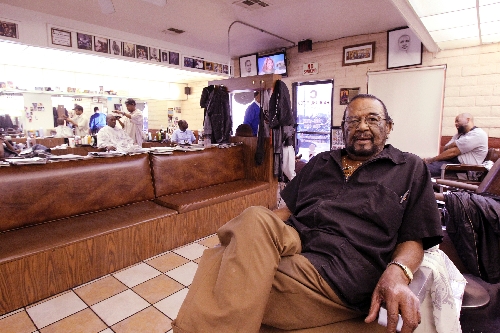 It's Martin Luther King Jr. Day today. It's a federal holiday. That means there will be a Martin Luther King Jr. parade in Las Vegas.
Every year for the past 30 years, the parade has taken place either on Fourth Street or on Fremont Street. It's one of the largest parades in the city, and yet it's never come close to marching down Martin Luther King Jr. Boulevard.
In the parade's very first year in 1982, it did, however, start in West Las Vegas, the heart of the black community. But since then the procession of marching bands, drill teams and political dignitaries has yet to reappear in one of the poorest neighborhoods in the city.
It's an irony that hasn't been lost on some of the struggling black business owners whose shops line Martin Luther King Jr. Boulevard.
Year after year, they point out that a few extra people parading through West Las Vegas, while it's certainly not going to solve all their financial problems, certainly wouldn't hurt.
And every year parade founder Wendell Williams, a former assemblyman, sticks to his principles, saying downtown is virtually tailor-made for the event. It is, after all, he points out, the same route that virtually every other parade takes in the city.
Furthermore, King wasn't just an icon and civil rights activist for blacks. He advocated for everybody. His influence was far-reaching.
"You can't pigeonhole him (King). To bring the parade down Martin Luther King Boulevard would only bring us back to the days of segregation," says Williams, who pushed for the federal holiday in Nevada as an assemblyman more than a decade ago.
But many business owners, some of whose shops either line MLK Boulevard or can be found a few blocks right off it, turn the question back on Williams.
"What would Dr. King have done?" asks John Edmond, 63, whose Edmond Town Center is one of the more reliable retail anchors in the heart of the black community. "I think to have the parade come through these parts would be a great service to our community, which, I hate to say, has seen better days."
RACE RIOTS
The community is no stranger to poverty and conflict and has even been the site of race riots over the years.
It's known as West Las Vegas, but ever since Summerlin was built, that term has become somewhat of a geographic misnomer. The city came up with a solution a few years ago by putting up a sign that designated it as the "Historic West Side" as you enter it just crossing Bonanza Road while heading north on MLK.
And historic it is, to say the least.
It's one of the poorest neighborhoods in the city. It's been the site of riots both big and small, time and again. Not only in 1968 after Dr. King was assassinated but more recently in 1992, with the acquittal of Los Angeles police officers in the beating of Rodney King.
That the area is in need of some sort of economic revitalization comes as no news flash.
For years, business owners have done their part merely by surviving – against the odds and against a backdrop of vacant lots, federally subsidized housing, and spates of violence when day turns to night.
One such holdout is Mack Smith Jr.. Now in his mid-70s, he was the first barber to come to town and open shop with his uncle, Booker T. Burney. They came from Shreveport, La. That was in the 1950s. And since then he hasn't looked back.
The owner of Hair Unlimited Inc. on Martin Luther King Jr. Boulevard, Smith Jr. is something of a legend around town, what with his stories of cutting the hair of great boxers who came for a prize fight and needed an ethnic cut.
He was the only one around to do the job.
We're talking Muhammed Ali, Joe Frazier, Mike Tyson, George Foreman.
The list goes on. And it so happens that some of their brass has rubbed off on Smith Jr., who has several of the local cops on his cellphone's speed dial in case of emergency. The short of it is, nobody messes with Smith Jr., although that's certainly not to say that under that gruff exterior there is not a big heart.
Today, instead of heading to the parade, he plans to help feed the homeless in his parking lot – in the spirit of Dr. King.
MARCHED WITH KING
"It's the least I can do, and it's only proper the day being what it is," he says as he sits in his barber chair and talks to his close friend, Lonie Chaney, 77, who actually marched with Dr. King in the early 1960s down Las Vegas Boulevard.
Chaney also hails from the Deep South. He came to Las Vegas from Tallulah, La., in the 1950s. And he isn't afraid to point out that when Martin Luther King Jr. was shot dead, the movement died along with him – on the balcony of that hotel.
"I honestly believe we could have achieved so much more if he had lived to be an old man," says Chaney, whose first job in Las Vegas was as a porter, a title that doesn't exist to the extent it did back then.
He remembers those days fondly.
It may have been a time of segregation, he said. But make no mistake: It was also a time of prosperity, oddly enough, and it was a time when people in the black community were one – even if they had no choice in the matter because of segregation.
"It's hard to believe, but we were a closer community back then compared to today," said Chaney, who eventually joined the U.S. Army, then opened his own bus company in his middle years. "Today, all the young kids are asking, 'Why? Why all the senseless violence?' And I don't know how to answer them."
It's a difficult question, he said. History, no doubt, plays a part in it, on both sides – both black and white.
It's a complicated history, he said. It's been fraught with struggle.
Although slavery officially ended with the Emancipation Proclamation in 1863, true freedom really didn't occur until a century later, with the passage of the Civil Rights Act of 1964. That's when blacks for the first time in American history were able to sit alongside whites in diners and in movie theaters. That's when they were able to share public spaces and sip from the same public water fountains.
But racism persisted in spirit, if not on paper, and integration in the public schools wouldn't occur until a decade later, in the early 1970s.
UPHILLL BATTLES
Even getting a federal holiday in honor of Dr. King is a case study of the sort of uphill battles that were endured and eventually overcome.
Although King was assassinated in 1968, the holiday wasn't created until 1986 under President Ronald Reagan.
And it wasn't until 2000 – the new millennium, mind you – that all 50 states finally agreed to recognize it.
Yes, blacks have made progress. Yes, racial equality is closer than it was. But that progress has come at a glacial pace. It occurs in only increments. And now, getting something as simple as having the Martin Luther King Jr. parade to march through the West Side is just another example.
King's "I have a dream" speech rocked modern society and energized the civil rights movement in 1963 when he said he hoped that the nation would "rise up" and all men would be treated equally.
West Las Vegans have the same sort of dream, almost five decades later.
Contact reporter Tom Ragan at tragan@reviewjournal.com or 702-224-5512.
MARTIN LUTHER KING PARADE
Las Vegas' annual Dr. Martin Luther King Jr. parade will start at Fourth Street at Hoover Avenue at 10 a.m. Monday.
The parade, which is expected to attract more than last year's 18,000 watchers, will travel north along Fourth and end at Ogden Avenue about 11:30 a.m.
The celebration of the civil rights leader will continue with Dream Fest at the Edmond Town Center, on the corner of Owens Avenue and H Street, about 1 p.m. It will include food vendors, cultural merchandise vendors, a car show, entertainment and family-friendly activities.