Buskers face new rules under Fremont Street canopy
November 18, 2015 - 10:01 am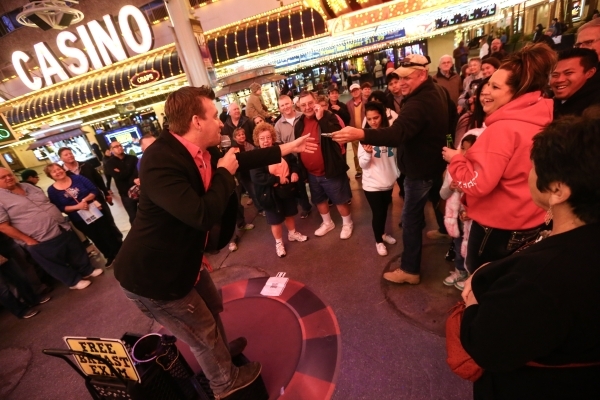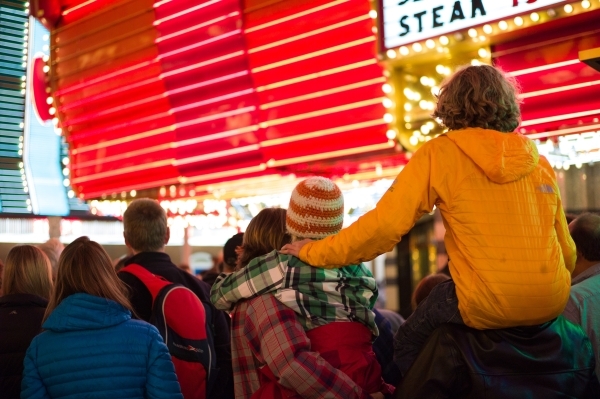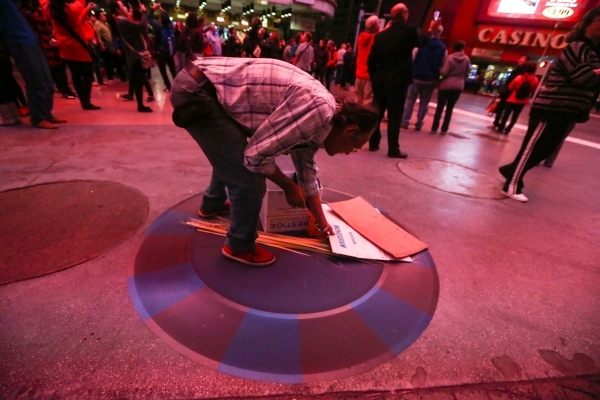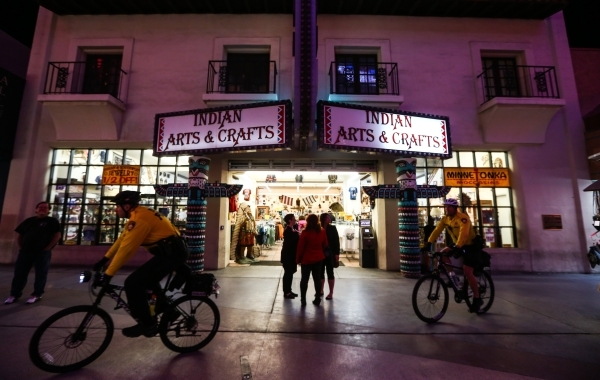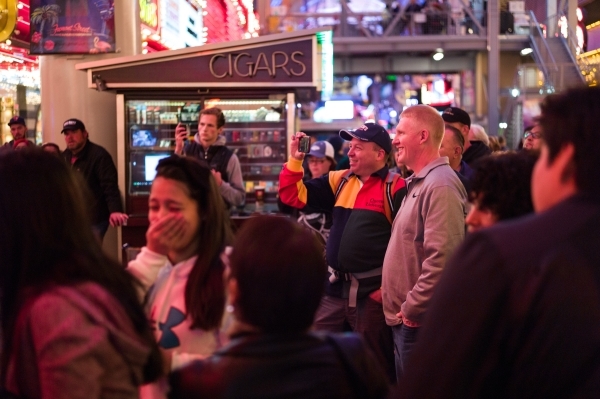 Sean Scott stepped into the circle like he was stepping off a cliff.
The magician took one step, then another, then dropped, at near terminal velocity, right back into his usual routine — hurriedly shuffling playing cards, checking his microphone and setting up a tip jar in hopes of attracting curious spectators.
So it went under the Fremont Street Experience canopy Tuesday night, where Scott and dozens of other street performers did their best not to notice a new Las Vegas ordinance limiting buskers to roughly three dozen 6-foot circles painted to look like poker chips on the pavement.
Newly registered buskers scattered around the five-block pedestrian mall quietly rotated in and out of their "performance zones" every two hours, as required under the ordinance first adopted by city leaders in September.
They also managed to maintain a city-mandated 40-foot buffer from other street performers, as well as a 100-foot separation from concerts sponsored by Fremont's owners.
Security staffers said the performers all did so without prompting, though fewer managed the feat without grumbling.
Scott and other buskers had no say in spots assigned to them under a randomized performance zone lottery unveiled by the city on Monday.
His first assignment put him within feet of an enthusiastic saxophonist hired by the Fremont Street Experience, the private company that operates the publicly funded pedestrian mall.
He had equally bad luck with his second poker chip, situated near a cacophonous concert stage outside Glitter Gulch.
After consulting with another member of Street Performers and Artists of Nevada, a busker advocacy group, Scott decided to move to a quieter, vacant performance zone a block or so south of First Street.
The move was perfectly legal under the ordinance. Scott just wishes he didn't have to make it.
"If I had had the option of choosing a spot, I would have," he said. "From my recollection, that was talked about (at City Hall).
"That's the only thing that still remains — being able to choose spots. Otherwise, I'll spend 30 minutes walking to each location."
Years of controversy
Las Vegas leaders and casino patrons have long criticized street performers for their sometimes lewd outfits and occasionally violent turf wars over busking spots.
The performers have also been knocked for aggressively soliciting tips and making too much noise.
So cops, city marshals and news crews lining Fremont's sidewalks Tuesday night might be forgiven for expecting a rowdier response to Las Vegas' much ballyhooed new ordinance, one adopted only after a monthslong gestation period that featured three separate public meetings, hours of public comment and several legal and logistical tweaks that helped align some buskers, casino operators and the American Civil Liberties Union of Nevada behind the effort.
The city spent more than a decade in court defending earlier, bolder attempts to bounce street performers and panhandlers off Fremont Street, eventually losing a First Amendment challenge filed on the buskers' behalf by the ACLU.
The 9th U.S. Circuit Court of Appeals has thrice ruled Fremont is a public forum subject to free speech protections.
Performers like Lion Fludd, a magician who has worked on Fremont for about a year, said they've gotten used to rules the city was able to get away with in years past, including regulations keeping them at least 20 feet away from building entrances and 10 feet away from ATMs, retail kiosks, fire lanes and crosswalks.
Fludd suspects they'll soon grow accustomed to the city's latest stab at taming Fremont.
Those that don't, he said, will leave.
Exodus expected
Some performers, like popular ventriloquist Scarlet Ray Watt, have already left for another city, citing what they see as an assault on free speech backed by nearby casino owners.
Others are expected to join a meandering cast of street characters on the Strip, where musicians like Brandon Summers fear an influx of Fremont performers could threaten their income.
Still others will stick it out, trying their luck with the daily lottery system that randomly assigned each of Tuesday's registered performers to a time slot at one of 38 busking spots.
The city hopes the system will cut down on buskers' sometimes frantic jockeying for prime performance spaces.
Buskers fear it will only exacerbate the problem, all while creating an easily rigged black market for time slots and randomly assigned performance zones.
Performers are not required to give their name to register for the city's daily lottery, leaving the door open for some unscrupulous buskers to create multiple — perhaps even dozens or hundreds — of registration accounts in the hopes of cornering the market on the busking circles.
City Attorney Brad Jerbic has said the city has a plan to prevent such tampering with the system, but declined to provide details on those efforts at a meeting with buskers in October.
More than 120 performers registered for Monday's lottery. Only a third of those buskers sought a space to work Tuesday night, leaving almost a quarter of the time slots available to performers unfilled.
A city spokesman said he wasn't sure why so few buskers opted in for the ordinance's opening night lottery, but guessed it could have something to do with the cold weather.
Metro Police, Las Vegas city marshals and Fremont Street Experience security staffers each have some jurisdiction over different aspects of banned busker behavior on Fremont Street.
Jerbic has said the city plans to apply a "light touch" in enforcing its ordinance over the next few weeks.
Contact James DeHaven at jdehaven@reviewjournal.com or 702-477-3839. Find him on Twitter: @JamesDeHaven