Buskers voice concerns about proposed Fremont Street rules
September 2, 2015 - 5:51 pm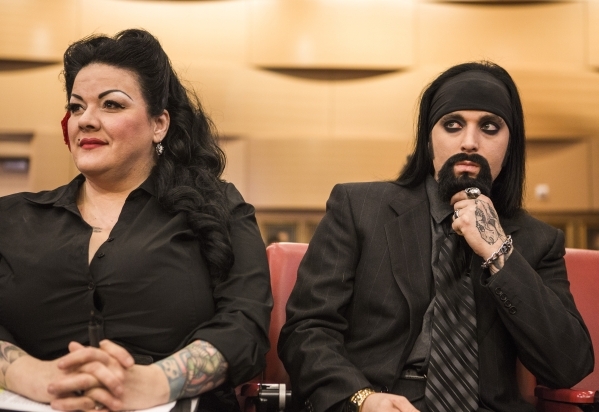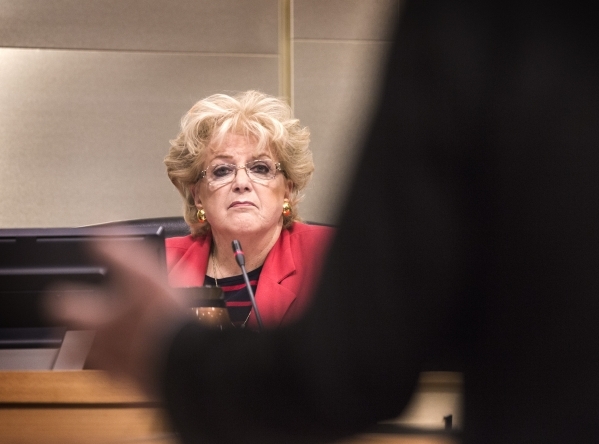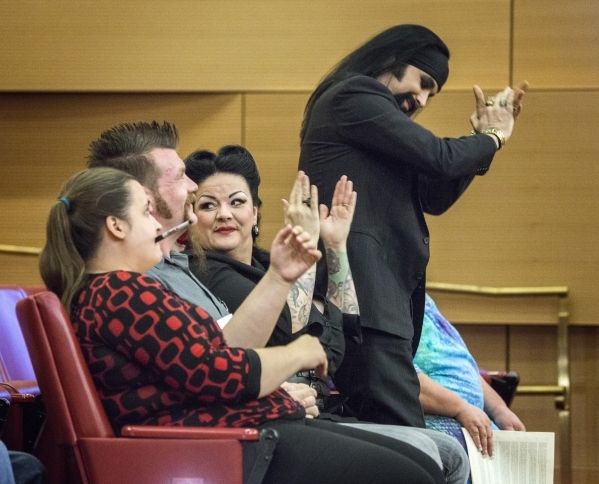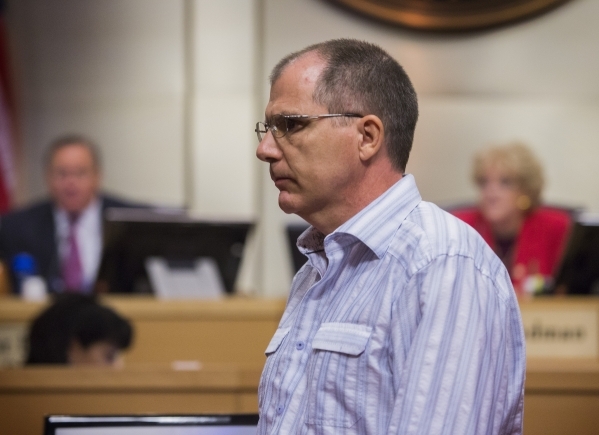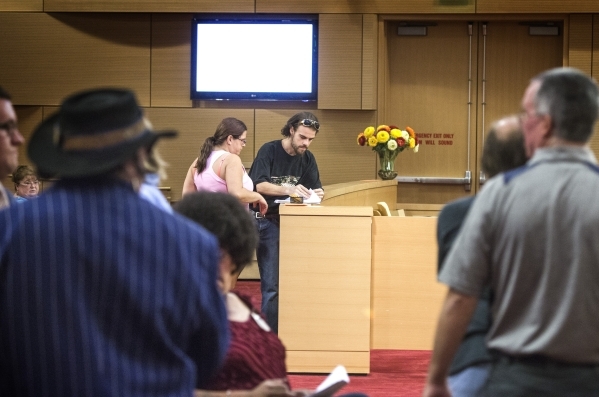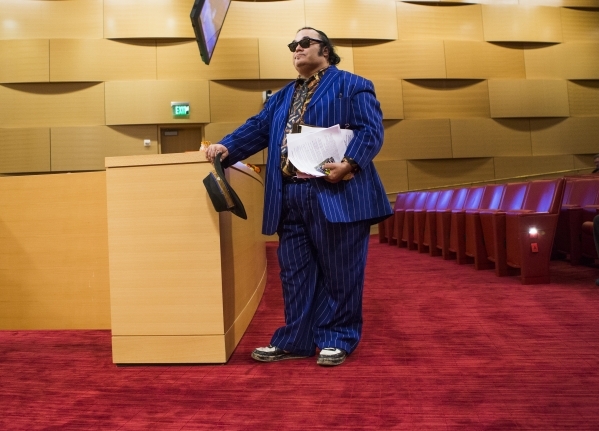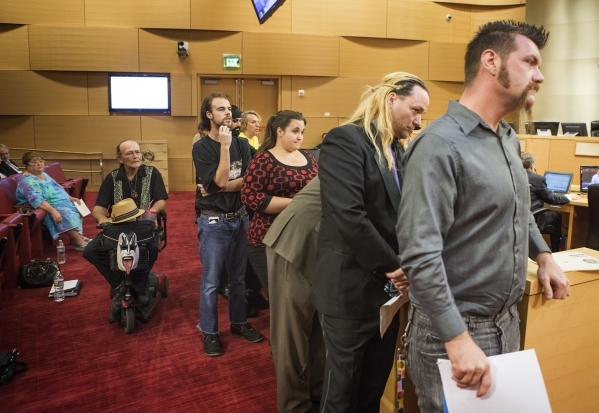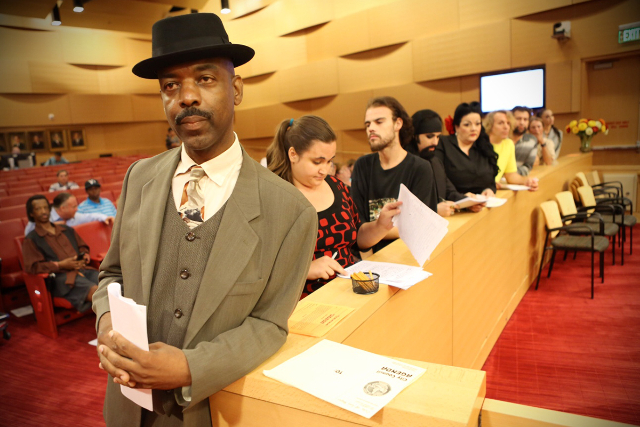 Fremont Street Experience's famed buskers drive a hard bargain.
After months of tinkering and weeks of contentious debate, Las Vegas council members on Wednesday agreed they weren't quite ready to adopt an ordinance that would restrict when and where buskers could perform underneath the Fremont canopy.
That decision came after an hour of spirited public comment from more than a dozen dressed-down street performers, including some who said the ordinance would threaten their livelihood.
The proposed new rules would limit performers' acts to roughly three dozen 6-foot circles along the five-block pedestrian mall.
Guitars could still be strummed, buckets could still be drummed, and cards would still be allowed to disappear under the ordinance, but only within those "performance zones" and only for two hours at a time for each person or act.
The spots would be patrolled by Fremont Street Experience LLC, the privately held company that maintains the city-owned mall.
Performers would have to register with the city and keep a 40-foot buffer between other buskers. They would also also have to keep a 100-foot separation from concerts sponsored by Fremont's owners.
Officials have said they don't plan to run background checks on performers and will not charge them to register.
All buskers — from the nearly naked nuns to the codpiece-clad cowboys — would be allowed to reserve, or else be allotted, the spots via a reservation or lottery system to be created under the proposed ordinance.
The city hopes the as-yet-incomplete zone designation system will help cut down on frantic jockeying for Fremont's prime performance spaces.
Few buskers objected to the city's new registration requirements Wednesday, but many were wary of time limit and space restrictions they said would cut into their bottom line.
Ventriloquist Scarlet Ray Watt offered his criticism with theatrical flair, ripping up one of the ordinance's 21 pages in front of city leaders.
"This is the worst bit of garbage ever put together," Watt said. "Buskers' livelihoods matter."
Rules keeping buskers at least 20 feet away from building entrances and 10 feet away from ATMs, retail kiosks, fire lanes and crosswalks would remain in effect under the new ordinance.
The city spent more than a decade in court defending earlier, bolder attempts to bounce street performers and panhandlers off Fremont Street, eventually losing a First Amendment challenge filed on the buskers' behalf by the American Civil Liberties Union of Nevada.
City leaders and casino patrons have criticized street performers for their sometimes lewd outfits and occasionally violent turf wars over busking spots.
The performers have also been knocked for aggressively soliciting tips and making too much noise.
But most of Wednesday's interactions between buskers and city leaders were cordial, if not jovial.
The warmest exchange between the two came after some City Council members suggested the performers ought to better police themselves, to which City Attorney Brad Jerbic responded that if self-policing were possible, council members "ought not do an ordinance."
The suggestion won him a long standing ovation from street performers in the audience.
City Council members hope to circle back to the proposed Fremont Street rule changes on Sept. 16, with an eye toward finally adopting the move by Nov. 1.
Las Vegas leaders plan to enlist deputy city marshals to help enforce the proposed rules. Only minutes after abeying the ordinance, they introduced a resolution that would enable those marshals — who work under the city's Department of Detention and Enforcement — to issue citations and serve warrants under the Fremont canopy.
Contact James DeHaven at jdehaven@reviewjournal.com or 702-477-3839. Find him on Twitter: @JamesDeHaven