Canine friend eases anxiety
November 25, 2010 - 12:00 am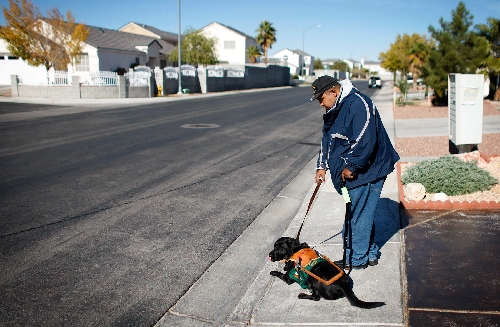 Ben Hernandez doesn't have to worry about the Persian Gulf War anymore.
Wasabi has his back.
"If I have a nightmare, she'll come up to me and nudge me to wake me up," he said about his 2½-year-old black Labrador retriever as she curled up next to him Tuesday on a sofa in his Las Vegas home.
"She takes care of me. She's there for me. She watches my back," he said.
Wasabi can open doors with her paws and switch on lights with her nose. If Hernandez drops his cane, she'll grab it with her teeth and give it back to him. In all, she can respond to more than 80 commands.
Hernandez spent about two weeks this month in Dobbs Ferry, N.Y., where he trained with Wasabi under a program called Project HEAL-Service Dogs for Wounded Warriors to help him cope with the symptoms of post-traumatic stress disorder.
He is one of a dozen veterans to graduate from the program, which is run by a nonprofit organization, Educated Canines Assisting with Disabilities.
For Hernandez, post-traumatic stress disorder not only causes bad dreams and depression, but it makes him feel uncomfortable in every day settings of civilian life.
"In public, she covers my front and gives me a sense of security," he said. "She lessens my anxiety, so now when I go into Walmart with Wasabi, it doesn't bother me."
The invisible wounds of the Gulf War have haunted Hernandez since he was a specialist in the 101st Airborne Division's 502nd Infantry Regiment.
He said he gets restless at night when he dreams he is in a war, not just the Gulf War but sometimes the Civil War or the Vietnam War.
"One time I had a dream that I was an Indian and the cavalry was after me," he said.
Hernandez, 42, said his nightmares stem from what he saw and experienced when his company crossed into southern Iraq from Saudi Arabia in early 1991.
First there was Bravo Company's captain who told his platoon, "Of you 30 guys, maybe 10 will come back alive. The rest of you guys will come back in body bags."
"Being a young guy and the first time being in a war, that took my mind and flipped it inside out," said Hernandez, who had joined the Army after high school in Long Island, N.Y., to be a Ranger in the 101st "Screaming Eagles" team.
Then, while still in Saudi Arabia waiting to invade Iraq, soldiers from the Arkansas National Guard mistakenly began shooting their M-16s at Bravo Company. Fortunately no one was killed.
A few days later, after a Black Hawk helicopter dropped his unit off not far from a line of Iraqi tanks, they ran three miles to take cover in fox holes where they were pummeled by an artillery barrage.
"You could feel the sand coming on your head even though there was Kevlar," he said.
Fortunately again, no one was killed.But the worst memory evolved after the fighting ended.
"On the way back, they wanted to show us what happened on the road where they shot all the trucks and tanks. Basically people were fried," he said, about the Highway of Death. "We did a low flight through there, and you could see the figures of charcoal bodies. It was a massacre. All that basically got into my head.
"When I came back, I was OK with my friends and other soldiers. But when I was away from my soldiers from my platoon, I started crying."
Back at his home in New York he felt like committing suicide.
"I was actually cutting myself and doing things like that. I said, 'I need help. I need help.' I told my mother, 'I need help.' "
Department of Veterans Affairs doctors in Northport, N.Y., diagnosed him with post-traumatic stress disorder and major depression.
They sent him to a counselor, but "it really didn't help that much," Hernandez said.
He continued to suffer from PTSD after moving to Las Vegas in 2002 to work for a diagnostics company as a computer support specialist. He sought help from the VA again, and doctors this time prescribed antidepressant drugs he said "helped somewhat."
Then, about a year ago, he saw a news report about a bill by Sen. Al Franken, D-Minn., to have the VA partner with nonprofit groups to provide service dogs for veterans with mental illnesses including post-traumatic stress disorder.
With help from Sen. John Ensign, R-Nev., Hernandez was put in touch with the East Coast organization Educated Canines Assisting with Disabilities, which is on the cutting edge of training service dogs for Project HEAL.
Money is provided through donations and grants to raise the dogs and train them, said Patricia Robert, a spokeswoman for Educated Canines Assisting with Disabilities.
A major sponsor of the program is the Geoffrey Beene Foundation.
"The dogs are trained to pick up on the psychological factors that are affecting people and calm them down and act as a barrier," Robert said.
In Hernandez's case, he also has a balance problem that stems from a service-connected knee injury.
After trying out several dogs, trainers determined that Wasabi was the best fit for helping Hernandez with PTSD and his balance problem. And to their amazement, during the two-week training course, she also could sense when his blood sugar was low to help him with another health issue, diabetes. Now she licks his hand to let him know it's time to eat an apple or drink a soda to replenish his body with sugar.
"That was something she wasn't trained to do," Hernandez said. "That's something automatically that she did. She's special."
Contact reporter Keith Rogers at krogers@reviewjournal.com or 702-383-0308.
Canine friend eases anxiety
ON THE WEB:
Educated Canines Assisting with Disabilities