Car caravan protest meant to spur next federal relief package
Updated September 1, 2020 - 7:26 pm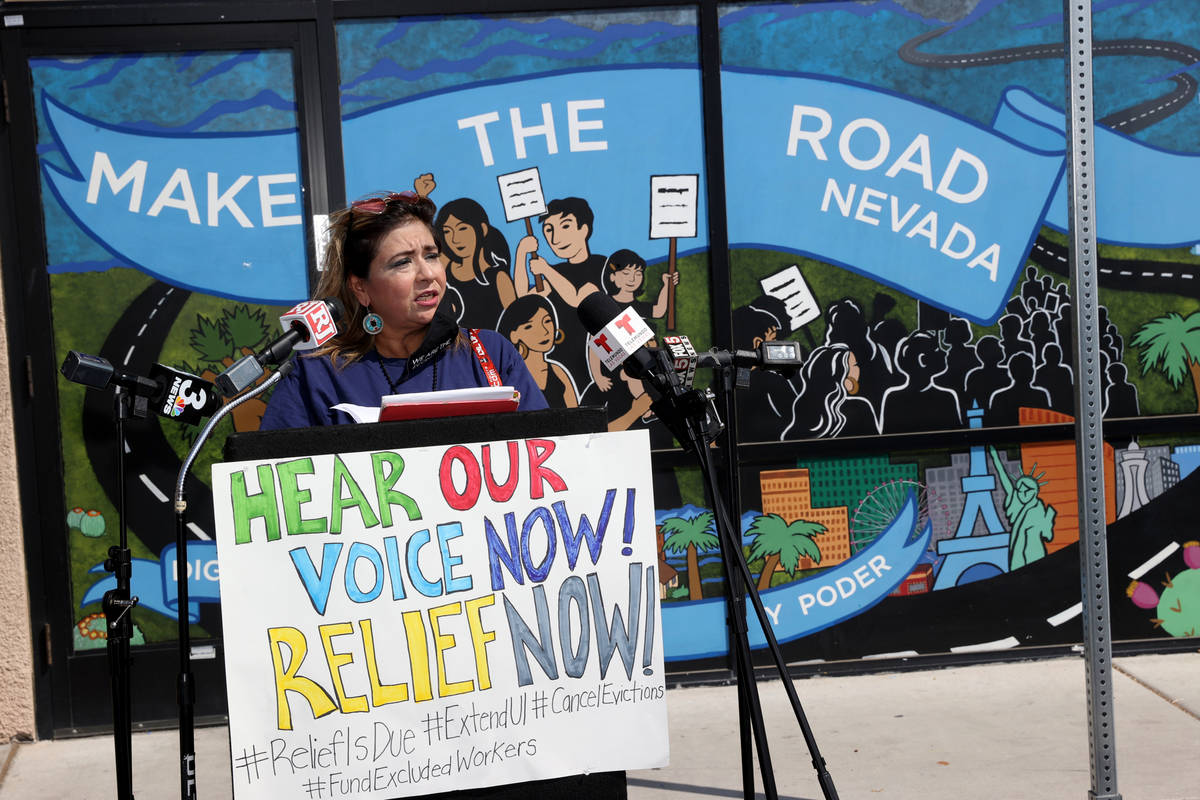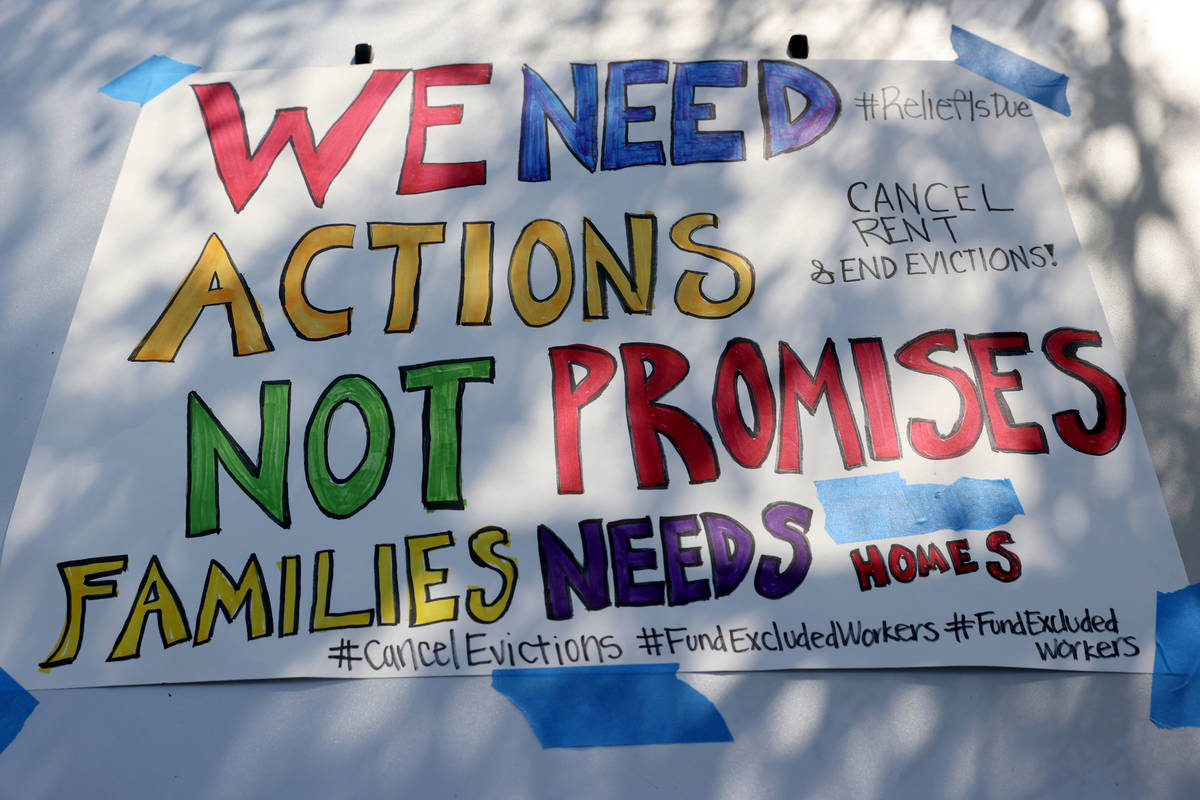 About 20 cars traveled in a caravan around a Las Vegas neighborhood Tuesday to protest the impasse in Washington over relief for those facing evictions and push for federal action.
The vehicles, adorned with signs reading, "Mitch Better Have My Money" and "Relief is Due," embarked on the caravan from outside the nonprofit Make the Road Nevada office, 4250 E. Bonanza Road, and then traveled a roughly 9-mile loop around the area.
Las Vegan Anthony Giron said he owns his home but wanted to participate in support of those at risk of being evicted.
"This is bad. I just don't like what I'm seeing," Giron said. "I do own my own home, but I work for the Golden Nugget casino. I'm not back at work yet, and I've been out of work since March, using unemployment. The economy is not going to bounce back as fast as it should."
Felipe Silva, housing justice organizer with Make the Road Nevada, said the protest was part of a nationwide day of action organized by The Center for Popular Democracy, CPD Action and Unemployed Action.
"It's part of a series of actions in which partners all across the U.S. are demanding Congress to pass the Heroes Act," he said, referring to the impasse over the economic relief package passed by the Democrat-led House. "I think the fact that (legislators) in D.C. are just hanging out, quite honestly, while people are unemployed … is quite shameful, so these events are illustrating the picture that people are fed up."
Extra time
The state's eviction moratorium was set to expire Tuesday, but Gov. Steve Sisolak said Monday he would extend the moratorium for 45 days.
Caleb Green, attorney at Dickinson Wright PLLC's Las Vegas office, said the announcement came as a surprise.
"I think everyone was preparing for Sept. 1 as the day when everything was going to lift," Green said. "This definitely comes as a surprise. Hopefully, it will give tenants and landlords more time to talk and figure out a repayment plan … rather than have to go to court to get them resolved."
Sisolak said in his Monday news conference that the goal was to give courts more time to start a recently passed tenant-landlord mediation program, provide counties with time to disburse short-term rental aid to landlords and give Nevada's employment office an opportunity to work through its backlog of unemployment insurance claims.
But for residents such as Giron, the 45-day extension is still not enough.
Giron, one of the speakers who helped kick off Make the Road's car caravan, was laid off in March with the rest of his family except for his brother, whose earnings supported the family of eight until they received their delayed unemployment insurance benefits. Giron said he is heading back to work but will not receive full-time hours or hazard pay.
"Our members can't pay their mortgage, and they can't pay their rent because they lost their jobs," he said. "Unless there's immediate government action, there will be an unprecedented amount of mass evictions."
Silva said the eviction moratorium extension is good news but simply acts as a Band-Aid. He said federal and state legislators should do more to help support residents.
"It's a short-term solution for a long-term problem," he said. "I think to allow room for a moratorium is a good solution if it's complemented with something else. The problem is not going way — these people are still accumulating more and more debt — so what we're asking for is rent relief."
Contact Subrina Hudson at shudson@reviewjournal.com or 702-383-0340. Follow @SubrinaH on Twitter.