Car driver arrested in Las Vegas bus crash ID'd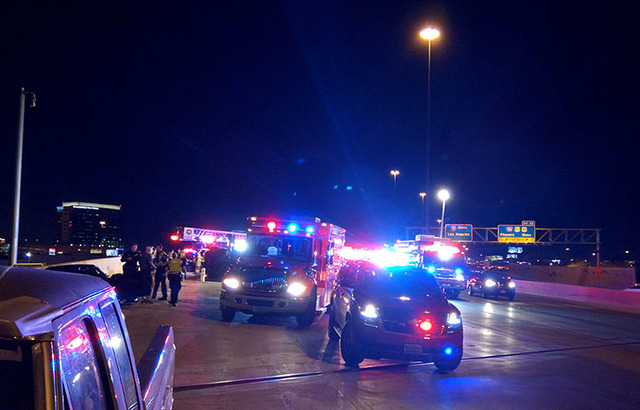 The man accused of swerving his car into a shuttle bus, causing it to overturn on Interstate 15 and injure a dozen people Saturday night, has been identified and faces 10 counts of driving under the influence in connection with the incident.
Orlando Gunn, 51, who was driving the 2000 Toyota Celica involved in the crash, was taken into custody Saturday night on suspicion of driving under the influence, Nevada Highway Patrol trooper Jason Buratczuk said.
He was booked into the Clark County Detention Center on 10 counts of DUI resulting in substantial bodily harm, according to the highway patrol. Gunn also faces one count each of reckless driving, failure to maintain a lane, having an open alcohol container in a vehicle and failure to wear a seat belt.
Gunn is scheduled to appear in court Monday.
The crash critically injured a woman who was transported to University Medical Center's trauma unit. No information was available on her condition Sunday.
Eleven others were also injured and taken to either UMC or Sunrise Hospital Medical Center with non-life-threatening injuries.
The highway patrol responded to the crash on I-15 near Washington Avenue after receiving a call at 7:43 p.m. Saturday, Buratczuk said.
"The Toyota was in the left travel lane, and the bus was in the middle lane. The Toyota was unable to maintain its lane and hit the shuttle bus," Buratczuk said Saturday night. The impact caused the shuttle bus to rotate, and the Toyota struck the bus a second time, and the bus came to rest on its left side.
Witnesses at the scene told highway patrol troopers that the Toyota driver had been driving erratically and at high speed, Buratczuk said.
The Associated Press contributed to this story.