Cashman Center lot opens as temporary homeless shelter
Updated March 28, 2020 - 10:06 pm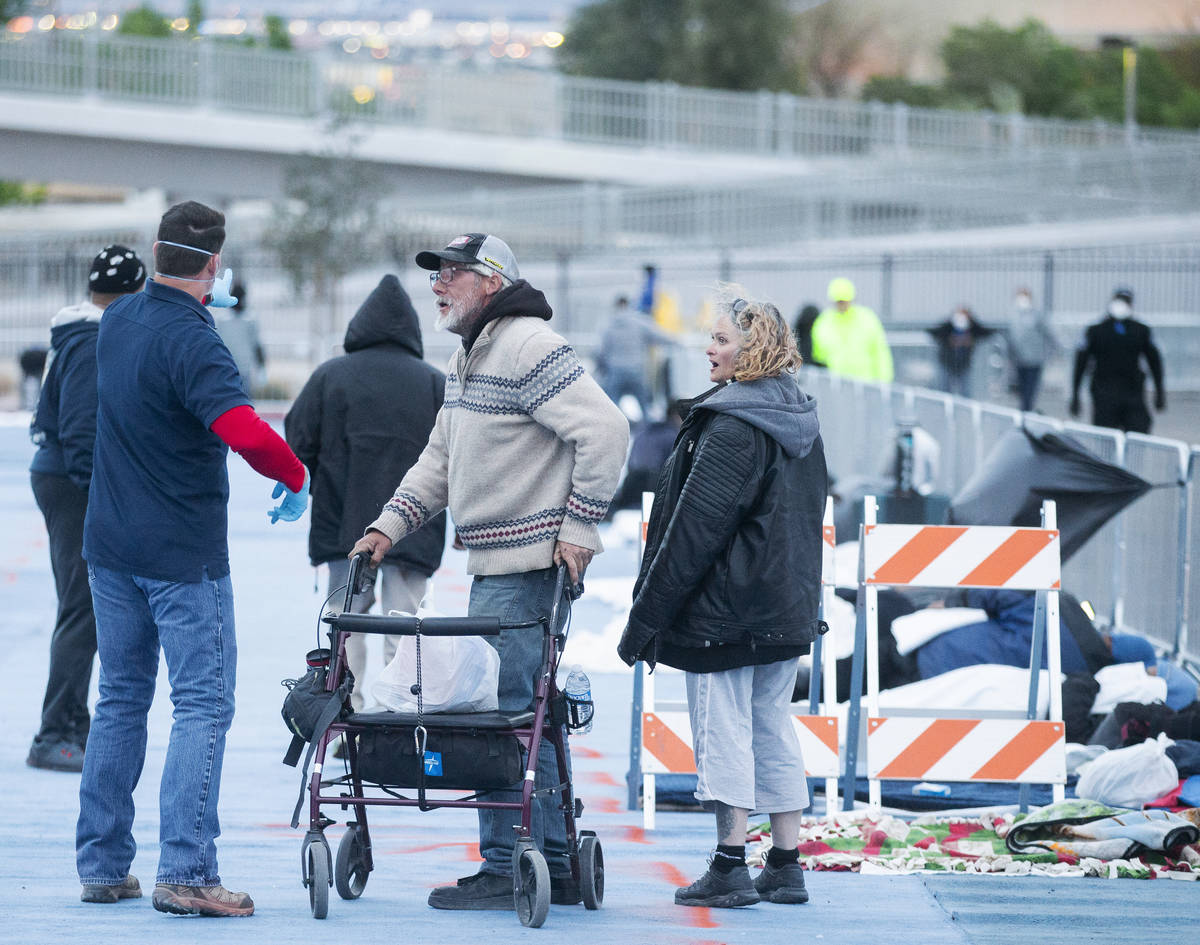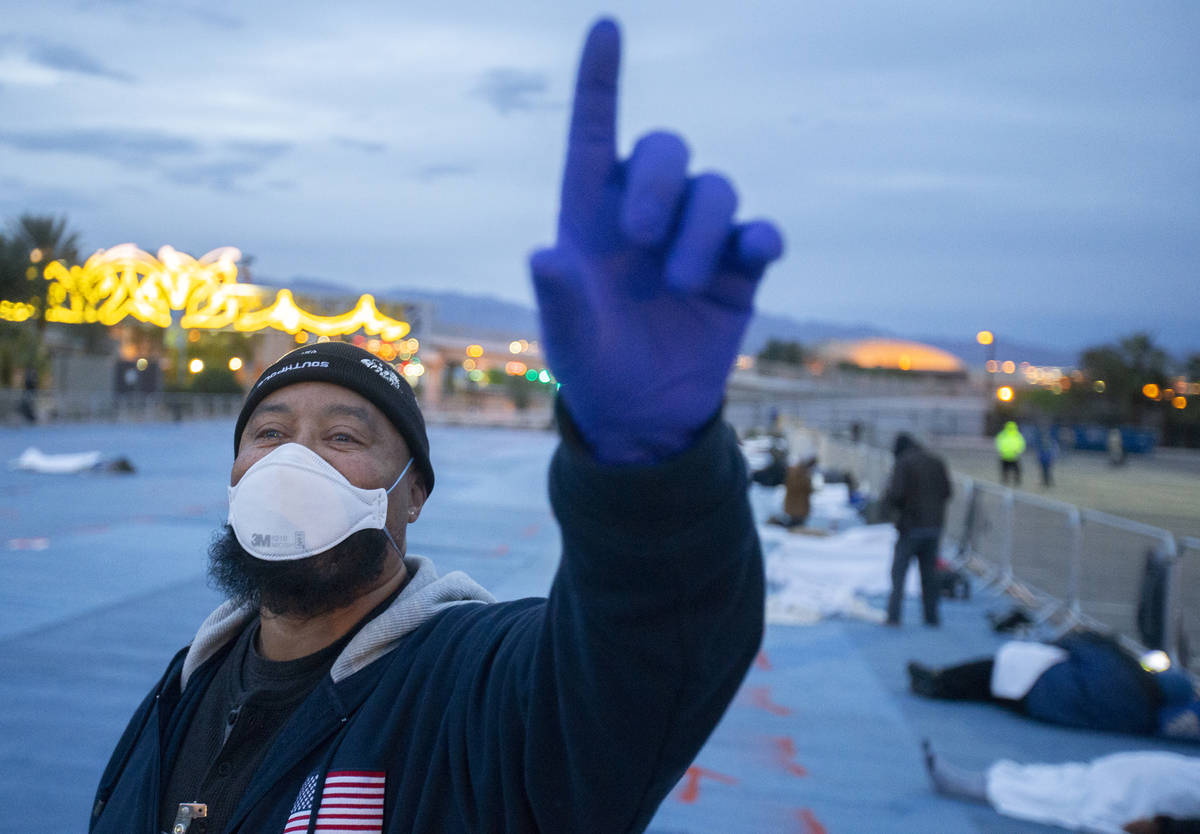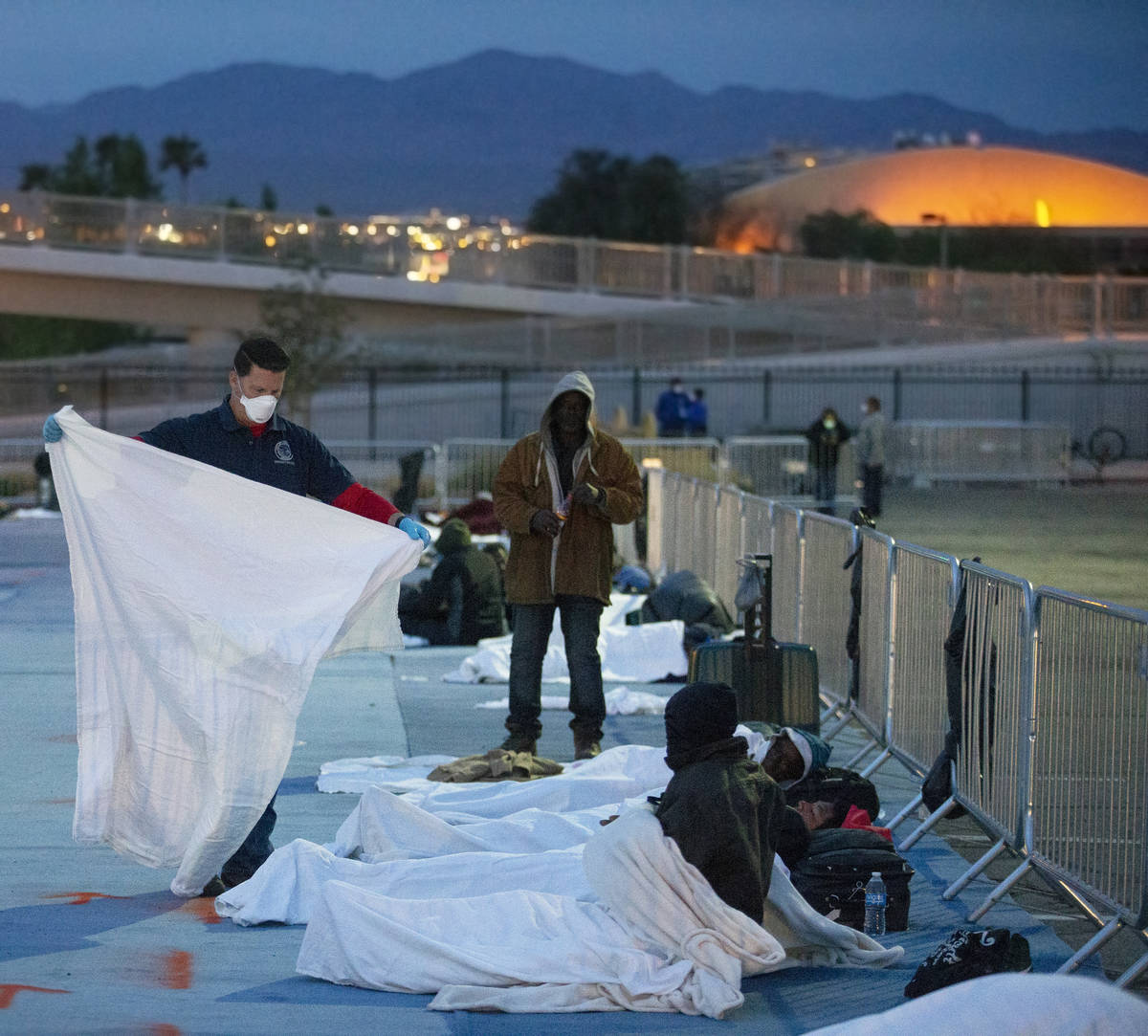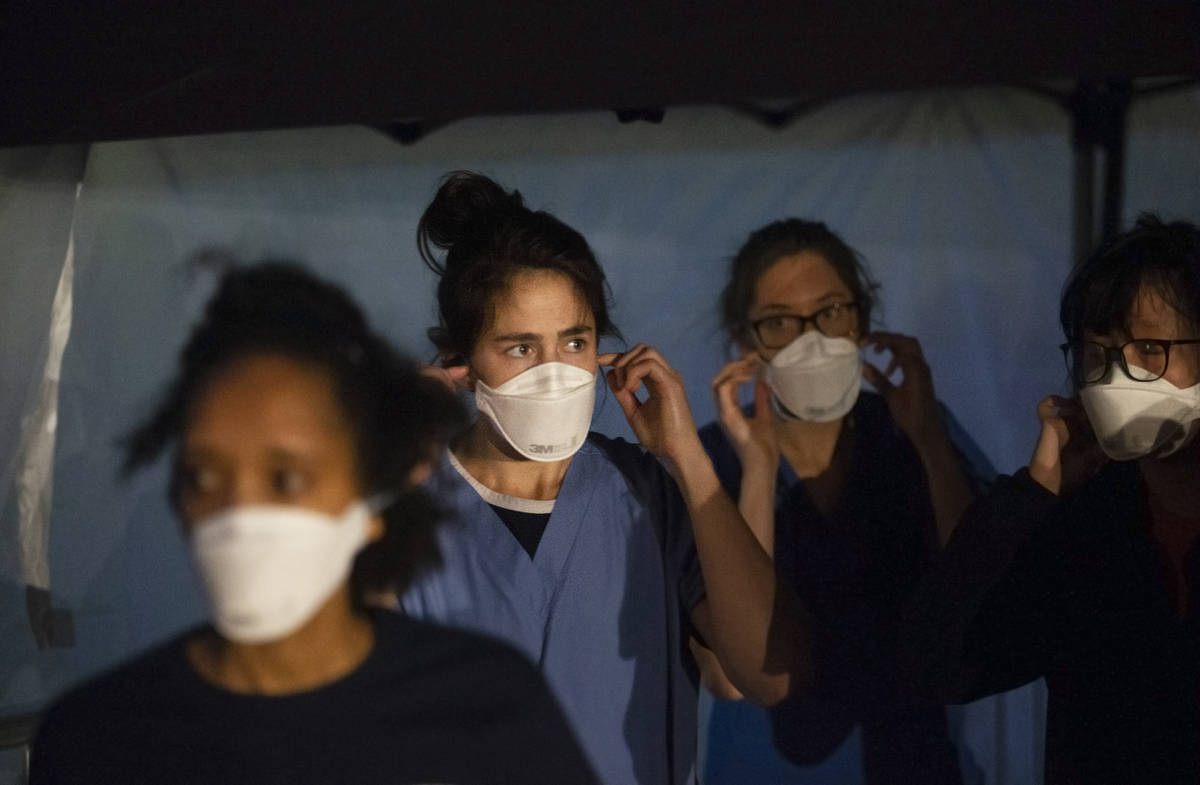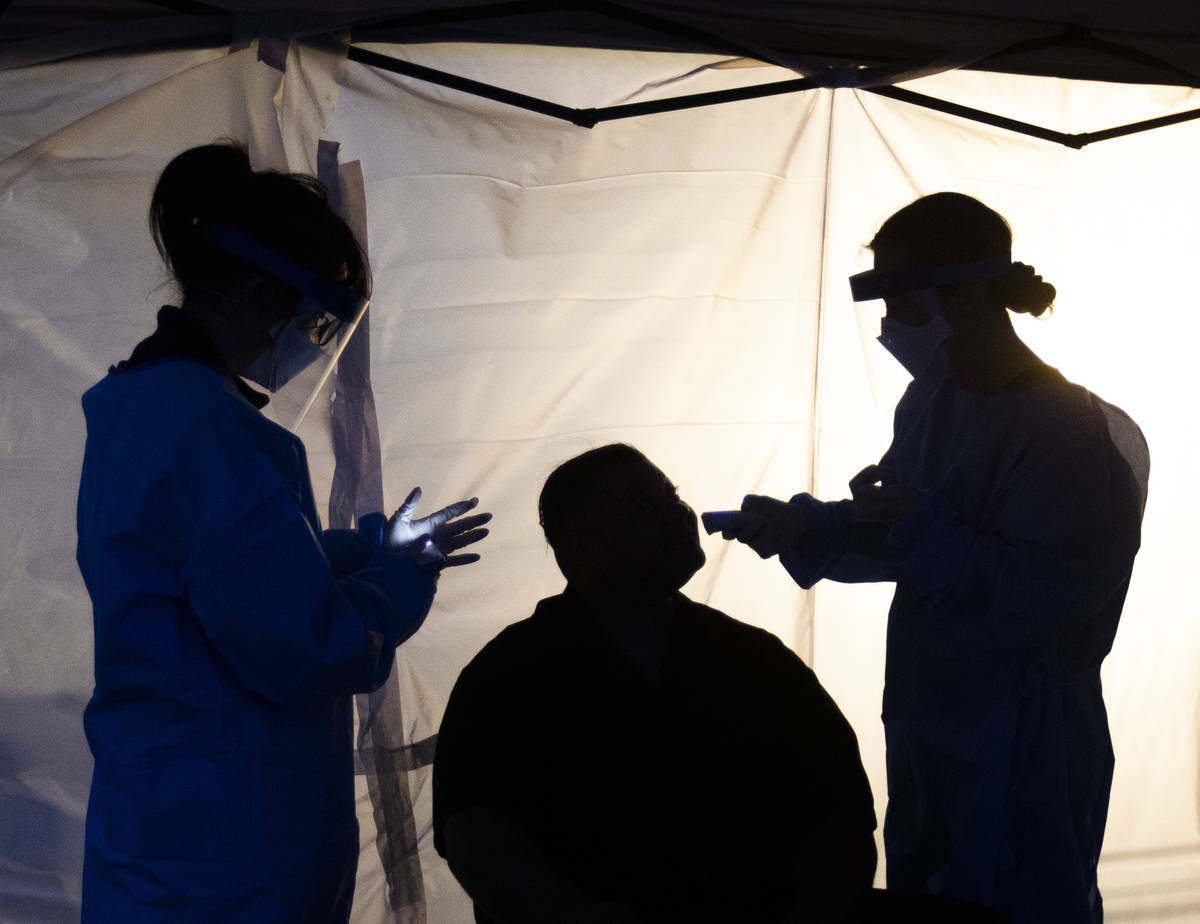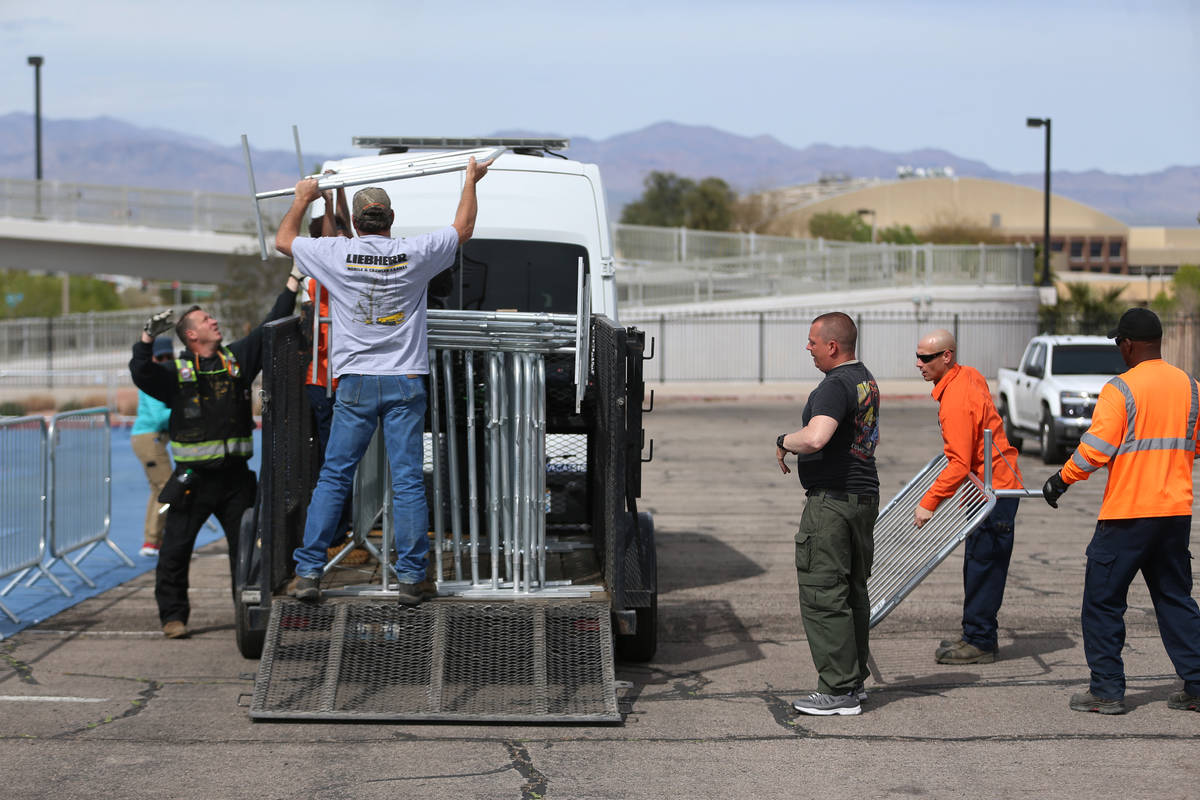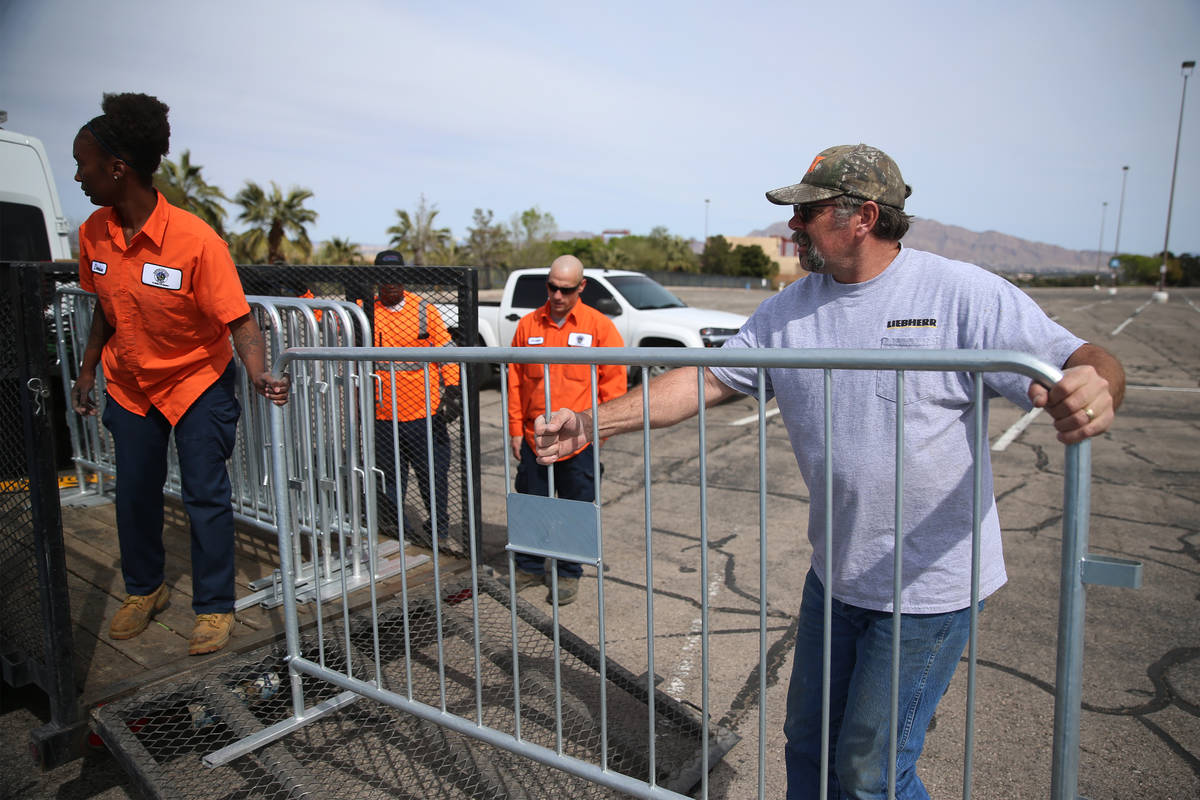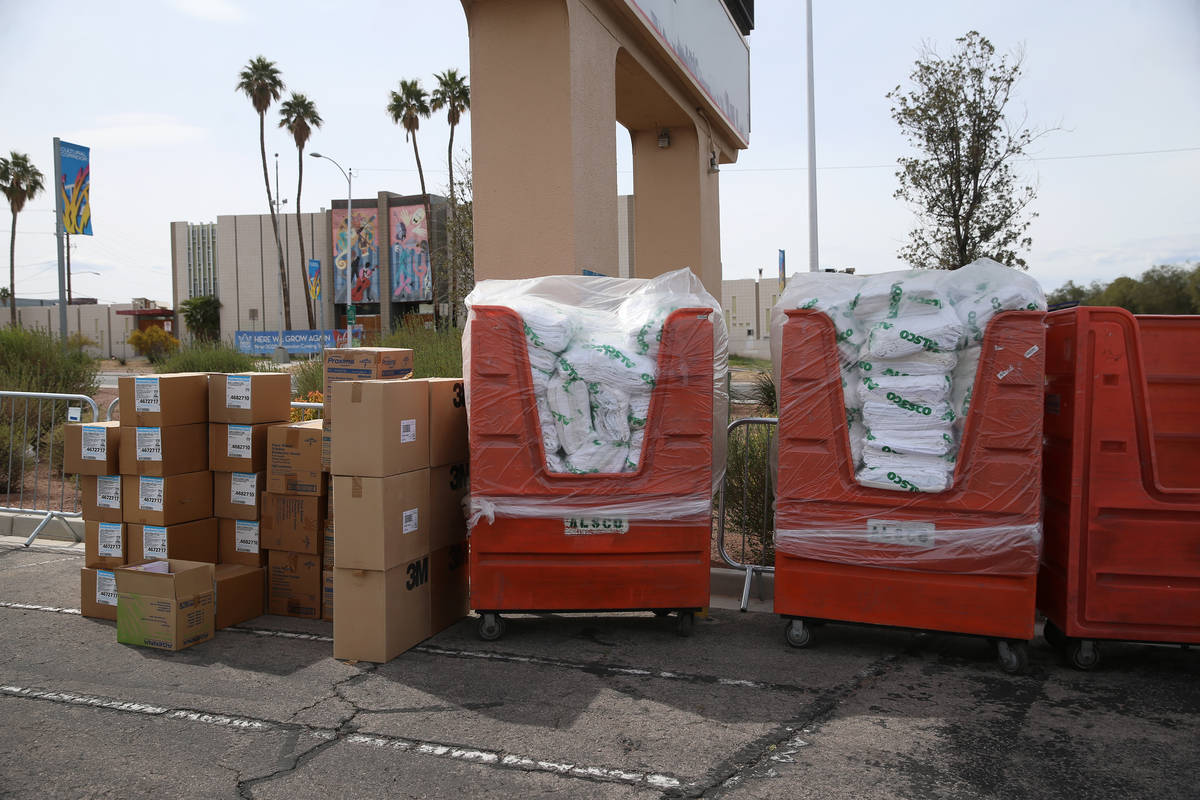 After a man who stayed at a shelter operated by Catholic Charities of Southern Nevada tested positive for coronavirus, Clark County and Las Vegas officials opened the upper parking lot of Cashman Center as a temporary homeless shelter.
To accommodate the 500 men who sleep at Catholic Charities each night, officials have expanded the Homeless Courtyard on Foremaster Lane and Cashman Center until Catholic Charities reopens.
The shelter at Cashman Center will be open from 6 p.m. to 8 a.m. daily through Friday, according to a joint statement from the city of Las Vegas and Clark County. Other parts of Cashman Center also are being prepared as hospital overflow, the statement said.
Once it opened Saturday evening, those seeking shelter started trickling in.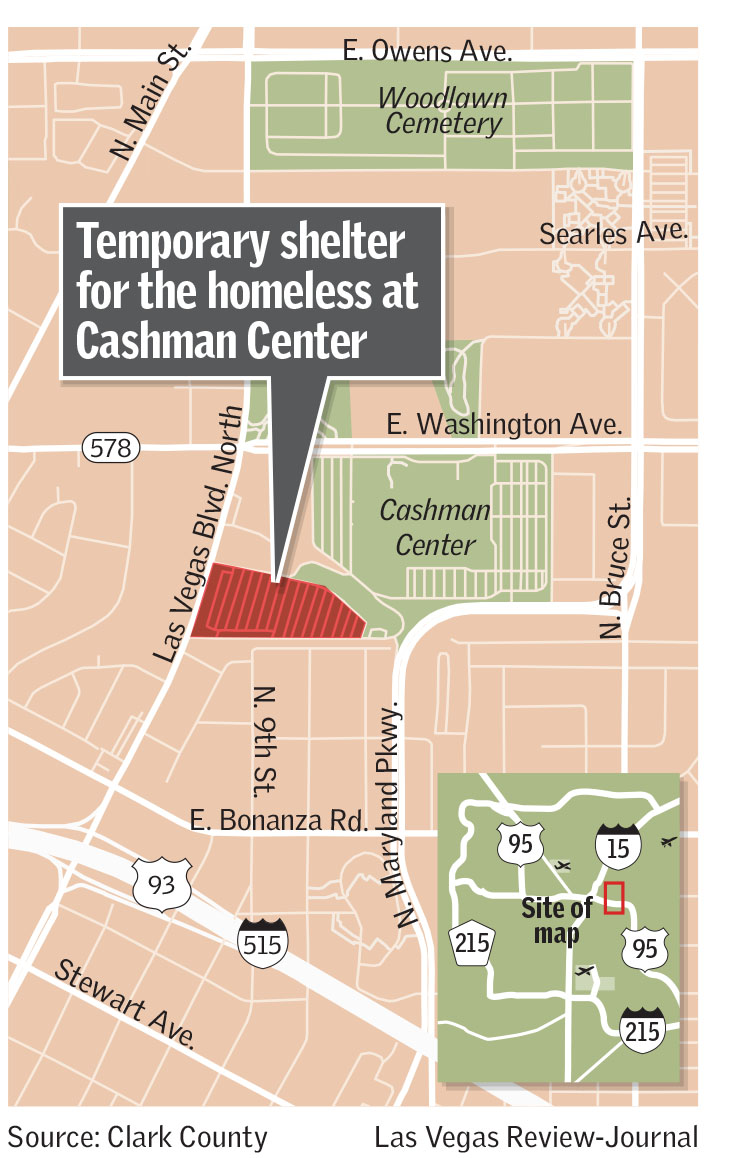 "I was concerned about catching the virus at the courtyard because we sleep so close together," Michael Hamilton said. "I feel much safer here."
Now that the temporary shelter is open at Cashman Center, those that are physically able will walk there from the Courtyard, Las Vegas city spokesman David Riggleman said earlier Saturday. It's about a 0.7-mile trip.
Those who have mobility issues or a fragile health situation will stay at the Courtyard, Riggleman said.
Jace Radke, a spokesman for the city of Las Vegas, said Wednesday that the district is coordinating screening of people at the Courtyard who may have come into contact with the man who tested positive. Only a week earlier an employee also had tested positive, and several others had been quarantined.
Setting up shelter
More than 50 volunteers worked to set up the temporary homeless shelter, including laying out 24,000 square feet of carpet, which will serve as sleeping mats. There's at least 6 feet between each piece of carpet. The emergency shelter site also includes portable bathrooms with hand washing stations and a dumpster.
"We're really pleased so many people came together," Riggleman said Saturday, calling the project a "logistical heavy lift."
Clark County Commissioner Justin Jones arrived at 11 a.m. Saturday at Cashman Center to help set up the temporary homeless shelter. He was among a handful of local elected officials at the site.
Volunteers set up the temporarily facility so "we can make sure that our homeless are as socially distanced and healthy as possible," he said.
Nearly a dozen medical and physician assistant students from Touro University Nevada were among the volunteers stationed outside Saturday afternoon.
The students conducted screenings on arriving homeless people to determine if any needed to be tested for the virus. They were accompanied by Touro deans Dr. Wolfgang Gilliar and Dr. Phil Tobin, a university representative said.
Gilliar said Touro was warned about two weeks ago that the county may need them to spring into action, and when he called students today with a 45-minute warning, "there was no hesitation whatsoever."
"We are physicians and we do what we have to do," he said. "They know what to do and they're there to help."
The students were expected to be on site for up to five hours asking questions of possible homeless guests and taking temperatures. He said the students practice 10-hour to 12-hour shifts in rotations through emergency rooms and other facilities during their training.
"They're not afraid of the hard work," he said. "We are in all of this together and we're here to serve the public."
Contact Sabrina Schnur at sschnur@reviewjournal.com or 702-383-0278. Follow @sabrina_schnur on Twitter. Contact Julie Wootton-Greener at jgreener@reviewjournal.com or 702-387-2921. Follow @julieswootton on Twitter.