Catholic Charities, 125 volunteers team up to feed homeless
December 25, 2016 - 5:34 pm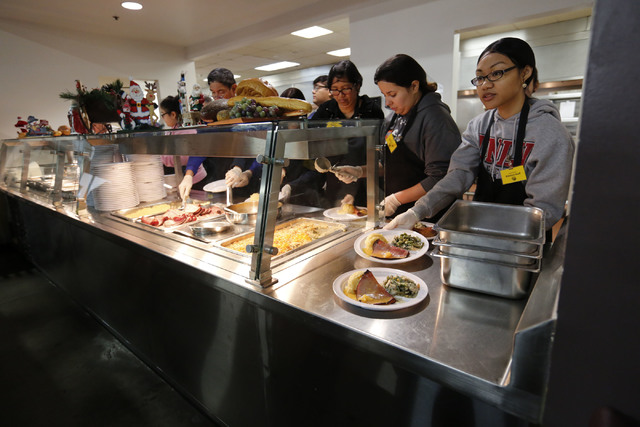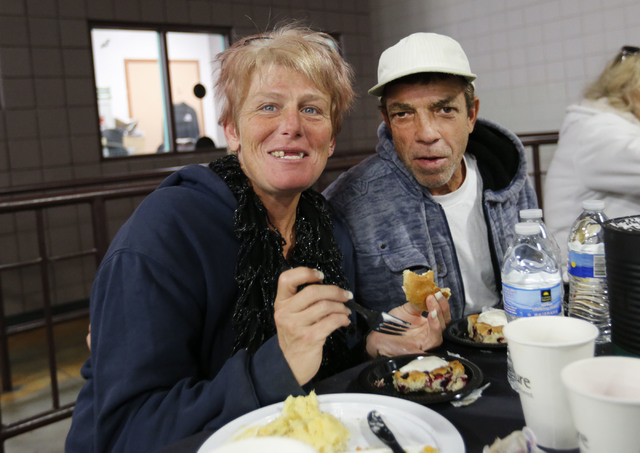 Richard Ragan has been coming to eat a Christmas meal at Catholic Charities of Southern Nevada on and off for the past 10 years.
"I love that everybody is happy and nice this time of year," he said Sunday. "But we have to keep it flowing all year long."
Ragan said he lost his first wife to a brain hemorrhage in 2006 at this time of year. Since then it's been tough. He's been in and out of Catholic Charities' men's shelter every few months, he said.
"I always dig myself out of this hole, and then when I'm up I never forget that I was down," he said.
Even so, he said Christmas is a jolly time of year. Enjoying a homemade, warm meal is what makes Christmas feel the way it's supposed to, he said.
About 1,000 of Southern Nevada's homeless and less fortunate enjoyed a Christmas dinner for brunch Sunday, in waves of about 400 people at a time.
Catholic Charities executive chef Reolito Jun Lao is used to preparing large meals. Every day the organization feeds an average of 1,000 people in different meals scattered throughout the day. For big days like Christmas, it's 1,000 people all at once.
Lao said it took a team of about six chefs and about a dozen volunteers three days to prepare $2,500 worth of food, including 350 pounds of sweet potatoes, 450 pounds of Black Forest ham, 300 pounds of green beans and 40 gallons of cream of mushroom soup.
"This is what Christmas is all about," said Kandy Miller, dining room manager at Catholic Charities. "These people would give you the shirt off their back. They have nothing, and they will give you whatever they have. To be here and to have them have a good, healthy, hot meal, that's nothing."
Just over 125 volunteers helped to prepare for the event and serve meals Monday. For many of the volunteers, donating their time and effort is a Christmas tradition.
Mike Skudkis, a local construction contractor, said 2016 marks his fourth Christmas volunteering at Catholic Charities of Southern Nevada.
He started volunteering on Christmas four years ago by providing and decorating Christmas trees. For the past few years he has also brought toys for children.
"Every year, we throw a party at my house. In order to come to the party, you have to bring a toy for a kid. And we set a table up (in the Catholic Charities dining room) and bring the toys up here every year, and we pass them out to the children," Skudkis said. "It feels good to give back."
There are more than 34,000 homeless people in Southern Nevada, according to a 2015 report by the Southern Nevada Regional Planning Coalition and Bitfocus Inc.
"We shouldn't have this problem here," said Leslie Carmine, spokeswoman for Catholic Charities of Southern Nevada. "We shouldn't have this problem in America at all. Here (in Las Vegas), we are known for entertainment, extravagant food and drinks. It's kind of where people come to escape things, and then there are those that get left behind. At least we can care for them and try to help them get back on their feet."
Daniel Smith, who has been at the men's shelter for the past 11 months, said that while he thinks more could be done for Southern Nevada's less fortunate, he believes Catholic Charities is doing a good job.
"Everybody here has problems, stories and issues; that's why we're here," Smith said.
Smith is one of about 40 men in the organization's employment program. He said he feels as if he received the greatest Christmas present this year: a job offer. Smith is slated to start a full-time job at Station Casinos in the new year.
"I was waiting for the other shoe to drop, and the shoe actually fit me this time," he said.
Contact Nicole Raz at nraz@reviewjournal.com or 702-380-4512. Follow @JournalistNikki on Twitter.