Central Las Vegas fire displaces 9 adults, 7 children
Updated March 8, 2017 - 5:47 am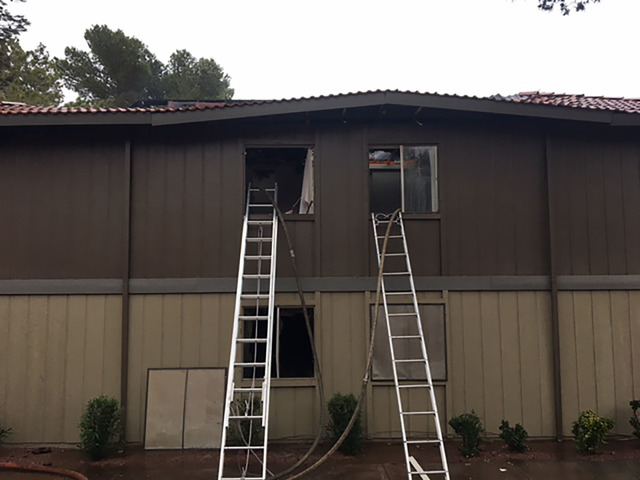 Sixteen people were displaced from their apartments after a two-alarm roof fire in the central Las Vegas Valley late Tuesday night.
Nobody was hurt, but the American Red Cross assisted nine adults and seven children who lived in an apartment building at Solaire Apartments, 1750 E. Karen Ave., near East Sahara Avenue and Maryland Parkway, according to the Clark County Fire Department.
Firefighters received a call of smoke coming from the building about 10:45 p.m.
Arriving units found smoke and an "orange glow" from the roof, Battalion Chief Capt. Thomas Touchstone said. A Fire Department release later said firefighters found a fire burning under an air conditioning unit and appearing to spread through the attic. Touchstone said crews noticed the wooden siding and a shared attic space covering the affected building. Fearing the fire would spread, they called in additional resources.
"These things burn so fast that we don't like to mess around," Touchstone said.
He said firefighters used multiple hoses to try to "sandwich" the fire with water from above and below.
Crews first had to find the flames before attacking them, Touchstone said. The fire department found smoke in an attic after opening a hatch in one of the units. He said crews eventually found there was not "a huge volume of fire" and knocked down the flames within 20 minutes.
Four units were affected — two on the second floor and two on the first. The two lower units were damaged by water.
The release said the fire's cause was under investigation and damage was estimated at $175,000.
The Las Vegas Fire Department assisted with the call.
Contact Mike Shoro at mshoro@reviewjournal.com. Follow @mike_shoro on Twitter.