Chaparral student's off-field issues cloud NFL dreams
October 20, 2012 - 10:38 pm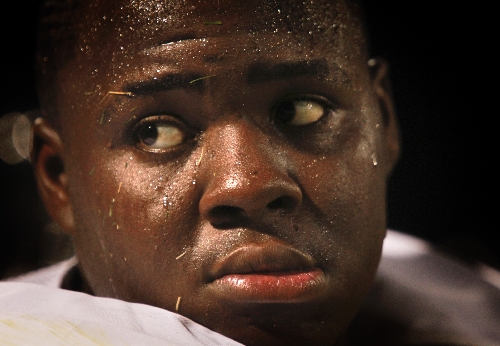 Repeated rings at the door shatter the late-night silence.
James "Bubba" Dukes, the second-oldest of 10 children, is the only one still up. It's 1 a.m. His mother and grandmother have gone to bed, so he steps out of the shower to answer the door.
"I saw you on TV," his father says with a slur. "You doing real good. You need anything?"
It's the first time 17-year-old Bubba has seen his father since the seventh grade.
"I don't want to see you," replies Bubba, a Chaparral High School junior standing 6 foot 3 inches tall at a strong 294 pounds with a frohawk.
He usually is respectful, answering questions with a "Yes, sir," or "No, sir."
Not tonight.
Bubba tells his father to leave, and his mother takes his place at the door, threatening to call the police. The teen heads for his room, where he sleeps on a couch.
Magazine pages of cars and NFL players are taped to the walls, along with a baseball card-sized picture of Jesus. The images keep him focused. He can't afford distractions.
"School comes before everything. That's the No. 1 priority, right there. School and football," Bubba says.
He didn't have that laserlike focus as a freshman. He was a failing student who skipped school and repeatedly refused his grandmother's offer to hire a tutor.
But that was before football became Bubba's compass. He had played in middle school but became ineligible in high school because of a nearly flat GPA. After the coach talked him onto the team last year, he quickly realized his potential as a tackle and worked up his GPA to play.
College scouts already call Bubba a "Sunday player," meaning he's got NFL potential.
"Bubba can't be blocked," says William Froman, Chaparral's square-jawed head coach who rarely cracks a smile.
Football could take Bubba all the way "if he lets it," Froman says.
That's a big "if" to a teen whose dedication to the sport is being tested by an escalating personal crisis and increasing family tensions.
Bubba may be skilled at dodging obstacles on the football field, but he is susceptible to the same pitfalls his peers face. One stumble, a wrong step, may defer his dreams of NFL glory.
Bubba is like a lot of students at Chaparral, a struggling southeast Las Vegas high school where roughly half the students earn diplomas and two-thirds live in poverty.
"He has a lot on a big plate for a 17-year-old," says Froman, whose players are underdogs in more than just football.
BALANCING SCHOOL AND SURVIVAL
A few hours before Bubba's Aug. 31 confrontation with his father, he knelt at Spring Valley High School's 50-yard line, head in his hands and helmet on the ground. Grass clung to his sweaty cheeks in the aftermath of a failed drive, which was broadcast locally on "Thursday Night Lights."
It was a low point for the Cowboys, a struggling team in search of a turnaround. The team won only two games in its previous three seasons for a record of 2-25.
But this season, Chaparral sits at 4-5 and won its first opening game in six years, largely due to Bubba's talent, Froman says.
Bubba made it onto the varsity roster this year and plays as both an offensive and defensive tackle, so he is on the field nearly every second.
"We're not used to winning yet. It's something new to us," says Froman, who also is a physical education and weight-training teacher at the campus near Interstate 15 and Flamingo Road.
But the excitement generated by the Cowboys' improving fortunes hasn't insulated Bubba from his personal problems. What the trouble is, Bubba won't tell anyone, not even his mom. But it's serious enough that he commits the cardinal sin of missing football practice in late September.
"Football is hard work," says Froman, chastising Bubba in front of his teammates. "These kids are doing 12-hour days and going home to empty fridges."
At Chaparral, the struggle to balance school and survival is a common one, says counselor Rowena Manibusan, in her second year at the school.
She was startled by the high population of couch surfers, students who are homeless or on the verge of it.
"It's a constant thing, every week," Manibusan says of reports from teachers about students wearing the same clothes for days because they are skipping from couch to couch at friends' homes.
Sometimes, it's just one thing that keeps students coming back to the classroom.
After one practice, Froman nods in the direction of four young players hauling Gatorade jugs to the locker room.
"Three of them would drop out tomorrow if they weren't on the team," he says.
Bubba is no stranger to weighing his education against the needs of his family.
His mother and maternal grandmother struggle to keep the large family together. Bubba wanted to help by getting a job, but his mother said no.
"I don't want him to help us," says Bubba's mom, Oyetta Trotter, who smiles as she watches him run up the stairs after practice with his young sisters on his back.
"He's always trying to be man of the house. Flipping burgers isn't going to do it. Stay in school."
His grandmother feels the same way. Margaret Cole, 72, sold her own home and bought a larger one for the family of nine. She moved in to pay the bills and help out.
Every dollar of her retirement as a hospital social worker is invested in shelter and care for the family. Bubba got about $200 from Cole for back-to-school clothes.
"No other boys in this neighborhood get that kind of money," says the Kent State University graduate, who wants Bubba to go to college like she did.
But Bubba still worries, especially about his mom.
"She's been struggling way too long," Bubba says of his mother. "I've seen her cry for so long it's ridiculous."
That might be why Bubba won't tell her what's bothering him.
A LITTLE HELP
Bubba's best friend and teammate, Tarrance Thomas, knows how hard it can be to succeed in the classroom and on the field. He moved to Las Vegas from Detroit a year ago with a poor attendance record and a grade-point average near zero.
His father was in prison, and the teen was "smoking every day."
Chaparral Principal Dave Wilson and Froman tried to persuade him to play football, but Tarrance was initially dead set on working to help his family.
His mother changed his mind.
"She told me, 'Play,' " says Tarrance, who stands 6 feet 5 inches tall, weighs 315 pounds and is fast.
To do that, Tarrance needed better grades. The senior attended summer school and took online courses to get back on track to graduate in June 2013.
"I haven't skipped school yet," he says, smiling.
Tarrance and Bubba are potent weapons for Chaparral on the field. At least they are when Bubba focuses on football.
It's clear that's not the case during the Cowboys' last practice before the Sept. 28 game against Moapa Valley. In the locker room, Bubba breaks down in sobs. Then, without giving his coach any notice, Bubba misses the game and jeopardizes his spot on the team.
Chaparral goes down 57-12.
It's a blow for people like the team's offensive coordinator, Paul Nihipali, who gives players rides home when they need one and slips them ham and cheese Hot Pockets when they're hungry.
He knows what it's like to struggle.
"I came from that environment too," says Nihipali, who grew up in Hawaii without a father and has been with the team since 1997. "I know what it means, a little help."
His goal isn't a winning team. It's "just to have one kid say, 'Coach, I made it.' "
Froman is on the same page. That's why he returned to Chaparral this year after another school offered him a higher-paying job.
He took over the Cowboys two seasons ago, at the same time that the Clark County School District brought in Wilson to check Chaparral's academic downslide.
Chaparral may not win a state championship for years, but the school wants to be a contender, Wilson says.
He attends games in bright orange sneakers, the school's color, and cheers the team on.
But as the season progresses, Bubba's investment in Chaparral's football program and his role as a powerhouse for the Cowboys erodes under the weight of what he won't talk about.
WHAT LIES AHEAD
Bubba refuses to explain his unexcused absence from the Moapa Valley game to his coach.
Shortly after, Froman kicks him off the team for mouthing off during practice.
Bubba's Grandma Cole shows him little sympathy.
"If somebody tries to tell you right from wrong, you listen," she tells him, disappointed by his disrespect of Froman, who "treats Bubba like a son."
Cole hasn't given Bubba any spending money since he was dropped from the team. She refuses to coddle him. But she doesn't give up on trying to get Bubba to say what's bothering him, what's causing his emotional outbursts.
"My girlfriend is pregnant," Bubba finally tells his family and coach in early October.
He apologizes to Froman and gets a second chance. But Bubba is on thin ice. He must clean the locker room and perform other chores to prove he has the discipline to be on the team.
"He did it all without a peep Monday," Froman says Oct. 10.
But then Bubba pulls a no-show two days in row without explanation. He later says that he was sick.
Froman can't give in again. He has to consider the message that would send to other players with similar potential and similar hardships.
"Hard work isn't for everyone," Froman says.
Bubba accepts that hard work, more than before, lies ahead of him. What he has trouble handling are the blows his personal life keeps serving up.
A few days after Bubba tells his family about the pregnancy, his girlfriend has a miscarriage.
"It's been hard," Bubba says.
He and his girlfriend had decided to keep the baby.
He had started planning for a new family. No more.
And he's still off the team this year.
Froman encourages him to focus on academics, stay in school. He says Bubba can play next year if he keeps his nose to the grindstone.
"I want to, got to make it," says Bubba, as adamant as the night he faced his father.
Contact reporter Trevon Milliard at tmilliard@reviewjournal.com or 702-383-0279.