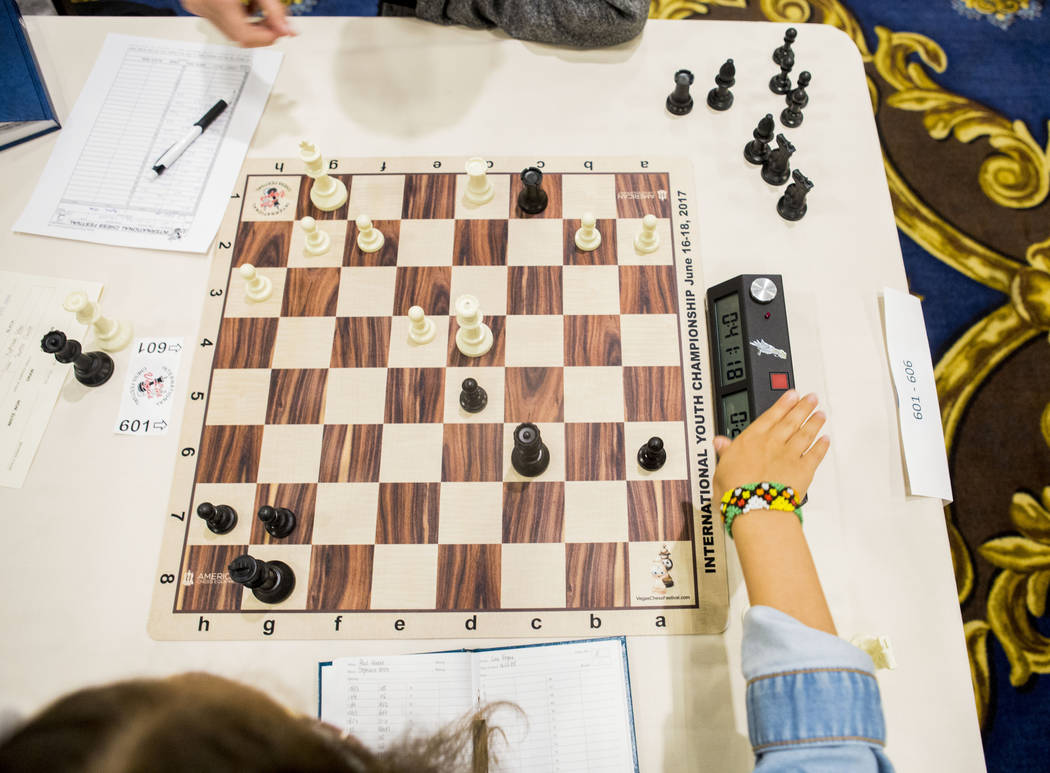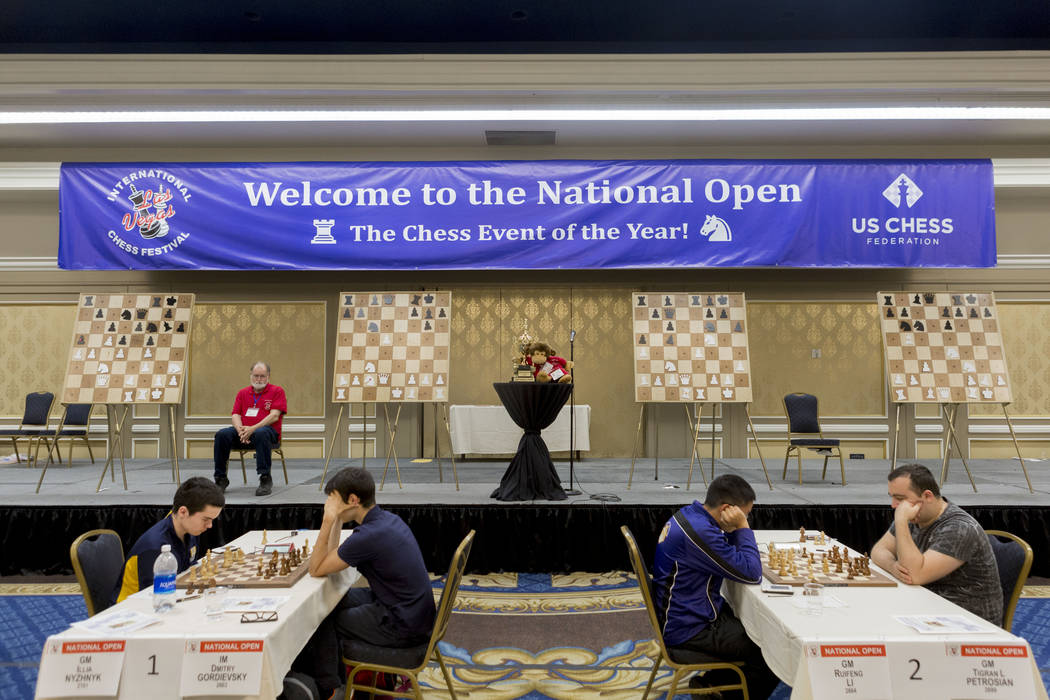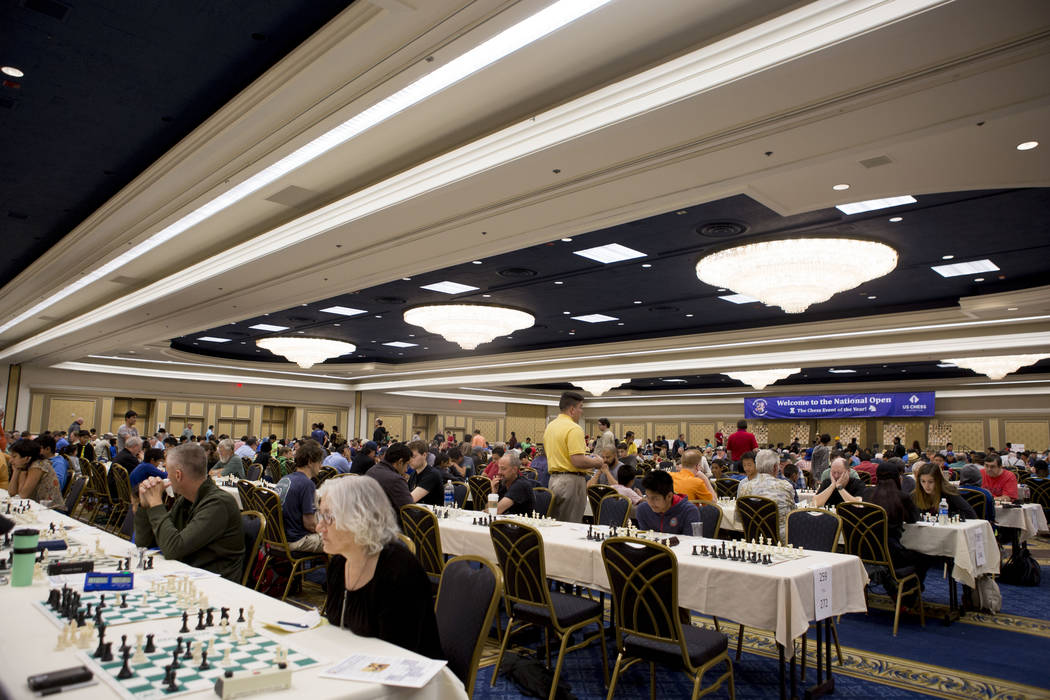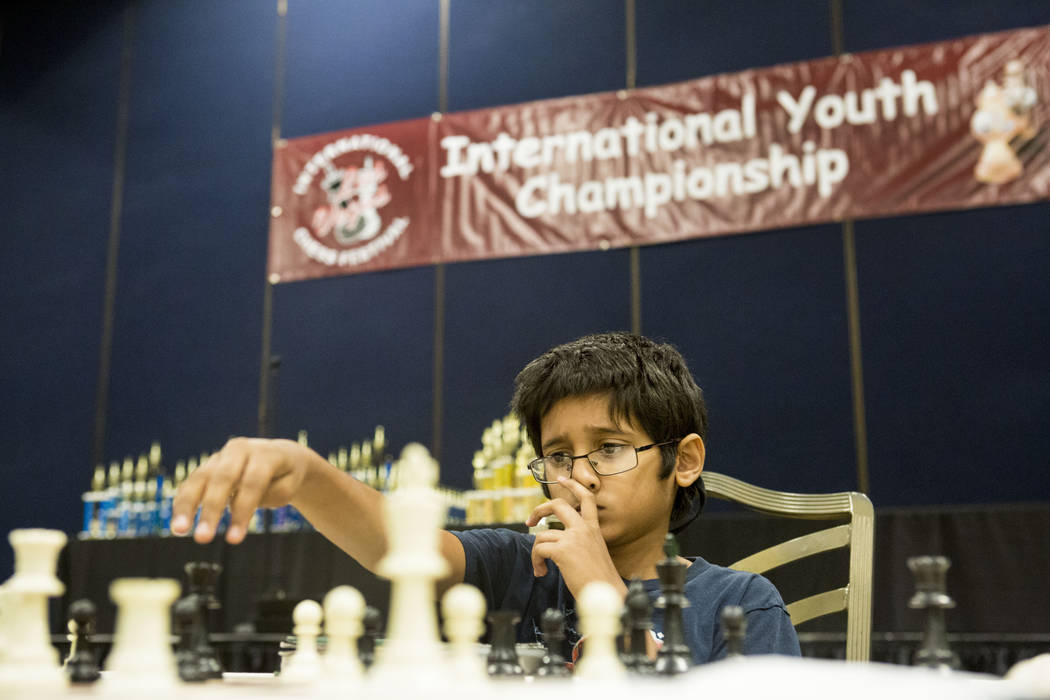 It's a game of intense focus with zero room for mistakes. A game in which players match wits, react to changes and think ceaselessly. And this game, which lacked high-tech graphics or consoles, kept players by the hundreds rapt Sunday.
The game is chess, and enthusiasts came from all over the world to participate in the Las Vegas International Chess Festival at the Westgate. The weekend-long festival offered tournaments, workshops and seminars. Fourteen grandmasters, players at chess's highest level, competed and two taught workshops.
"This is really considered the premier chess event for this country," said Alan Losoff, the event's organizer. "A lot of families plan their vacation around this event."
Approximately 2,000 people attended, representing at least a dozen countries, including Russia, Norway, Armenia, India and Ecuador, Losoff said.
"This really is the Super Bowl for chess players," said Charles McVoy, adviser for the Las Vegas Library Chess Club.
For players, the festival offered $100,000 in prizes. Children who took the top prize received computers loaded with chess software.
The festival started as the National Open, sponsored by the U.S. Chess Federation in 1965 in Las Vegas. It traveled across the country and came back to Las Vegas in 1983.
Losoff was added as a partner for the tournament in 1992. A youth championship for children 14 and younger was added in 2007; the U.S. Women's Open was added in 2014.
"We wanted to have something for everyone," Losoff said. "The great thing about chess is that everyone can compete equally. It's competitive, but unlike, say video games, there's no luck involved. It teaches kids about consequences and responsibility. If you make a mistake, it's on you. There's no one else to blame."
Children participating in the youth tournament were just as focused as the adults. Even if they became restless during games, they'd stand, but keep their eyes on the board.
"I was really nervous the whole time," said participant Yixin Tang, 10. "I'm really hoping to win something."
Helen Tang said she was just as nervous watching both her daughters, Yixin and 8-year-old Yimo, play.
"Still, it's very exciting to see them compete and watching them learn from failure or be successful," Tang said. "It's a great game because it helps them with logical thinking and mathematics, but it's still fun."
Semiprofessional chess player and Las Vegas resident Nazi Paikidze, 23, finished with a perfect score of five out of five games in the U.S. Women's Open.
Paikidze, a native of the country of Georgia, said her father taught her to play chess when she was 5. Her parents encouraged her to continue with the game by putting her in a school that had chess in the curriculum.
Paikidze earned the World Chess Federation's woman grandmaster title in 2008 and became an international master in 2010.
"The thing I love about chess is that it is a very logical and complex game," Paikidze said. "You can always get better even if you can't ever master it. There is no finish line."
Contact Sandy Lopez at slopez@reviewjournal.com or 702-383-4686. Follow @JournalismSandy on Twitter.
Interested in learning chess?
The Las Vegas Chess Center is dedicated to promoting the benefits of the game in the community. The center offers a variety of time controls and tournament formats, including casual chess, for players of all ages. They also offer coaching for players of all ages who wish to improve at the game. Currently, the center is hosting a summer chess camp.
Phone: 702.202.1797
Email: lvchesscenter@gmail.com
West Side Location: 2560 Montessouri St. Suite 206
Henderson Location: 871 Coronado Center Drive Suite 200