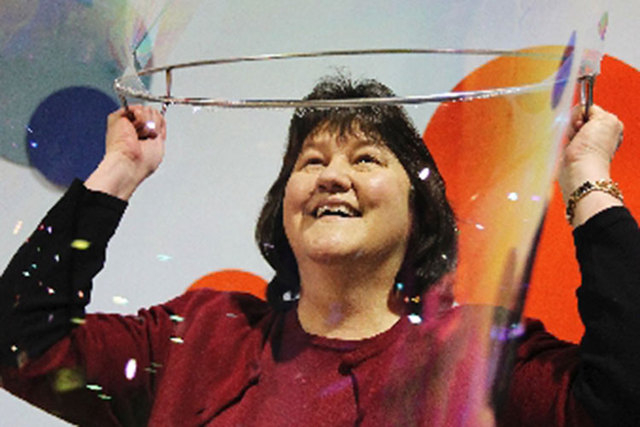 Fundraising for a nonprofit organization is not an easy job.
Ask people in the business and they will tell you it takes a particular personality. A schmoozer. Someone who treats donors respectfully … and returns their calls. A person with charm who enjoys working the cocktail circuit.
By a half-dozen accounts within the fundraising world, Linda Quinn, the Discovery Children's Museum's soon-to-retire CEO, is not that person.
She is, however, the person who over the past nine years turned around the museum from hemorrhaging dollars and members and was the guiding force during construction of a new, first-class $55 million children's museum.
For now, she is at the helm of Nevada's most popular museum. More visitors came there the first year than anyone predicted. The 350,000 visitors far surpassed the 200,000 predicted. And the number of visitors surpasses the number of visitors to other museums in Nevada, Quinn said.
Despite those successes, some of her board members believe it's time for a change in leadership. Some want more of a people person who can woo big donors. Others admire that she runs the three-story interactive museum like a business. The museum has nine themed exhibition halls and opened with an exhibition of George Washington artifacts never seen before in Las Vegas.
The ones who favor more donations from big donors want that for the right reason. They want more underprivileged children to have the chance to visit the museum. Nobody can sneer at that goal.
Within the fundraising world, it's known that when the Donald W. Reynolds Foundation wanted to give The Smith Center for the Performing Arts $43 million to jump-start the new museum, Quinn wasn't responsive and angered people. And that happened with other potential donors. A person prominent in Las Vegas fundraising circles said, "When somebody's trying to give you money, you say, 'Yes, sir.' "
A museum board member, speaking anonymously, said it was the board's fault that Quinn annoyed people at the foundation and The Smith Center.
"We set her up, told her to get a good deal from Reynolds, take care of the ins and outs," the board member said. "We told her, 'You be our bad guy.' We made her unfriendly to those people."
Although The Smith Center and the museum are adjacent, they operate independently.
Around Mother's Day, Quinn announced she would retire from the $162,000-per-year job when her contract expires in September. At 53, she seems young to retire, but she said three deaths in her immediate family caused her to rethink how long she wanted to work. When she retires, she will split her time between Las Vegas and her native Alabama.
Quinn said she had planned to retire at 55, but the deaths in her family meant "I have to look at my genetics."
She wasn't asked to leave by the board, but neither was she asked to extend her contract. She has agreed, however, to stay on while the board searches for her replacement if the search goes beyond September.
SPLIT BOARD
Insiders said the board was divided on whether she was the right person to move the museum forward. Some board members doubt Quinn has the personality and ability to raise more money. It's often easier to raise funds for bricks and mortar.
"There are two factions on the board," one board member said.
"There's the faction that thinks the executive director should be the hit of every cocktail party, do gift baskets and write thank-yous," this board member said. "The second group realized she was fiscally responsible, very good at managing the organization, but she's terrible at the social aspect of it. There's a group on the board that said: 'We need you to be more gregarious and social.' This group thinks we need a social butterfly as our leader."
Board member Peter Poggione, who was on the original search committee that found Quinn, is on the search committee for her replacement. With Quinn's degree as a certified public accountant and a law degree, plus her experience turning around two science centers, she was "far and away the best applicant."
He praised her because after her first year, the old museum was operating in the black with money in the bank. "One of the reasons the Reynolds Foundation stepped up was because of Linda's leadership."
"I'm vested in her. I've become her biggest fan," Poggione said.
Another board member and two people active in the nonprofit fundraising world also confirmed the board split over Quinn's fundraising limitations.
Board President Troy Moser said that there was no split and that he thought if she had wanted to extend her contract, "I think there's a strong possibility the board would have." He said some people on the board were "interested in Linda making an adjustment with her fundraising approach."
"I can't be more proud of my accomplishments," Quinn said. Her departure is "the right time and my personal choice." But she added, "I don't know if something behind the scenes was about to happen."
If the board wanted her to focus more on contributions, she said, "I have 30 bosses who need to get on board."
Asked about the division within the board, she replied, "You can't make 30 people happy all the time, you can't make staff happy all the time, and you can't make donors happy all the time."
Quinn's reputation is that she is tough and has a strong personality, that she is someone with solid financial operating skills who needs better people skills. Critics say she has a "my way or the highway" style of operation that doesn't always sit well with employees or donors.
After the Las Vegas Review-Journal called for an interview to discuss her retirement, Quinn wrote a confidential report to the board June 2.
She told the board, "At times, these CEO reports contain information for the board's eyes only. So I am reminding board members to be cautious and articulate only the positive information received within these updates."
The numbers support show Quinn's successes.
The museum has a $4 million operating budget. Eighty percent comes from ticket sales, gift shop sales, special events and other activities; 20 percent comes from donations.
The first year the new museum was open, more than 25,200 students visited courtesy of subsidized field trips. Another 24,500 participated in the Discovery On Wheels-House Calls Program.
Quinn was hired in 2006 with the understanding she would be charged with taking the Lied Discovery Children's Museum, then in the Las Vegas Library on Las Vegas Boulevard north of downtown, and creating a new $55 million museum. The Lied name would disappear because the nonprofit was winding down after giving away its assets.
When Quinn was hired, the Lied Discovery Children's Museum was in dire straits, dipping into its endowment.
When that museum closed in January 2013, it had 2,000 memberships. Membership dues in fiscal 2011 were $134,348, according to forms that nonprofits file with the Internal Revenue Service.
When the new Discovery Children's Museum location opened in Symphony Park next to The Smith Center, it had sold more than 5,200 memberships generating more than $780,000 in revenue.
"I tell you 100 percent of the board has great admiration for what Linda did," Moser said. "We have cash reserves, attendance is through the roof, and she's tripled the size of the staff."
There are 70 staff members, although two were laid off recently because of budget constraints and a third was fired.
Although Quinn acknowledged the board split, Moser did not.
"I'm sure that's hurtful to Linda," Moser said. "And I think it's inaccurate."
He said the board does want to raise more donations in order to underwrite more needy children. "The opportunities are endless now that we have this new facility and strong foundation," he said. The museum is working with the Clark County School District to arrange more visits by schoolchildren.
"We want more contributed revenue as a means of providing more subsidized attendance for the school district and Las Vegas in general," he said. "The way to do that is to raise more money to pay entrance fees."
"It's tough to say no to more kids coming to the museum. The question is: 'Can we fund that?' " he said. "Yes, there is a desire to have more money contributed."
Without criticizing Quinn, Moser said, "A lot of times, good things come out of change."
Contact Jane Ann Morrison at jmorrison@reviewjournal.com or 702-383-0275.