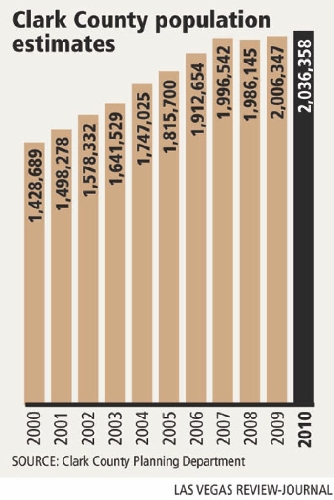 Clark County's population edged up slightly in 2010, according to the county planning department, but what made up that growth is subject to debate.
Did the county manage to add new residents amid a sluggish economy and high unemployment?
Or is the city that once imported its population now relying on babies for growth?
The latest population estimate from the county is 2,036,358. That's about 1.5 percent more than the 2009 population of 2,006,347, a lackluster end to a decade in which the state's population increased by 35 percent.
"Typically it ranges from about 2.5 percent to, at the largest, a bit over 5 percent," said Jon Wardlaw, assistant county planning manager.
"It's a smaller number than we're used to. But it is far better than a negative."
The county's numbers usually are a little higher than counts prepared by the census and the state demographer's office. In 2009, for example, the state demographer had Clark County below 2 million people, at 1,952,040. The 2009 census estimate was lower still, at 1,902,384.
Local population information from last year's census is expected to be released in the next month or two, and state Demographer Jeff Hardcastle said his latest figures are in draft form and not ready for release.
The differences stem from the data used to make the estimates, Wardlaw said. The county counts residences and has various tools, such as utility usage, to see whether they're occupied. The state's data are based more on employment.
Wardlaw said the county's estimate is in line with the statewide increase in the 2010 census that brought the state's population to a little more than 2.7 million.
He said the county's estimated increase is "a combination."
"Roughly half of it is from natural increase, which is births," Wardlaw said. "I think the rest of it, 15,000 or so people, is generally from people moving in.
"There are jobs here. It's easy to forget that not every person is a worker. Kids come with families. You may have one employee and four people."
Hardcastle, though, said he estimates Clark County had 31,000 births last year, but he's waiting for final figures.
"If we had that many births, then you have some out-movement," he said.
That's possible as well, Wardlaw said, noting that arriving at the estimates is a complicated process that fights uncertainty at every turn.
"The only thing that we can tell are births that are actually reported, but the problem with that — kind of like the problem with driver's licenses — is no one monitors on the back end," he said.
"Are they still here? It's not like we have a way to track people."
Contact reporter Alan Choate at achoate@reviewjournal.com or 702-229-6435.