Clark County again faces proposal to develop Blue Diamond Hill
August 14, 2016 - 10:51 am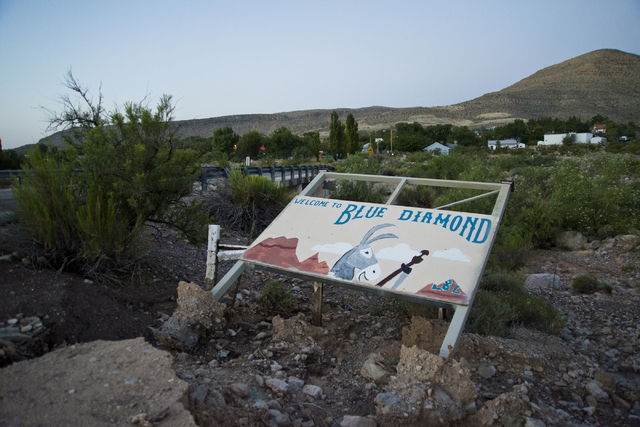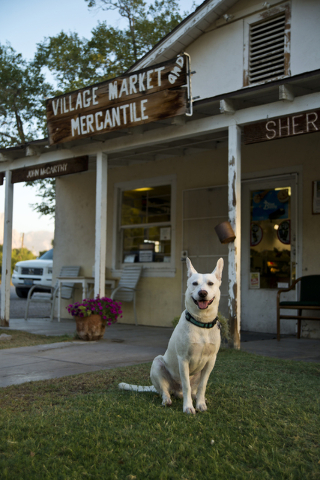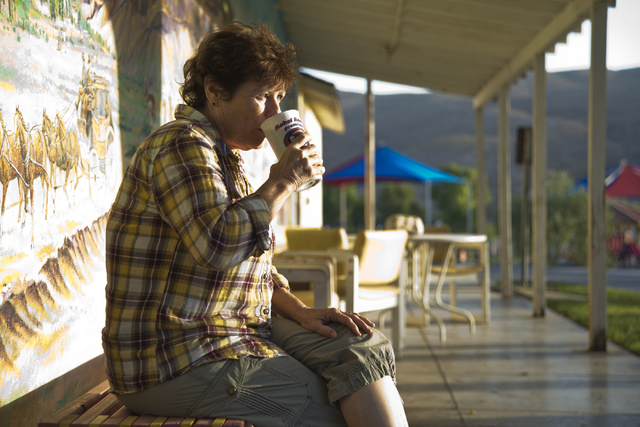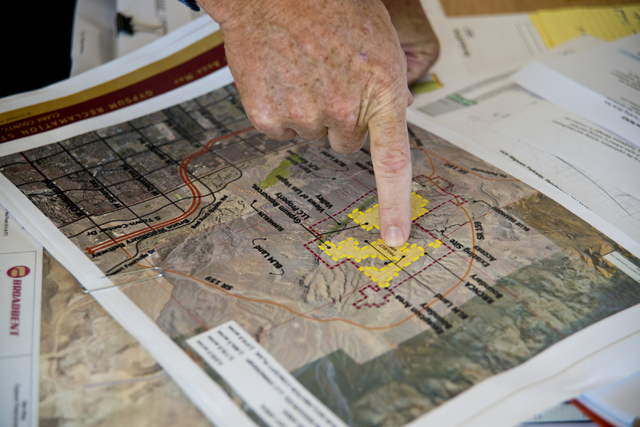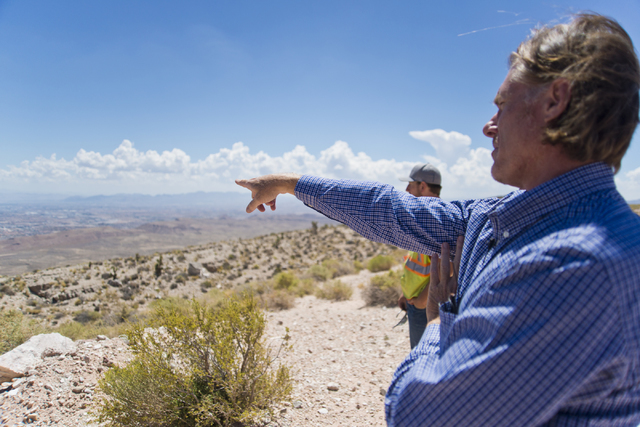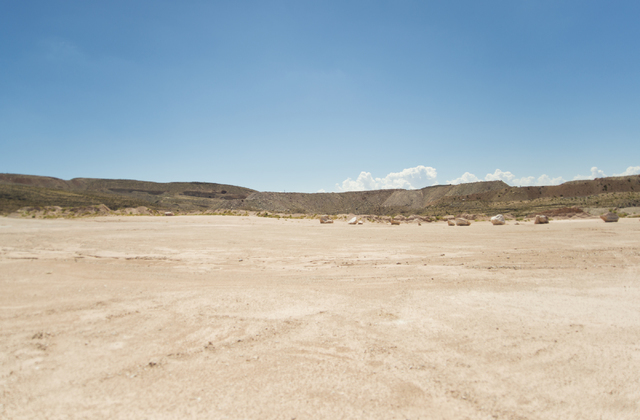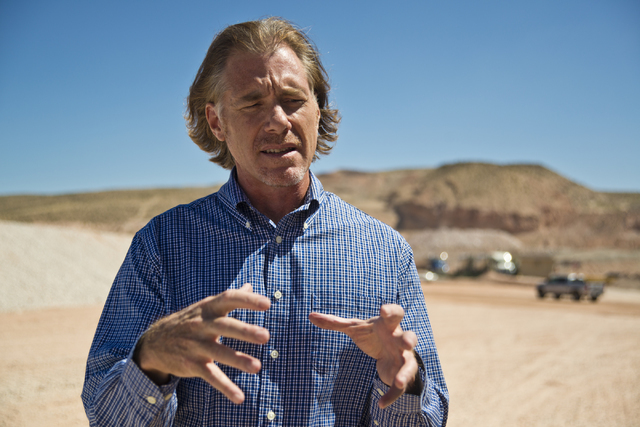 Gypsum Resources is once again seeking Clark County's permission to build a village containing thousands of homes atop Blue Diamond Hill.
The company, which bought one of the nation's oldest gypsum mines for $54 million in 2003, last sought to develop a scenic village across approximately 2,100 hilltop acres in 2011.
But the effort stalled, and a previous concept plan's approval expired amid talks of a potential land swap with the U.S. Bureau of Land Management. Those negotiations ended without a deal in 2014. BLM didn't want lands affected by mining, which accounts for about 1,800 acres of the property, according to Gypsum Resources.
BLM remains interested in evaluating any portions of unmined land, agency spokeswoman Kirsten Cannon said.
The County Commission is scheduled to review the company's new concept plan for possible approval Oct. 5.
Project planning consultant and spokesman Ron Krater said the concept plan is almost identical to the one approved in 2011, save for a handful of significant changes required by commissioners at the time.
The changes include lowering the maximum number of houses from about 7,250 to 5,025; limiting how many houses can be built along the development's edges; and removing plans to construct a light manufacturing plant on the property.
Commissioner Susan Brager, who voted on the plan in 2011 and will vote on it again in October, said commissioners worked to reduce the impact Gypsum Resources' development would have on the environment after it became clear that halting development was not feasible.
"My goal was to protect the community as much as within the scope of the law as we could, and I think we did that," she said.
4,000 FEET ABOVE SEA LEVEL
Perched more than 4,000 feet above sea level on Blue Diamond Hill, the proposed village would offer an unparalleled sunset view of the Red Rock Canyon National Conservation Area. On its opposite side, the hill overlooks the Las Vegas Valley and the Las Vegas Strip.
Krater said Gypsum Resources wants to build a village containing houses of varying sizes, small shops, and a trail system for outdoor recreation. It would have its own school, fire station and police substation.
During a tour of the property Thursday, Krater spoke highly of a community that would hide its buildings behind ridges, be low on light pollution and employ water-saving technologies.
He noted the village would be on lands already disturbed by decades of mining.
"Why can't this be a new model of village design and every home is contributing to the energy and the water issues that face the Las Vegas Valley?" he asked. "Something beyond mining needs to be envisioned for this property."
LOCALS' OBJECTIONS
Not everyone shares Krater's optimistic outlook on developing Blue Diamond Hill. Indeed, Gypsum Resources and its trust manager, well-known developer Jim Rhodes, have faced opposition for more than a decade from local environmentalists, Clark County and even state lawmakers.
In 2003 both the Nevada Legislature and Clark County Commission enacted laws that prohibited high-density zoning on Gypsum Resources' hilltop land. High-density developments typically bring in more money than low-density.
Rhodes sued both governments and emerged victorious. The Nevada Supreme Court overturned the Legislature's decision in 2013. Clark County settled with Rhodes, allowing the Blue Diamond Hill development project to move forward if it conformed to a series of restrictions.
RESIDENTS NOT CONVINCED
Today, Gypsum Resources still hasn't sold its development idea to residents of the nearby town of Blue Diamond.
Evan Blythin, a town resident for 40 years and the former chairman of the Red Rock Citizens Advisory Council, called the development plan an environmental disaster.
"The concept plan has no concept of where it's at," he said. "This is probably one of the most magnificent conservation areas in the United States. You put 5,000 (or) 7,000 homes up there and you have changed the animal."
Blythin said increased automobile emissions and new sewer systems sucking up rainfall would have a profound impact on the local ecosystem.
Michele Schaffer, a Blue Diamond resident since 2006, questioned where the water for the new homes would come from and how the increased population would affect local roadways.
"It will be totally congested," she said. "I can't even imagine that many cars coming out of the mountain in both directions."
WORRIES BEING ADDRESSED
Krater said Gypsum Resources is continuing work to assuage locals' worries about the planned development.
"It has always been our goal to be involved and work in earnest with the community and with stakeholders," he said.
To alleviate traffic on state Route 159, a 4.7-mile-long access road is planned along an existing gas line easement on the eastern side of the property. It would connect to state Route 160, about a mile east of the intersection of Routes 159 and 160. The road is expected to have four lanes at full build-out.
Once the new road is constructed, the current dirt road connecting the property to Route 159 no longer will be used except by emergency vehicles.
The village's utility infrastructure would connect into existing Las Vegas Valley infrastructure, Krater said. Its water service would be supplied from the Las Vegas Valley Water District.
This early in the process of seeking county approval, it's unclear when construction on the first home atop Blue Diamond Hill could begin. However, Krater said construction is expected to be done in phases because there's more than 10 years worth of gypsum mining left across the property.
The first phase is planned at the southern edge of Gypsum Resource's property, which overlooks the intersection of Routes 159 and 160.
At this point the company is preparing to move forward, Krater said. A "no project" alternative is not being considered.
"Even if we packed our bags and left, someone would buy this property and shape its future," he said. "It's not going to stay as is."
Contact Michael Scott Davidson at sdavidson@reviewjournal.com or 702-477-3861. Find @davidsonlvrj on Twitter.