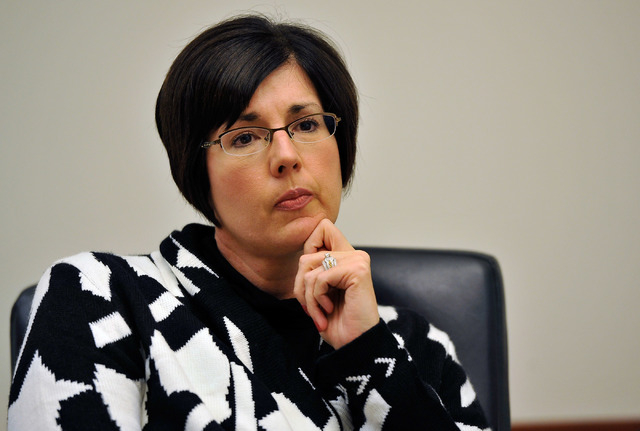 Clark County's child welfare leader — often criticized by child advocates and defended by county management — has announced she is resigning.
Officials confirmed Wednesday that Clark County Department of Family Services Director Lisa Ruiz-Lee is stepping down from her position, although an effective date has not yet been set. It's unknown who will assume her responsibilities in guiding the troubled department, which has come under scrutiny of a special state panel formed to review system shortcomings and problems.
Ruiz-Lee sent an email to employees Wednesday informing them of her departure.
She was named director of the Clark County Department of Family Services in May 2012. She had served as interim director of the department since August 2011.
Family Services investigates reports of child abuse and neglect and licenses foster homes, among other responsibilities. More than 3,000 children are in the system at any one time.
Ruiz-Lee had worked for the county since 1998 and received an annual salary of $121,076 in 2014, according to county records. When called for comment, she referred questions to the county's public information office.
"Lisa has done a fantastic job and we will really miss her expertise and devotion to the children of Southern Nevada," said Clark County Manager Don Burnette on Wednesday.
Assistant County Manager Jeff Wells praised Ruiz-Lee for creating comprehensive mental health services for children, creating a system to quickly identify children at risk and pushing an initiative to increase the number of foster parents.
However, tensions have been high between Ruiz-Lee and employees, boiling over because of safety issues involving children, their families and employees. Members of the Service Employees International Union, which represents staff Ruiz-Lee oversaw, last August signed a petition, which went to Clark County commissioners. In the petition, employees listed concerns about high caseloads and unsafe conditions for children and workers.
The petition called for social workers' caseloads to be kept at reasonable levels to improve child safety. It also asked Family Services to make it a priority to provide help and resources to children and employees who need assistance. Lastly, the petition called for the agency to develop and implement safety policies to protect children, families and employees.
Employees and child advocates have also repeatedly expressed concerns with Ruiz-Lee's lack of transparency.
During her tenure, there's been a few deaths of children in the foster care system and a chronic shortage of foster parents. Child Haven's population has exceeded its state-licensed capacity several times in the last year. Child Haven is the county's emergency shelter for abused and neglected children.
A blue ribbon committee was established last fall by Nevada Supreme Court Justice Nancy Saitta to look into shortcomings in the county's child welfare system and court.
The committee came up with a set of recommendations to improve services. Family Services has already begun to implement some of the small-scale recommendations.
The committee will continue to meet for the implementation phase.
"She had one of the most difficult jobs in the county and she worked tirelessly to make improvements in the child welfare system," said Clark County Commission Chairman Steve Sisolak. "While she accomplished an awful lot, there's always more to be done. I wish her the best in her future endeavors."
Review-Journal writer Ben Botkin contributed to this report. Contact Yesenia Amaro at yamaro@reviewjournal.com or 702-383-0440. Find her on Twitter: @yeseniaamaro