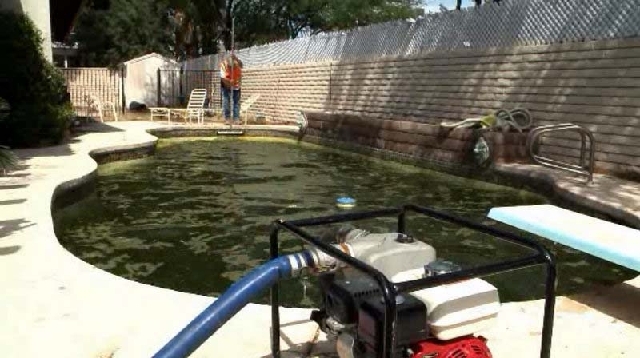 With the summer months rapidly approaching, Clark County commissioners came together Wednesday to discuss the dangers of green pools.
"As neglected pools turn green and warm up, they become ideal breeding grounds for mosquitoes," Commission Chair Steve Sisolak said. "This is an especially dangerous situation because these mosquitoes can carry serious diseases like the potentially fatal West Nile virus."
Eight people were affected by West Nile Virus in Clark County in 2012, including one fatal case.
Through April, Clark County has had 181 reports of green pools, a 42 percent increase from this time last year.
"We have seen how dangerous the West Nile virus is," Commissioner Tom Collins said. "By getting rid of green pools we take away the breeding areas for the mosquitoes that might be carrying this deadly disease."
Green pool complaints can be filed by calling 702-455-4191 or through the county website at www.clarkcountynv.gov.
Contact Steven Slivka at SSlivka@reviewjournal.com or 702-383-0264.