Clark County considers banning Strip newsracks
October 27, 2013 - 11:42 pm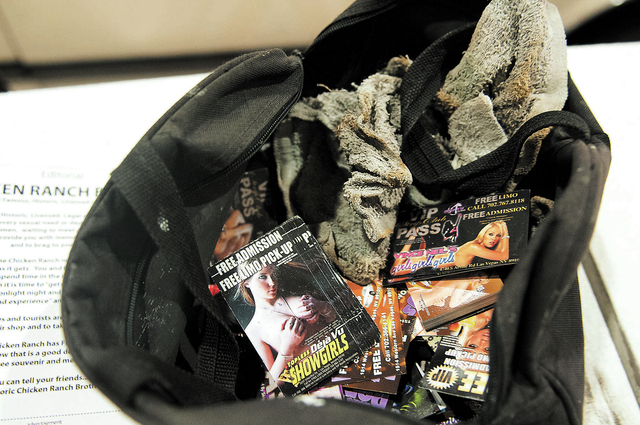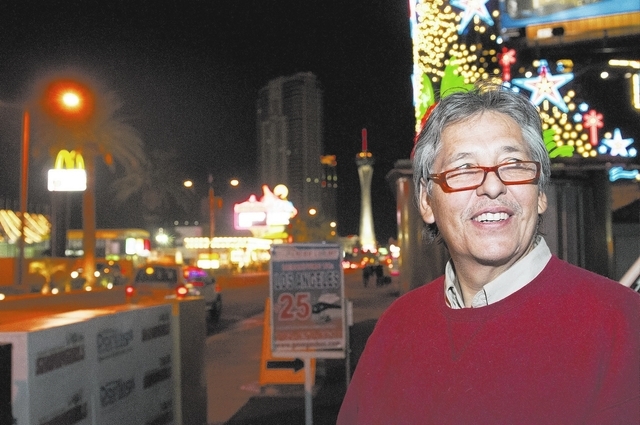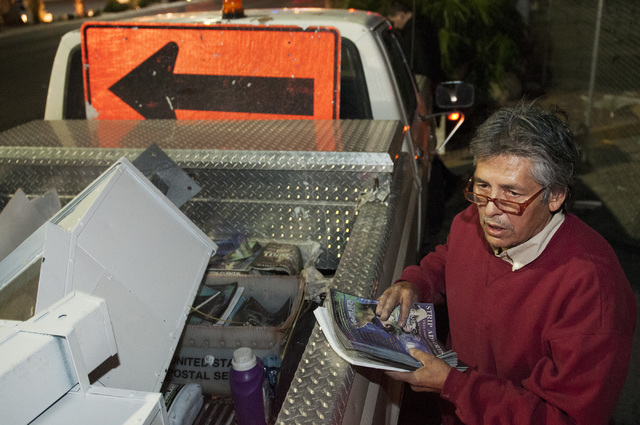 Newsracks offering up everything from an Italian-American newspaper to advertisements promoting adult services and entertainment might soon be extinct on the world-famous Strip.
Clark County officials will vote Nov. 5, following a public hearing, on an ordinance that would ban all newsracks on the Strip effective Jan. 1.
The ban, which would apply to all newsracks regardless of content along Las Vegas Boulevard from Sahara Avenue to Russell Road, is billed by the county as a necessary step to rid the sidewalks of obstacles that clog pedestrian traffic. Newsracks would also be banned on cross streets 300 feet to the east and west of Las Vegas Boulveard along that same stretch.
Criticism from newsrack owners and the American Civil Liberties Union of Nevada has called into question the constitutionality of the ban and raised a flag on the possible un­intended consequence of increased handbillers.
The county currently issues annual permits for 311 newsracks in the impacted area through a lottery process. And, at $65 per permit anually, it's not a moneymaker for the county. The Review-Journal doesn't use or own any of the newsracks.
If the ban passes, newsrack owners will have to remove them at the end of the year, when the permits expire.
But the newsrack owners do not plan to go away quietly. For them, the proposal is an assault on their livelihoods.
Eddie Munoz, owner of Strip Advertising, said he will file a lawsuit if the ban passes. With about 150 newsracks on the Strip, his company owns the most newsracks on the Strip.
"This is my livelihood," he said. "I was going to hand this down to my kids. It's a family-owned business."
Munoz said the newsracks, which rest along the curb, aren't an obstacle, and plenty of other signs and bus stops along the Strip are more problematic for pedestrian traffic.
"The county just wants to get rid of the newsracks," he said.
Dominic Gentile, who publishes La Voce, an Italian-American newspaper, also has concerns. With 50,000 local readers, the free 13-year-old monthly publication is distributed at 41 newsracks along or near the Strip.
Gentile, an attorney, said the publication helps restaurants and other off-Strip merchants reach tourists. Instead of banning newsracks, he has offered the county another suggestion: keep newsracks and require handbillers to occupy a zone between the newsracks along the curb.
By doing so, he says, officials could eliminate congestion problems without infringing on the First Amendment. He's even drafted an ordinance for the county's consideration.
"In other words, they would have the same space within which to work as those who seek to disseminate their message through the use of their passive newsracks," Gentile wrote in a business impact statement to county officials.
Kathryn Gentile, his wife and president of Southwest Advertising, said the proposal would kill her company. The company uses racks for distributing newspapers like La Voce and to advertise adult out-call services and strip clubs.
"Southwest Advertising would cease to exist," she said.
In her business impact statement, she wrote that newsracks help advertisers reach people in a way that is "passive, nonintrusive and un­intimidating."
The proposal also is drawing scrutiny on constitutional free speech grounds.
"The biggest problem with the proposal is that it completely does away with a particular mode of communication, not just within a small area, but within a much wider area — the resort corridor," said Allen Lichtenstein, general counsel of the ACLU of Nevada. "They don't really have a justification for getting rid of this First Amendment outlet."
Lichtenstein and newsrack owners say a ban will mean more handbillers trying to pass out materials instead of newsracks that passers-by can ignore.
"No one's trying to hand you anything," Lichtenstein said. "It seems like they're trying to solve a problem that doesn't exist."
County officials say the move to get rid of newsracks falls within its goal of eliminating obstacles.
"I really feel like the county's been very proactive in removing fire hydrants and light poles and trash cans and anything the county has jurisdiction over out of the pedestrian walkway," Commissioner Mary Beth Scow said. "I do support removing the newsracks."
Commission Chairman Steve Sisolak said the ban is needed to help pedestrian flow.
He also said it's possible the Strip will see more hand­billers, but he drew a distinction between handbillers and newsracks.
A newsrack cannot move to make room for pedestrians passing through, Sisolak said, but a handbiller can move out of the way if circumstances warrant, like for a person in a wheelchair who needs to get through a crowded area.
"A handbiller can get out of the way," Sisolak said.
If the ordinance passes and the racks remain in place on Jan. 1, the county would have the authority to impound them. Under the proposal, a newsrack owner could recover their property for an impound fee of $100 and any added county costs of impounding it.
Contact reporter Ben Botkin at bbotkin@reviewjournal.com or 702-405-9781. Follow him on Twitter @BenBotkin1.